DTC Briefing: Brands are bringing on retail veterans to jumpstart growth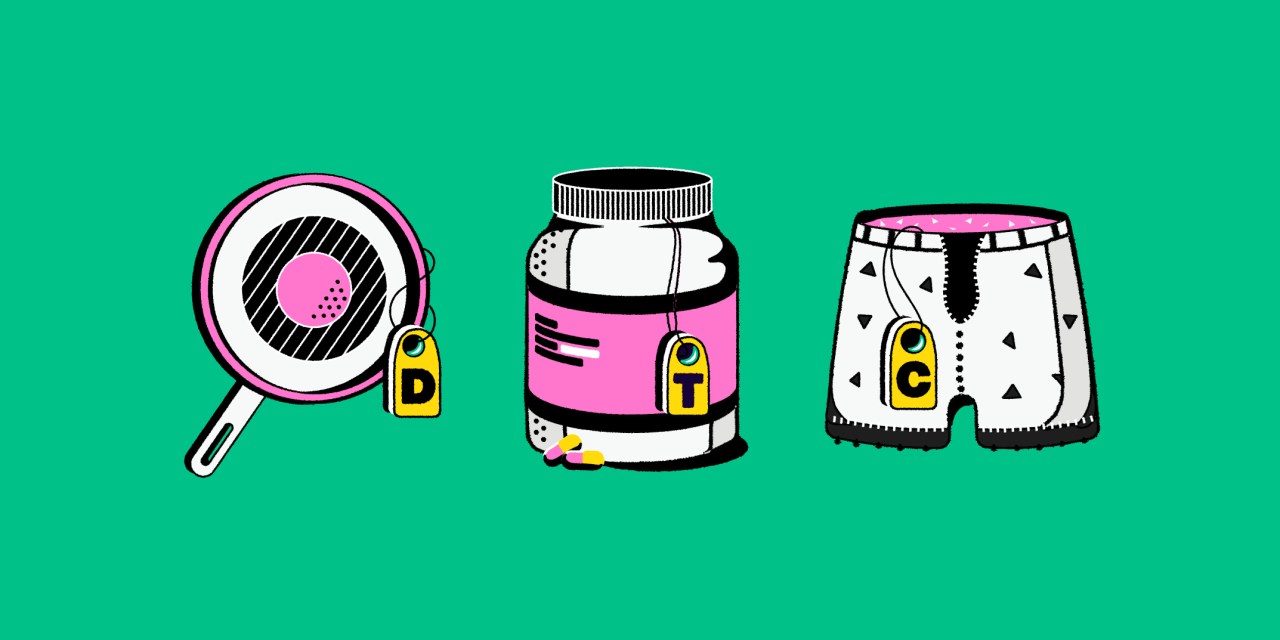 Illustration by Ivy Liu
This is the latest installment of the DTC Briefing, a weekly Modern Retail+ column about the biggest challenges and trends facing the volatile direct-to-consumer startup world. More from the series →
Digitally-native brands continue to bring on experienced retail executives to take them to the next level.
This wave of changes has been ongoing over the past couple of years, in which founders are handing over the CEO role to seasoned retail executives. Many DTC startups, like Glossier and Casper launched with founders who had background in tech, marketing and creative. For those online brands, that type of skills helped a company grow its digital customer base. But now, as CAC becomes more expensive and brands are trying to expand distribution, they are bringing in retail veterans who understand the mechanics and execution of this type of expansion. Moreover, for years DTC brands touted themselves as founder-led brands, and in some cases became the face of their company. But that's no longer as important, as a bigger emphasis is placed on sustainable retail growth and profitability. 
A few examples showcase this: Floral delivery brand UrbanStems appointed a new CEO in recent weeks. In late September, the company brought on Ana Mollinedo Mims, who has corporate executive experience working at companies like Cemex and Starwood Hotels & Resorts Worldwide. According to UrbanStems, the appointment of the Cuban-born Mims is part of the company's efforts to "forge deeper relationships with its suppliers in Latin America," which is considered a major global hub for flower cultivation. This is UrbanStems' second go at hiring outside talent in chief executive roles. Mims took over from Seth Goldman, who joined the company as COO and had served as CEO since 2018.
In August, Grove announced that founder Stuart Landesberg would step down as chief executive amid the company's troubles, and be replaced by former Zulily and Shopbop CEO Jeff Yurcisin. Landesberg is transitioning to an executive chairman, and according to the company, "will continue to oversee strategy, capital markets, and corporate development among other things."
Bedding brand Brooklinen's co-founder Rich Fulop stepped down from the position in July – but will remain in an "active" role at the company. Now Brooklinen has replaced Fulop with Billy May, a former executive at URBN, J.Crew and Sur La Table.
And in September, tech accessories brand PopSockets, which started out selling through its DTC website in 2014, also replaced its founder with an experienced retail executive. The new CEO, Gary Schoenfeld, held posts at Vans, PacSun and most recently served as president and COO at DTC shapewear brand Skims; He takes the reins from PopSockets David Barnett.
Most of these brands began as DTC players and evolved into larger businesses that expanded beyond e-commerce, often fueled by venture capital to support their hyper growth. Brooklinen, for instance, was bringing in a couple of million dollars in sales when it launched in 2015. But by 2019, the company's annual revenue was reported to surpass $100 million — and increased even more throughout the pandemic. When Fulop left the CEO position, the company said this was always the plan — and that "he left because of how good he is feeling about the brand."
Underwear brand Tommy John is one of the latest to announce a new CEO change. The company is planning to open its own stores and grow its wholesale business, which will be led by former Calvin Klein CEO Cheryl Abel-Hodges. Abel-Hodges started her post in September, and will work closely with founders Tom Patterson and Erin Fujimoto on the brand's next growth phase. For the first few years of operation since 2008, the company sold men's underwear exclusively through its website. And like many DTC-first brands, the brand expanded into new categories and entered wholesale in the past few years. In 2018, Tommy John launched a women's line to compete with established brands like Aerie and other disruptors like MeUndies and Adore Me.
The company clearly believes traditional retail business models are the key to its growth. Abel-Hodges told me her first focus is on "pursuing new product innovations, expanding our wholesale presence and unlocking our retail potential."
She added that Tommy John is already in the process of expanding its brick-and-mortar footprint, with its seventh store opening in Oklahoma City later this month. "Physical retail is a great way to experience the Tommy John brand and touch, feel and experience the industry leading products first hand," Abel-Hodges said. The brand's wholesale partners already include retailers like Nordstrom, Target and Dick's Sporting Goods, with more accounts to be added down the line.
"My previous experience comes with a deep knowledge, understanding and passion for the underwear industry," she said; Abel-Hodges has nearly 30 years of fashion executive experience, with stints at apparel brands like PVH Underwear Group, Izod, Ralph Lauren and Liz Claiborne. "Going from iconic global brands to a disrupter in the space like Tommy John is a really exciting opportunity for me."
More of these chief executive officer shake-ups are expected to come, said Taryn Jones Laeben, founder of advisory and investment firm IRL Ventures.
"Moving a business from the startup phase into multi-channel typically benefits from seasoned operating experience," Laeben said, who was previously brought in as chief commercial officer of Casper. She explained there are a myriad of considerations a brand's founders and advisors have to take into account when bringing in outside talent to lead the company. These include timing like adding new channels, hitting a certain revenue marker or the aim to become profitable, Laeben said. "Today it's more important than ever to move quickly from an early stage to running a tight ship."
These types of appointments are nothing new, but it has become more common for brand founders to step aside and allow industry experts to head up more complex strategies like wholesale distribution or supply chain management.
In 2022, the founders of DTC brands Glossier and Lively both left the CEO post. Lively, which was acquired by lingerie giant Wacoal in 2019 for $105 million, had founder Michelle Cordeiro remain in the founder position until earlier this year. (Cordeiro Grant has since launched energy drink Gorgie.) Meanwhile, Glossier founder Emily Weiss transitioned to executive chairwoman, while Kyle Leahy, a former executive at Cole Haan and Nike, took over as CEO to usher the brand's physical and wholesale expansion.
On the whole, Laeben said, retail startup founders often have great brand vision, but don't necessarily have the skill set to navigate things like relationships with national retail chains.
"It's about humility and partnership," said Laeben. "The founders who are savvy and humble enough to know when to bring in experts will be able to weather the challenges of building a brand."
What I'm reading
Cookware brand Our Place is the latest DTC company to start selling on Amazon, marking its latest channel expansion.
The Business of Fashion outlined the slew of eyewear brands competing with Warby Parker, an early player in the category.
Olaplex's new influencer campaign takes aim at beauty dupe culture. The company created a fake product called Oladupé to poke fun at social media posts touting cheaper versions of its hair products.
What we've covered
A new wine roll up company, Full Glass, has launched as a multi-brand platform that includes Winc and Wine Insiders.
The 94-year-old Nuts.com wants to triple its business by growing its direct-to-consumer and gifting business.
Liquid I.V. is trying to build DTC loyalty with a new membership program that promises exclusive discounts and perks.