With a new CEO, Nuts.com plans to triple its business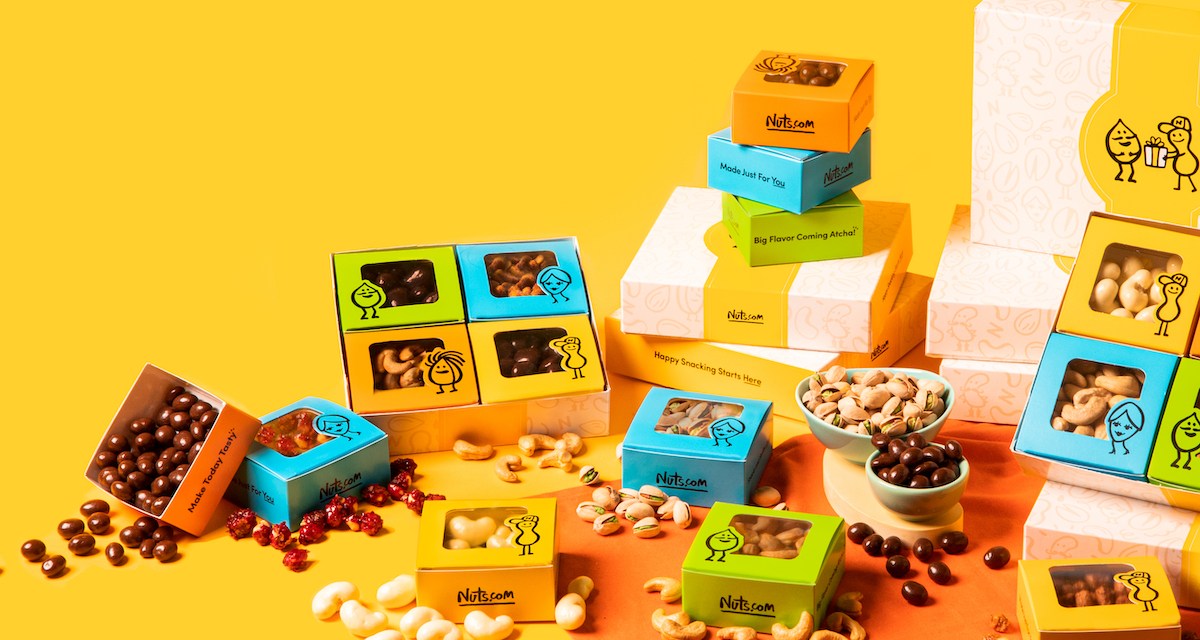 Nuts.com
It was a tough nut to crack, turning a small family business in New Jersey into a global snack company. But now, 94 years after its founding, Nuts.com has become a multimillion-dollar enterprise — and it's ready to shell out even more change.
For the first time in Nuts.com's history, the company will be led by someone outside of the family. PJ Oleksak, formerly the chief business officer at Slice and chief growth officer at FreshDirect, is taking the CEO reins from Jeff Braverman, whose grandfather started the company — then known as Newark Nut Company — in 1929. Oleksak has served as Nuts.com's president since 2021. She will continue to collaborate with Braverman, who will stay within the company as chairman of the board.
"This is just as much my baby as it is my grandfather's baby," Braverman told Modern Retail. "We built this very successful business that exceeded any of our expectations. But, I want to do more. PJ's our superpower to help us get there."
More than nine decades since its founding, Nuts.com now sells everything from nuts to seeds to dry fruits to chocolate. More than 1 million customers have placed an order with Nuts.com in the past year. Sales have more than doubled since 2019 and more than tripled since 2015. Nuts.com ships to the U.S. and Canada, and many of its items come in brightly-colored bags with cartoon nuts (one of whom wears a baseball cap) drawn on the front and back.
As the new CEO, Oleksak hopes to triple Nuts.com's business. She hopes to accomplish this "as soon as possible" or in the next five years, but she also wants to make sure the timing is "what's right for the business," she told Modern Retail.
Part of this plan, she revealed, involves boosting Nuts.com's gifting segment and its business-to-business segment, the latter of which supplies snacks to corporate kitchens. Another aspect involves physical retail and wholesale, Oleksak said. "It's about, how do we accelerate, and how do we throw gas on the fire?" she said. Nuts.com already has a presence in Sam's Club through the brand Kopper Chocolates, which it acquired in 2016.
Nuts.com is primarily an online business, although customers can come to its New Jersey warehouse to pick up orders. It was Braverman's idea to bring the company online in the late 1990s, and the "floodgates opened up" once the website relaunched in 2003, he said. The site originally had the domain name NutsOnline but transitioned to Nuts.com in 2012.
Oleksak is excited about continuing to grow Nuts.com's DTC business, especially considering the growing interest in online grocery during the pandemic. "The reality is that people are much more likely to send gifts of food and consumables and things like that than they ever were historically," Oleksak said. "So from a digital-first point of view, I think we're really well-positioned to capitalize on all these trends."
At the same time, Nuts.com sees opportunity in other avenues. While it is "massively bullish" that the majority of its growth will continue to come from DTC, "the reality is, there are some ways to play in retail nowadays that actually support and prop up the brand, as well as meet some customers that will probably forever want to buy their products and their snacks in stores," Oleksak said.
Under Braverman, Nuts.com grew its footprint to five distribution centers that allow it to ship the majority of its orders within two days, sometimes even one. While Oleksak does not anticipate opening Nuts.com stores, "do I think we could have some cool pop-up experiences and some good healthy partnerships?" she asked. "For sure." Outside of that, Oleksak is eyeing having more of a physical presence in a retailer like Whole Foods. "Why not have one of those beautiful bags actually positioned in your grocery store?" she said.
When Braverman took over as CEO (a job he calls "Chief Nut") in 2003, the business was still small. Some of its growth, he said, "fell into our lap." For instance, a roaster that Nuts.com worked with early on was selling his buildings, and Nuts.com took over the spaces and bought his equipment. Other times, Nuts.com's growth was more strategic, with the company looking at which keywords people were searching for. Sometimes, ideas for products came from customers themselves. In 2008, for instance, someone called asking for chia seeds, and "the next day, we started selling chia seeds," Braverman said.
The snack industry, overall, is in a strong position, thanks to more people cooking, eating meals and noshing at home during the pandemic. Sales of baking chips and mixes were up 24% in 2020, according to Numerator, and dollar sales of salty snacks were up 14% for the year ending Feb. 6, 2021, according to NielsenIQ. J&J Snack Foods — which owns the brands SuperPretzel, Dippin' Dots and WholeFruit popsicles — reported record revenue of $425.8 million for the third quarter ending June 24, 2023.
"Similar to the better-for-you beverage boom, snacking is still in high demand because of product innovation to make them more nutrient-dense as a supplement to meals," Carly Sutherland, who works with brands on their go-to-market strategies, told Modern Retail.
When it comes to Nuts.com, its new and former CEOs are both excited about the future.
"We have the product, we have the service, we have the execution," Oleksak said. "We're already a really sizable company. I think we're still in early innings of people being even aware of who we are and what we offer. We're not just nuts."