DTC Briefing: Why menswear brand Rhone has more than doubled its store footprint this year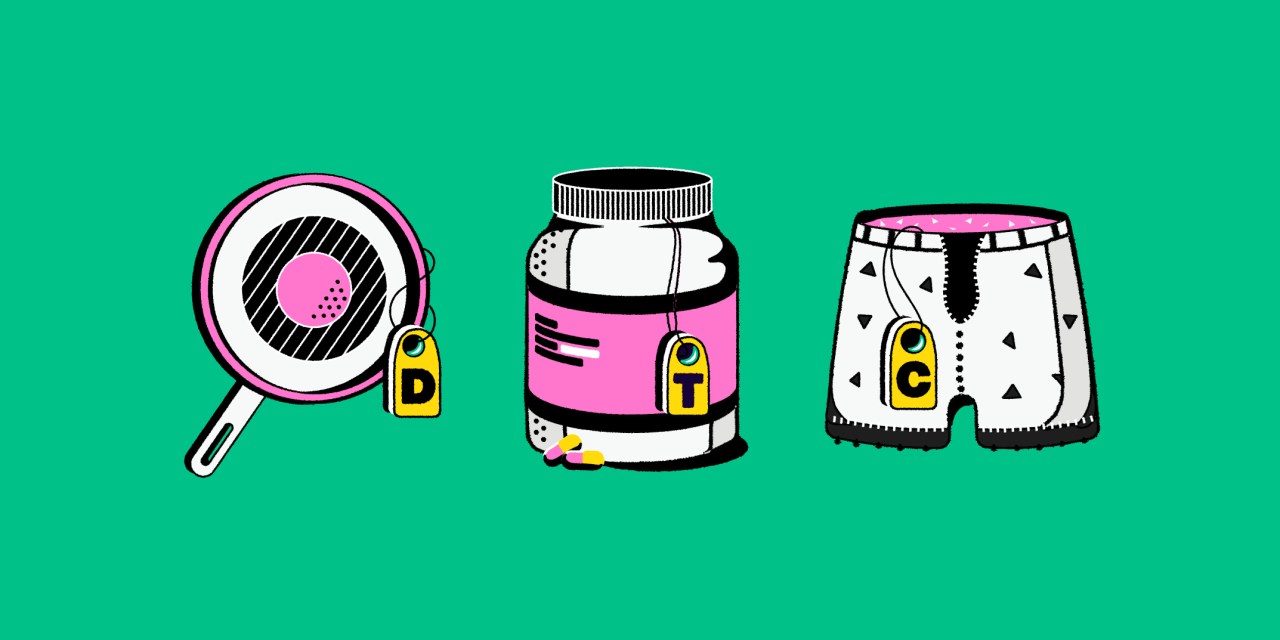 Illustration by Ivy Liu
This is the latest installment of the DTC Briefing, a weekly Modern Retail+ column about the biggest challenges and trends facing the volatile direct-to-consumer startup world. More from the series →
Some direct-to-consumer startups are continuing to aggressively invest in physical retail expansion this year as acquiring customers online becomes more difficult.
Rhone, a self-described men's performance activewear brand that first launched in 2014, is one such company, having more than doubled its store footprint over the past year. On Friday, Rhone opened its 15th location in the Boston Seaport district, which marked its 12th store opening in the past year.
This year has been a mixed bag for physical retail expansion. Throughout 2022, DTC brands were eager to aggressively expand their store footprints, with brands like Parachute and Brooklinen doubling or even tripling their store footprint. But in 2023, as venture capital funding dried up and inflation curbed spending, some DTC brands like Lunya have said that signing expensive retail leases ultimately contributed to their bankruptcy. In turn, DTC brands are taking multiple approaches to physical retail right now. Some, like Lunya, are closing stores and going back to the drawing board to figure out what their physical retail strategy should be. Meanwhile, others like Rhone see now as the time to grow their store footprints even further.
According to CEO and co-founder Nate Checketts, Rhone's physical retail strategy has been primarily driven by two factors — one, to find new ways to engage with customers in markets where it already has a high concentration of Rhone shoppers, and two, to seek out new ways to acquire customers as customer acquisition costs to continue to skyrocket online.
It has been a year of big investments for Rhone. The company bought out one of its biggest investors, L Catterton, so that Checketts and his co-founder — his brother Ben Checketts — could gain greater control of the company. Following this, Rhone has been gearing up to launch a women's line next year, and has been focused on newer initiatives like growing its physical store footprint. 
Checketts noted that some of the leases for Rhone's newest stores were signed more than a year ago, so he said that L Catterton buyout wasn't a major factor in Rhone deciding to open up more stores now. Rather, Checketts said, Rhone needed a few years to experiment with what its physical retail presence should look like.
Like many digitally-native brands, most of Rhone's early leadership team didn't have any experience with brick-and-mortar retail, only online commerce. "We thought we knew what we wanted in opening stores, but we needed to play around with format, size, locations," Checketts said.
Rhone's first permanent, physical location was a store that opened in 2019 in New York's Hudson Yards –right before the onset of the pandemic, which led to some exits of key tenants at the buzzy development.
Many of the new stores that Rhone opened recently are in Sun Belt states, a trend that's in line with other DTC startups. Rhone now operates two stores in Texas and one in Miami. Checketts added that Rhone is opening both street level stores as well as locations in malls. "We're really trying to go to markets first and then find the right locations within those markets."
Another focus is on making stores more experiential, and offering more services. In some stores, Rhone now offers a Hyperice recovery center, where customers (or the people they are shopping with) can relax and use the brand's massage boots in stores. Checketts described this right now as a partnership with Hyperice. Rhone doesn't currently sell Hyperice products in stores, only offers them for people to use to as an added perk to encourage more in-store shopping. But, he said Rhone is "working towards being able to bring their products and sell them in store."
Additionally, Rhone also recently started offering a "Rhone Custom Made" section in several of its stores, where shoppers can stop in to have their measurements taken, and get a custom-made shirt from Rhone's "Commuter" line, which focuses on workwear.
All of this ladders up to creating a more valuable in-store experience that will encourage shoppers to spend more — and convert people who are new to the brand. Checketts said that Rhone has a higher conversion rate online than in store, though declined to share specifics.
Rebekah Kondrat, founder of the consultancy Kondrat Retail, said that 2023 has been "kind of a rocky road" when it comes to physical retail. Inflation dampening spending in consumer categories has caused some brands to pull back on new store openings, though some are faring better than others. While apparel as a whole is struggling, Kondrat — who previously consulted on Rhone's physical retail strategy in 2019 — said she is seeing more athleisure and activewear retailers invest in new store openings. Vuori, funded by SoftBank, said it is on track to open 20 to 25 new stores a year.
Following the pandemic, more startups started investing in physical retail for a couple of reasons. For one, e-commerce growth rates started to slow as more people started shopping in physical stores again. Second, some property owners were offering deep discounts and concessions on rent, after their core tenants went bankrupt or shuttered a significant number of stores.
But Kondrat said that many startups throughout 2021, and even into 2022, were still viewing physical retail as an experiment; They were signing shorter term leases, such as on a six-month basis.
But now, Kondrat said that among the brands that are opening multiple stores, they are talking about it as "it is no longer a test – it is a major part of our revenue strategy" and they are looking at stores in multiple markets across the country.
Indeed, Checketts said that in some ways he views operating 15 stores as easier than operating 1 to 2 stores. That's because Rhone can more easily spread costs across stores — the company can justify hiring more expensive retail talent, because those costs can be spread across 15 stores, rather than two; The company can develop more specialized merchandising strategies for, say, warm weather states, now that Rhone has retail stores in multiple markets.
"The advantages that come from having a larger fleet have been pretty significant for us," he said.
What I'm reading
Retail Dive has a fun feature story looking at the rise of the Stanley tumbler, and how an online shopping blog called The Buy Guide was instrumental in getting Stanley to invest more in its oversized drinkware.
On has opened a new store in Paris as its running shoe sales are on fire.
The Business of Fashion interviewed 14 current and former employees about what it's like to be Black and working at Lululemon. Taken together, these accounts paint a picture of a "corporate culture that is unwelcoming of Black people" BoF reports.
What we've covered
How Billie is plotting for its next phase of growth two years after being acquired by Edgewell. The razor startup is prioritizing international expansion and retail growth.
Grove Collaborative has had a rough time on the public markets – the company only just reported its first-ever positive adjusted EBITDA in the third quarter of this year. Still, new CEO Jeff Yurcisin is betting that the company will be profitable next year, he said in an interview with Modern Retail.
How AdoreMe is working with new climate tech startups.