How Billie is plotting for its next phase of growth two years after being acquired by Edgewell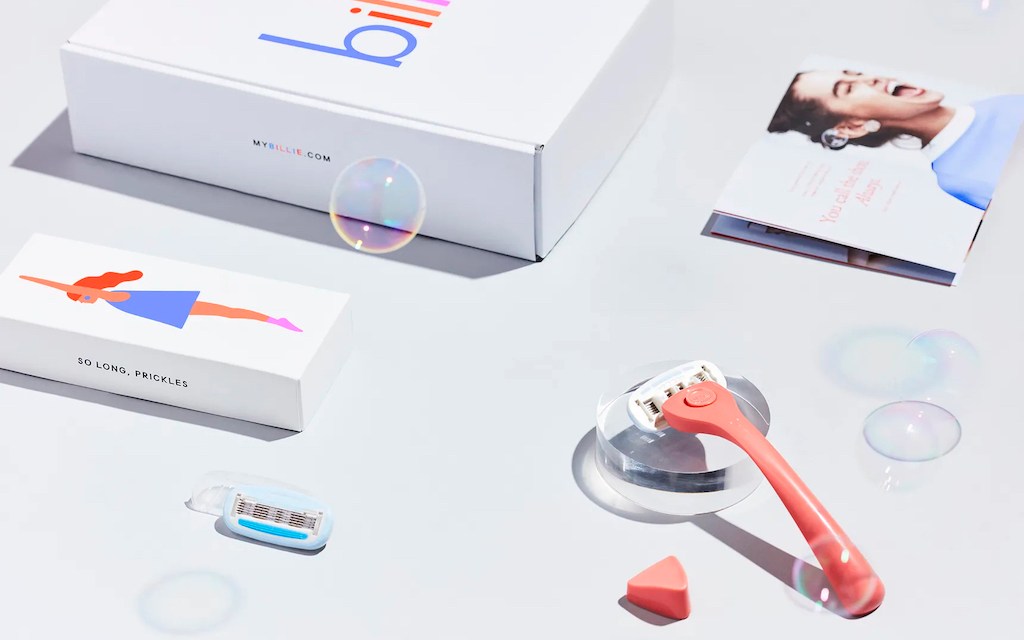 Billie
Billie, coined "the Internet's favorite razor brand," has been rapidly growing its retail footprint over the past year.
This month, the company turns six years old and a lot has changed since it launched as an online razor subscription in 2017. It's also been two years since Billie was acquired by Edgewell, the parent company of shaving brand Schick, in a $310 million cash deal.
In an interview with Modern Retail, co-founder Georgina Gooley said that Billie's focus post-acquisition has largely revolved around entering more retailers and planning for international expansion. Billie's first foray into physical retail — an exclusive, one-year deal with Walmart at 4,000 stores came in January 2022, just months after the Edgewell acquisition was announced. Now, the company sells through over 30,000 doors across 21 retailers, including Target, CVS, Walgreens and Kroger, among others. Billie also now sells select products on Amazon. Earlier this year, Billie also began its international expansion, launching in Canada at Walmart and Shoppers Drug Mart locations.
When Edgewell announced in November 2021 that it would be acquiring Billie, it came after a period of flux in the razor space. Similar M&A deals had been blocked by the FTC. In February 2020, Edgewell attempted to acquire Harry's, but that deal was blocked by the FTC around concerns that it would lead to higher prices for consumers. Around the same time, P&G's acquisition of Billie fell through at the end of 2020 after the FTC challenged the deal.
Gooley said the Walmart deal was planned ahead of the Edgewell acquisition, as there was an increased focused at the time on DTC brands entering physical retail. "Going into one retailer was a huge effort on our part, but we were able to manage that with good partners and Walmart holding our hands throughout the process."
Going from one to 21 retailers within a year, Gooley said, was only possible with the sales team and infrastructure support that Edgewell provides. "[Edgewell has] a great sales force and relationships with retailers," she said, along with a strong supply chain for shaving products. "We wouldn't have been able to do that on our own that quickly."
Much of the Edgewell team's support came in the form of liaising with pre-established retailers to strike Billie's deals, which helped speed up Billie's physical expansion. "A lot of the guidance was around the processes and discipline to follow timelines," Gooley said.
Since Billie launched, the personal grooming category has become even more competitive. In 2018, for instance, Harry's launched Flamingo — a women's shaving line offering razors and wax strips. Personal care brand Athena Club launched in 2019, and this year boasted a 93% DTC customer retention rate; The company also entered 1,600 Target locations in March. But not all players in this category have fared as well. In October Dollar Shave Club, which was acquired for $1 billion by Unilever in 2016, was sold to private equity firm Nexus Capital Management. In the announcement Unilever, which retains a 35% stake in Dollar Shave Club, said it will "transition its portfolio" towards core strategic growth areas.
Many razor brands have attempted to stay ahead of the competition then, by more quickly expanding into physical retail. Gooley said that Billie doesn't break down revenue by channel, but "obviously retail has become a meaningful part of the business."
"The landscape has changed since we launched, and brands have gravitated towards a more omnichannel approach — and not being tied up with one channel or even one retailer," Gooley said.
The quick distribution expansion also changed the way Billie operates. As a DTC brand, Billie was able to launch products and run campaigns whenever it wanted. Now, there is much more of a focus on adhering to retailers' cycles and timelines.
Different lines of business also serve different purposes. Billie's DTC arm is geared toward people who want to easily replenish their razors without leaving their homes and as such, is focused on selling subscriptions. Over its first four years in business, Billie also added adjacent personal care products – like lip balm, makeup-removing wipes and dry shampoo.
Since being acquired by Edgewell, much of the product expansion has come in tandem with Billie's retail expansion: when Billie debuted in Walmart at the beginning of 2022, the company also launched a lavender whipped shaving cream. Last year the company also launched the Ultimate Skin Solution, a skin exfoliator for ingrown hair and added limited-edition razor colors.
Sasha Radic, managing director at Jeffries who leads the beauty and wellbeing practice, told Modern Retail that "personal grooming has been a space where there's been a lot of innovation, and a lot of opportunities for brands to elevate the consumer experience."
She said examples over the last few years include deodorant brand Native, Lume, men's grooming brand Every Man Jack as well as Billie. With the right M&A partner, you can get the benefit of infrastructure and retail relationships," Radic said. "That's what ultimately can create a successful outcome for everyone."
While the economic headwinds are hitting nearly every category, Radic said personal care and grooming are more resilient than like homeware and apparel. The relative affordability makes it less likely for people to trade down when reworking their budget. "It's a much easier and smaller ticket treat than something like a luxury apparel piece," Radic said. "That's where the resilience of the category is made clear."
Moving forward, Gooley said, "next year we have exciting announcements for new products." Moreover, Billie is planning further international expansion, though Gooley did not disclose the exact markets. "Canada won't be the last country that we go into," she added. And in the U.S., Billie will continue to add more retail partners in its quest to become a ubiquitous razor brand.
"We're in 21 retailers, but there are more than 21 out there so we're looking to get into more doors," Gooley said.
Gooley said there is also a fine balance to strike when operating as a startup under a legacy CPG conglomerate. "You have to be able to adapt and evolve," Gooley said, referring to adhering to more traditional retail distribution. "So you have to balance growing up, and staying true to your roots and what makes you exciting."
Correction: Due to an editing error, this story originally stated that Billie added products like lip balm, makeup-removing wipes and dry shampoo after its acquisition by Edgewell. This story has been updated to note that these products were added before Billie's acquisition.