Vuori continues its massive retail expansion as it targets around 25 new stores a year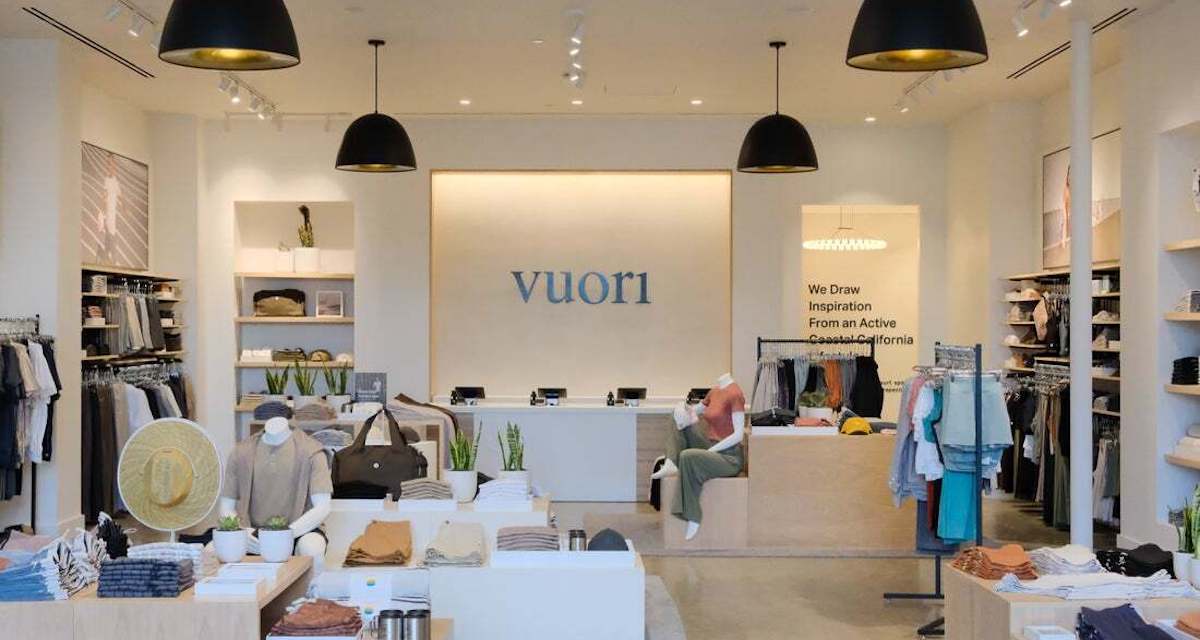 Vuori
Athleisure retailer Vuori says it's aiming for a "sweet spot" of 20 to 25 new stores a year as it continues its massive brick-and-mortar expansion.
The California-based company currently operates 35 stores in major markets such as Los Angeles, Seattle, San Francisco and Boston. Vuori has opened 10 stores since January and plans to bring that number to "just over 20" by the year's end, Catherine Pike, vp of retail at Vuori, told Modern Retail.
Vuori, which launched in 2015 and has been profitable since 2017, has invested more money in its physical footprint over the last few years years, largely thanks to a $400 million cash infusion from Softbank's Vision Fund 2. While the coronavirus pandemic prevented Vuori from opening some stores in 2020 and 2021, the company has since gone full-steam ahead on brick-and-mortar. Last year, Vuori opened its first store in London, as well as its first East Coast flagship. It recently opened a store in Nashville and will expand to Florida later this year, as part of its goal to operate 100 stores in the U.S. by 2026.
While Vuori has a robust e-commerce presence, physical retail is "a very fast-growing channel" for the brand, Pike said. "We're really focused on maintaining quality and really smart, paced growth in terms of our real estate decisions, our store locations, our teams," Pike said. "We have a lot more runway to go. There's a lot of great spots that we're excited to get into."
Vuori weighs several factors when deciding where to open new stores. To start, it looks at zip codes throughout the country where its e-commerce sales are high in proportion to that area's population. Vuori also relies on data from its wholesale partners, including Selfridges and Barry's Bootcamp, to track demand in certain markets.
Vuori sees more success in areas where it's expanded its retail presence, according to Pike. "As we add a second and even a third store in the market, we start to see cities and states really boom, and we kind of hit that tipping point," Pike said. "I had a friend text me the other day and they said all of Colorado is wearing Vuori. And I think that naturally comes now that we have three stores in Colorado."
When it first launched, Vuori only carried men's clothing, and its hero product was a $100 pair of joggers. Now, the brand is 50/50 women's and men's, and it carries swimwear, shirts and hoodies. Its accessories business is growing, too. For instance, Vuori has started selling pickleball paddles in stores where customers have expressed an interest in pickleball.
Vuori places a large emphasis on its community, Pike said, and its product assortment varies from store to store, based on that market's weather patterns or style preferences. Southern California stores, for example, tend to offer more board shorts, while stores in the Northeast concentrate more on elastic waist shorts. Outerwear has also done "really well" for the brand, and Vuori is starting to open more stores in parts of the countries with colder weather, Pike said.
Not all stores look the same, either. Vuori's earliest stores are more compact, while its SoHo store that opened last October is one of the company's biggest, at 5,000 feet. Pike acknowledged that "the biggest challenge has been getting the size right" for Vuori's stores.
"Our stores are often very busy, which is amazing… but we also don't want it to get so crowded that it detracts from the experience," she said. "As we have grown and evolved, we also want to be able to put more product in there and give you a little bit more space." The solution, she explained, is that "our newer stores are going to be larger than the stores that we opened in 2020 and 2021."
Many athleisure retailers, including Vuori, saw demand spike during the pandemic as people looked for comfier clothing to wear at home. Athleta and Dick's Sporting Goods reported strong growth in 2020, while Lululemon pointed to a 157% increase in online sales in the second quarter of that year.
Vuori is a bigger business today than it was before the pandemic, but it also has more competition, Rebekah Kondrat, founder of the consultancy firm Rekon Retail, pointed out. "There is this very large [athleisure] cohort, where it used to be just Lululemon or Old Navy," she told Modern Retail. Alo Yoga and FP Movement, for instance, have invested more heavily in stores. "I think there's definitely an expansion happening in the category of physical retail," Kondrat said.
That expansion comes with several challenges, though, she added. Many retailers Kondrat works with have locations across the country, but still see 40% of their gross revenue come from major cities like Los Angeles or New York. For a retailer like Vuori, "you're going to quickly run out of major metropolitan areas where you're going to have these flagship stores that just bankroll your entire channel," Kondrat said. "Their mindset does need to fundamentally shift as they start to open stores in smaller markets."
Kondrat recommended that retailers opt for satellite stores, ones that "are far enough away from these initial flagship stores, but still close enough that there can be efficiencies gained." For example, retailers can use satellite stores to ship inventory to flagship stores or share staff or district managers, she said.
"Athleisure is very large addressable market," Kondrat added. "There's not really a concern of cannibalization per se… I would say there's still likely plenty of business to go around. So, it's thinking about where I can gain the most efficiencies."