3 roadblocks for apparel retailers ahead of the holidays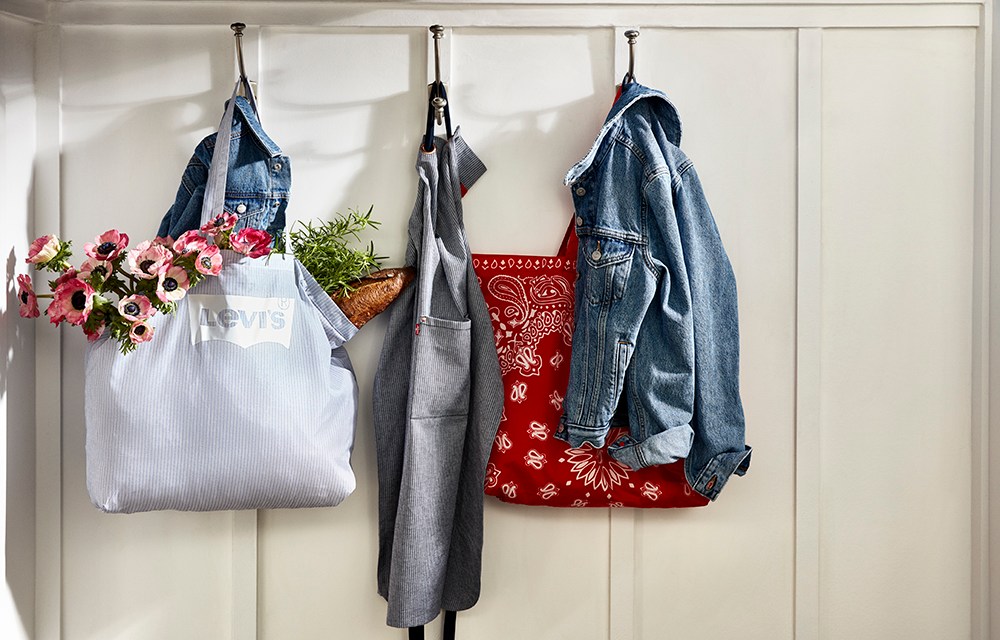 Target x Levi's
Apparel and footwear retailers have had a challenging year as budget-conscious shoppers pull back on discretionary spending.
Some, like Pacsun and Crocs, have tried to woo more customers by teaming up on buzzy collaborations. Others, like Canada Goose and The North Face, are building more stores to appeal to those who like to shop in person. And still more, like Gap, True Religion and AG Jeans, have brought on new executives or created new C-suite positions entirely as a way of refreshing the business.
Retailers have made some gains, but they still face several obstacles heading into the holiday season. While PwC expects 2023 holiday spending to hit a record high, U.S. holiday sales are also poised for their slowest rise in five years, according to Deloitte. At the same time, recent earnings reports from top apparel retailers reveal that several brands are wary about wholesale, regional slowdowns and costs. Retail analysts, too, say there are challenges on the horizon, particularly around maintaining lower inventory levels and matching consumers' preferences.
Here's a further breakdown of some of the roadblocks ahead.
Wholesale woes
Today, the battle for consumers' dollars is tight, and many apparel brands are putting more money into wholesale to try and capture sales, wherever they may be. Brands are also betting on wholesale to offload inventory stockpiles stemming from supply chain snags and lower demand from consumers.
Nike, which has largely focused on its direct-to-consumer strategy since 2017, re-entered its partnerships with DSW and Macy's this month and is once again working with Foot Locker. L.L. Bean is building its wholesale footprint via accounts such as Dillard and Moosejaw. Earlier this year, fashion boutique Francesca's acquired Richer Poorer, which has a presence in Bloomingdale's and Nordstrom.
Recently, though, department stores — where many of these apparel retailers have accounts — have struggled to sway shoppers. Macy's recorded $22 million in net losses for its second quarter, down from a profit of $275 million the same time a year ago. Meanwhile, Kohl's second-quarter profits plunged 60%, and Nordstrom's second-quarter net sales dropped 8.3%.
This drop in performance has affected some of the brands these stores carry. For instance, Free People's second-quarter wholesale sales slid 7% year-over-year because of "weakness in department store accounts," Frank Conforti, chief operating officer at Urban Outfitters Inc., said on an earnings call.
More broadly, Urban Outfitters's total wholesale revenues dropped 5% year-over-year, which Conforti attributed to some larger partners writing smaller orders to keep their inventory lean.
Levi, which sells items through Macy's and Kohl's, is also struggling with wholesale. Speaking on an earnings call last week, CEO Chip Bergh mentioned "continued softness" in wholesale, with global wholesale sales down 10% for the third quarter.
Bergh attributes this, in part, to Levi's wholesale assortment, which is largely denim bottoms. With rising temperatures, "there is no doubt that our wholesale business was somewhat impacted by the really, really hot summer," he said. Levi has focused more on DTC in recent years, with the goal to triple e-commerce sales by the year 2027.
Jessica Ramírez, senior research analyst at Jane Hali & Associates, told Modern Retail that it makes sense that brands that depend on stores like Macy's and Nordstrom would see their sales slow. At the same time, she said, there are retailers who have found success with wholesale largely because of how much say they have over selling their own products. Ramírez pointed out that Ralph Lauren, under Stefan Larsson, pulled back merchandise sold to department stores, while Nike has benefitted from partnerships in which it shares data or offers unique products. Nike's most recent wholesale revenue was flat from a year earlier.
"If you look at wholesale, there is weakness because the consumer isn't necessarily shopping at a lot of big names like Macy's or Nordstrom if there's better offerings in other stores," Ramírez said. "And the brands who are coming back into wholesale, I think they've all done so strategically, not as we used to see prior to the pandemic."
Slowdowns in Europe
For months now, many retailers have cited slowing growth in the United States, pointing to a combination of high inflation and shifting consumer preferences. High borrowing costs and inflation are also starting to take a toll on retail sales in Europe.
Last week, Eurostat, the statistics office of the European Union, said retail sales in the 20 countries sharing the euro fell 1.2% month-over-month and 2.1% year-over-year. Both numbers were more than economists polled by Reuters expected.
Some retailers' earnings reflect this. Levi, for instance, said that revenue in Europe was down 3% during its most recent quarter, excluding Russia, although it did see "sequential improvement" as the weeks went on, Chief Financial and Growth Officer Harmit Singh said on an earnings call.
Urban Outfitters had a "slightly-negative comp" in Europe, particularly in the U.K., President Richard Hayne said. "We attribute that to a very, very difficult environment," he added. "So we don't expect that to get too much better anytime real soon." A little more than 25% of Levi's net revenue for the third quarter came from Europe.
Within the U.S., apparel prices jumped 3.1% from August 2022 to August 2023. Food prices rose 4.3% for the same period, with food away from home up 6.5%. Meanwhile, shoppers across 36 European countries spent 18% of their money on food and non-alcoholic beverages in 2022, compared to 4% on clothing and 1% on footwear.
"In Europe, in the U.S., food prices are up, energy prices are up," Ramírez said. "So the consumer has focused more on these, rather than discretionary purchases. I think that is something that we will continue to see, especially as we get into the colder seasons."
Higher SG&A costs
While temperatures are going down, selling, general and administrative expenses (SG&A) are going up at a number of major apparel retailers.
Levi, for example, reported a 4% increase in SG&A costs for its third quarter. Nike's SG&A costs rose 5%. Urban Outfitters expects SG&A growth to outpace sales growth in its next quarter, while American Eagle Outfitters foresees SG&A increasing in the mid-teens in the back half of its financial year.
SG&A costs can jump for a number of reasons. In Levi's case, it is due to more store openings. Urban Outfitters pointed to "higher overall payroll due to anticipated higher incentive pay," while Nike cited increased costs around creating items for the World Cup. Abercrombie, meanwhile, reported higher SG&A costs due to campaigns.
Right now, Abercrombie plans to ramp up marketing in the back half of its financial year for Hollister, as well as "press on the gas" for Abercrombie, Chief Financial Officer Scott Lipesky said on an earnings call. The company recently expanded its target age group to 22 to 40 years old, he said. "We're trying to reintroduce people to the brand," he explained.
Brands want to push their products to get more shoppers in the door, Ramírez said. But, when it comes to SG&A costs around things like marketing, this can be difficult.
"I think, at the moment, it's quite tough when there are so many spends and it's quite tight and margins have been not as high as they had been," Ramírez said. "I think you just need to be cautious of where your spend is in your company overall, especially in a time like today, where we're seeing some of that slow down."