Earnings
// August 22, 2023 ■ 4 min read
Macy's sales dip below pre-pandemic levels as its credit card business takes a hit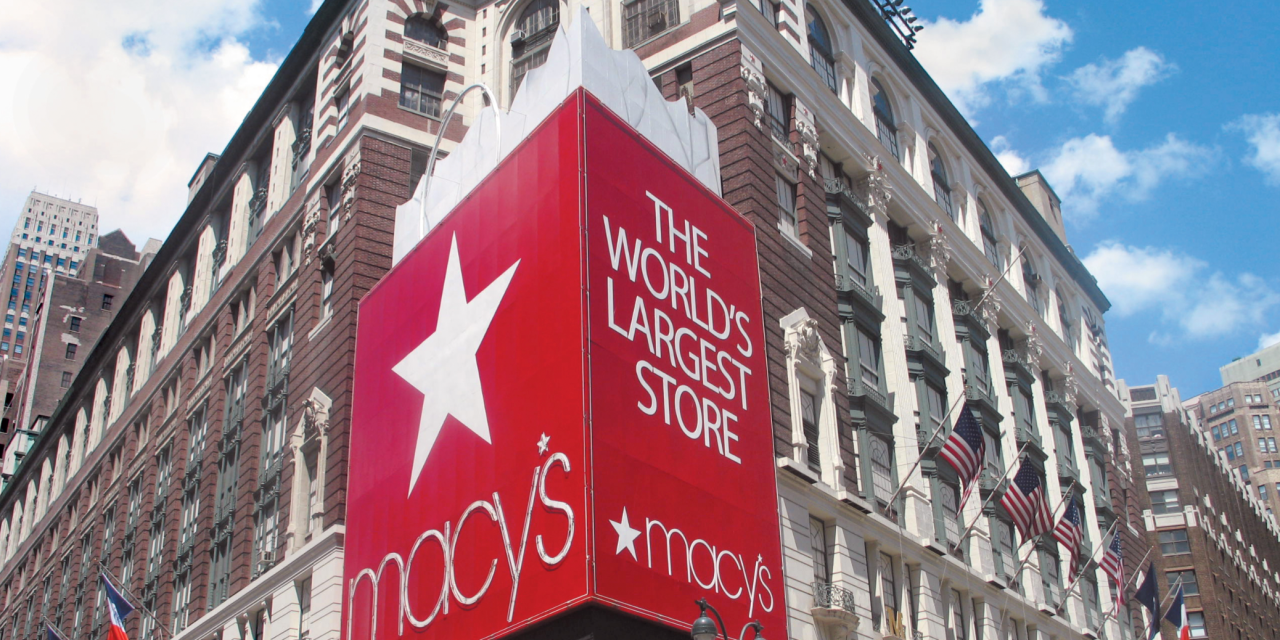 Macy's
Macy's is the latest retailer to warn of a cautious outlook, as inflation and rising interest rates impact its business in multiple ways.
On Tuesday, the company reported net sales for the second quarter came in at $5.13 billion, down from $5.83 billion the previous year. Macy's also recorded $22 million in net losses, down from a profit of $275 million the same period last year.
The results are in line with its first-quarter report in May, when Macy's management warned of inflation driving down its customers' spending, resulting in heavy discounting to help help clear inventory. But Macy's earnings were also hurt by lower-than-expected credit card revenue from credit cards. Revenue from this segment of the business was $120 million, compared to $204 million during the same period a year prior. In turn, Macy's is betting in on new private label brands, as well as its third-party marketplace business, to help it return to sales growth.
Year-over-year same-store sales were also down at both Macy's and Bloomingdale's, dropping 9.2% and 2.7%, respectively. However, beauty retailer Blue Mercury, which Macy's operates, saw same-store sales jump by 5.8%.
"We continue to see uncertainty in the macroeconomic environment," Macy's CEO Jeff Gennette said. "We are leveraging our robust data science tools to refine inventory composition, while reading and reacting to shifting consumer preferences to meet demand."
Neil Saunders, Managing Director of GlobalData, said in a media note that while many retailers are struggling currently, the 8.4% sales decline at Macy's "is significantly worse than the overall market." Quarterly sales are also notably down by 7.5% compared to the same period in 2019. This is due to a streamlined inventory, which is down 18% compared to 2019 levels.
Saunders pointed to the retailer's ongoing merchandising problems, which present a "lack of care in merchandise selection and a complete breakdown in how that product is displayed in store."
Other sources of revenue are also being impacted by rising interest rates and Americans' record credit card debit.
"While we had expected delinquencies to rise as part of our normalizing credit environment, the speed at which the increase occurred for us and the broader credit industry since our first-quarter earnings call was faster than planned," said Adrian Mitchell, chief financial officer and chief operating officer, on the earnings call.
In a memo, Oliver Chen, managing director at TD Cowen, pointed to the negative impact of the latest credit card activity. "We note that credit card revenue declined nearly 36% y/y to $150 million, or 130 basis points as a percentage of net sales, as delinquencies accelerated faster than anticipated through the quarter.
There are some strategies in place for a Macy's turnaround, such as smaller-format stores and growing private labels – which accounted for 16% of its sales in 2022. As Emily Erusha-Hilleque, svp of private brands at Macy's, told Modern Retail recently, Macy's has spent the past two years developing its portfolio of in-house brands. "We're touching everything within the portfolio and really anchoring it into the new voice of [the] customer," Erusha-Hilleque said.
Gabriella Santaniello, founder and CEO at consulting firm A Line Partners, told Modern Retail that private labels will likely help Macy's up its margins. "But you don't want to skew too heavily and miss the fashions," she explained. "[Macy's is] certainly able to do it but it's a delicate balance to pull off that mix of private labels and brand names."
She noted that past iterations of Macy's' in-house lines, like Charter Club and Alfani, weren't targeting young customers interested in trends. But, Santaniello said, the department store is trying to change that perception with new brands like On 34th.
Another bright spot is the retailer's growing digital marketplace; The platform currently has 1,350 brands selling on it, compared to 500 last year, with a gross merchandise value growth of 116%. Saunders also pointed to other positive changes such as incoming CEO Tony Spring, who until now has headed the Bloomingdale's business.
While Macy's is investing heavily in its long term recovery plan, the road ahead will be tough. The company reiterated its fiscal 2023 guidance, saying sales are expected to continue dropping year-over-year.
"Macy's is running into the same issue that mid and lower-tier retailers are — which is that they're missing out to the off-price stores," Santaniello said.