After focusing on DTC, True Religion plans to double its wholesale revenue in North America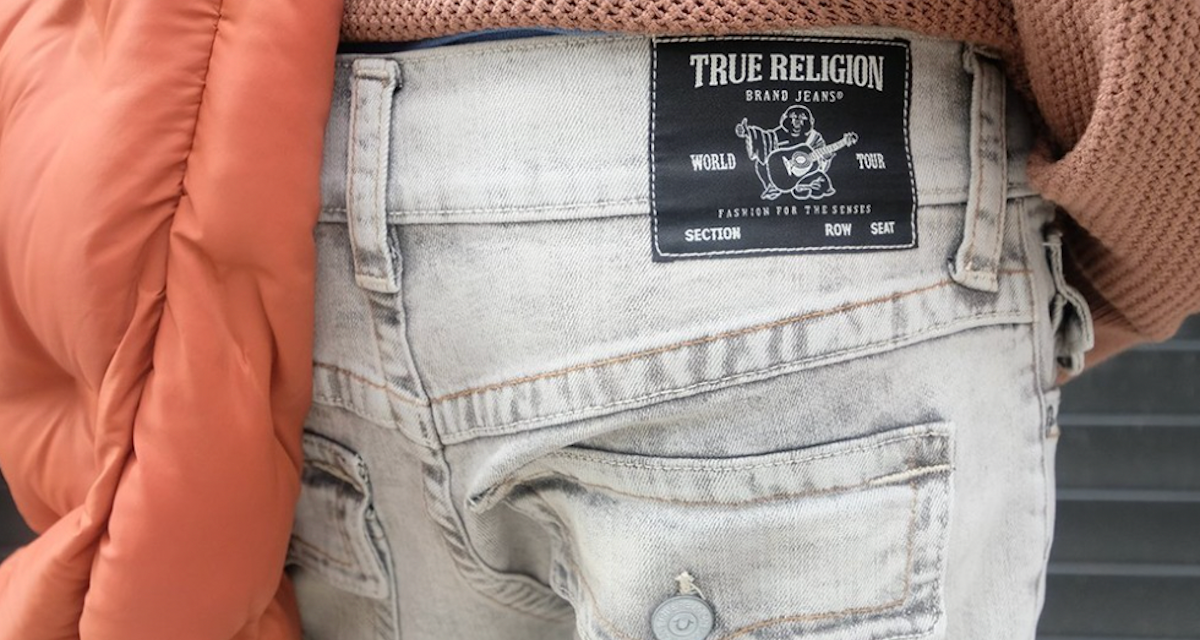 True Religion
After years of focusing on direct-to-consumer sales, True Religion is placing a bigger emphasis on wholesale.
Under Jim Kushner — the brand's new executive vice president of wholesale sales for North America — True Religion is aiming to double the continent's wholesale revenue over the next three years. Wholesale currently makes up about one-third of True Religion's business, but Kushner wants to bring this up to 40% or 50% to put it more on par with e-commerce, he told Modern Retail. According to Kushner, e-commerce currently accounts for about half of True Religion's revenue.
Over the past couple of years, many retailers — including True Religion — invested more in DTC to meet the pandemic-era demand for online shopping. For the most part, these efforts paid off; True Religion's revenue hit $151 million in 2020, then $255 million in 2021. Last year, the company announced plans to triple its online revenue and rolled out a new app to better capture mobile sales. Its CEO Michael Buckley told Modern Retail that True Religion was invested in being "digital-first," partly to better resonate with Gen Z shoppers.
While True Religion is still interested in growing digitally, many shoppers are back to buying things in person. True Religion wants to follow that traffic via wholesale, both through existing and new partnerships. As a business, Kushner explained, "You want to explore and dive into every type of channel where customers shop."
"There's a lot of really amazing retailers out there… and they all attract a lot of consumers and in some cases, a special type of consumer," he added. "I think the more we tap into each of them and what their needs are, the bigger chance we have to become a bigger player out there to grow the business."
Right now, True Religion has several wholesale partners, including department stores Nordstrom and Macy's and off-price retailers Saks Off 5th and Nordstrom Rack. It is interested in bringing on more retailers as part of its plans for growth.
Some of these new retailer partners could cater to younger shoppers, a demographic with which True Religion is eager to build a following. True Religion's marketing efforts reflect this, and if the brand stays relevant with the group, Kushner said, "I think that's just going to trickle down into the wholesale world and make the brand more desirable."
While Kushner could not divulge the wholesalers True Religion is speaking with, he acknowledged that discussions are ongoing. "We're engaging with people who we haven't done business with recently," he said. "And it's just a matter of making sure it's a win-win for both of us."
True Religion isn't alone in shifting more of its focus to wholesale. After cutting ties with several retailers to focus on direct sales, Nike has revitalized its relationships with Foot Locker, DSW and Macy's. Brooklinen launched a wholesale website on Shopify, Adore Me expanded into Walmart and ButcherBox struck a deal with BJ's Wholesale Club. In a Modern Retail and Glossy survey conducted this past winter, 64% of brands said they expected to increase spending in wholesale either "somewhat" or "significantly" over the next 12 months.
Bryan Gildenberg, founder of the consultancy business Confluencer Commerce, told Modern Retail that for brands, there's always a trade off between wholesale and DTC. "Wholesale is less profitable than consumers coming to your website and buying your own stuff most of the time," he said. "And then the second thing is, you have less control over the customer brand experience."
At the same time, Gildenberg said, "I think even somebody like Nike has discovered that despite the strength of their brand, it's not the easiest thing in the world to grow without having at least a more significant wholesale component to the business to be able to reach more consumers."
According to Gildenberg, wholesale is becoming a more popular route for DTC-focused retailers for three reasons. One, customer acquisition costs are high for DTC businesses. Two (which particularly applies to apparel businesses), consumers are not spending as much on discretionary items. And three, shoppers are making more purchases in-store. "When you go back to physical stores, wholesale becomes important," he said.
That third point is particularly important for True Religion, because its store footprint has dwindled over the years — especially after it declared bankruptcy for the second time, in 2020. True Religion operated 87 stores at the time of its bankruptcy filing, a number that has since dipped to around 50. While the company has worked to make up for those losses, wholesale gives it greater access to more customers in places where it does not have its own stores.
Beyond that physical presence, True Religion is hoping to use wholesale to offer more types of products. Although Kushner acknowledged that denim jeans are the foundation of the business, he added, "How do we expand into outerwear? How do we build a denim shirt business, denim skirts, denim dresses? …We're really a denim lifestyle brand, and I think we can expand into more categories and show up in a bigger way."
Kushner, who has held leadership and senior positions at Perry Ellis, Calvin Klein and Guess Jeans, is confident in the direction of wholesale at True Religion. "It's going to take a lot of work, but I do see a path where doubling this business in next three years is doable through… growing our existing customers, expanding doors and acquiring new ones, as well," he said.