After years of focusing on DTC, Nike is quietly bringing more wholesale partners back into the fold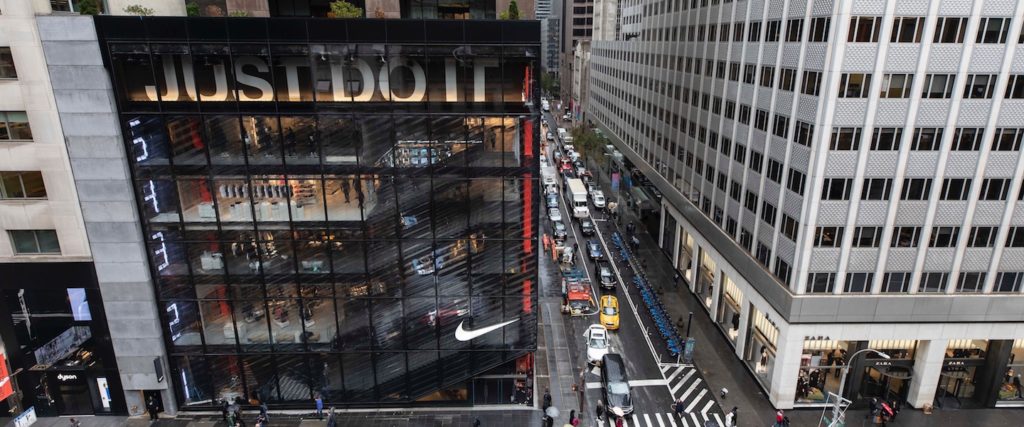 Nike is reversing course after cutting wholesale ties with several stores and sellers years ago.
On Thursday, Designer Brands CEO Doug Howe announced that Designer Shoe Warehouse (DSW) — a company Nike pulled back from in 2021 — is re-entering its partnership with the retailer, beginning in October. DSW will sell a wide variety of Nike products (men's, women's and kids') across its physical and digital channels, Howe said at the earnings call.
"We are committed to our National Brand strategy and growing strong partnerships with the largest Brands that are most relevant to our retail customers," Howe said in an emailed statement to Modern Retail. "One such Brand is certainly Nike. With such immense brand equity, we are pleased to offer Nike product to our customers… Nike products are expected to be available in our DSW Designer Shoe Warehouse stores, as well as online nationally in Q4. This builds on our owned portfolio of brands in the hyper critical athleisure category."
Under a shift announced in 2017, Nike significantly slashed its number of retail partners to better focus on direct-to-consumer (DTC) sales. As of September 2021, Nike had "exited about 50%" of its retail partners, Nike finance chief Matthew Friend said at the time. These included Big 5 Sporting Goods, Dunham's Sports, Urban Outfitters, Dillard's and Zappos. Nike kept on some of its biggest accounts, including Foot Locker and Dick's Sporting Goods. However, in February 2022, Foot Locker said it expected its Nike inventory to "decline meaningfully" as Nike continued concentrating on DTC.
Now, Nike appears to be reversing some of its decisions. Last week, Macy's CEO Jeff Gennette announced that come October, Macy's stores and websites would resume selling Nike apparel. Nike wound down its partnership with Macy's in 2021, although the two have retained a Finish Line partnership. The renewed partnership drastically expands the amount of Nike product that Macy's will have on hand.
"This is going to be, we believe, a real catalyst without cannibalizing much else in the balance of the apparel assortments," Gennette said on an earnings call. "This is a win for us. And we think it's a win for Nike."
Nike is also making headway on its relationship with Foot Locker. In March, Foot Locker CEO Mary Dillon spoke of a "renewed" relationship with Nike. On an earnings call in May, she said that Foot Locker and Nike teams had gathered in Portland "to plan our return to growth in our Nike business in 2024." "We're also partnering closely on data sharing and building a stronger joint capability around demand creation for our shared customers and marketplace," she added.
Nike's Direct business — which encompasses its DTC channels like its website, app and stores — has enjoyed strong growth. Nike reached $5.3 billion in direct sales during its third fiscal quarter ending February 28, 2023, a 17% increase year-over-year.
However, even though Nike "is more than capable of driving its business [via DTC]… it probably found that pulling back from retail channels has lost it some customers and given more prominence to rivals," Neil Saunders, managing director of GlobalData Retail, told Modern Retail.
Tom Nikic, svp of equity research at Wedbush Securities, agreed that Nike likely realized that it "pushed too hard" out of wholesale and onto DTC. "The fact is, there are still millions of customers who shop at Macy's and DSW and Foot Locker," he told Modern Retail. "There are Nike brand loyalists and people who want exclusively Nike product… but there are a lot of customers out there who want a multi-brand experience, who want to be able to compare a Nike shoe and an Adidas shoe head-to-head and see which one they want to go home with. I think they may have underestimated the stickiness of that multi-brand demand."
Nikic said he believes that Nike will continue to prioritize DTC, because DTC does capture larger profits and allows for more targeted marketing. But, he said, "if they're going to win in DTC, it's going to be because the customer still has the option to shop in the multi-brand channel, in the wholesale channel, but chooses to go directly to Nike. Eliminating the choice for the consumer, I think, perhaps did not pan out the way that they thought."
Inventory likely plays a role in Nike's decisions, too, both Nikic and Saunders pointed out. Nike has been saddled with excess inventory for quite some time, and while it's making progress on bringing that inventory down, its levels are still relatively high. As of February, Nike had $8.9 billion in inventory, a 16% increase over the same period a year ago. Bringing distributors like DSW, Foot Locker and Macy's back into the fold helps Nike clear that inventory faster, so it can make more room for future shoes and apparel.
Nike's newly-renewed partnerships also come at the same time that more shoppers are focusing on essentials like food and transportation over discretionary categories like apparel and footwear. By increasing its footprint through wholesale, Nike can better reach that segment of consumers that can afford — and still want to purchase — Nike products. Macy's, Foot Locker and DSW also have hundreds of stores, combined, in the U.S., and come with their own avid customer bases.
That reach is crucial, especially as demand slows down. "Ultimately, strong distribution is becoming more critical as the consumer economy tightens," Saunders said.