'We're likely closer to a market saturation point': Why 2022 is critical for at-home fitness startups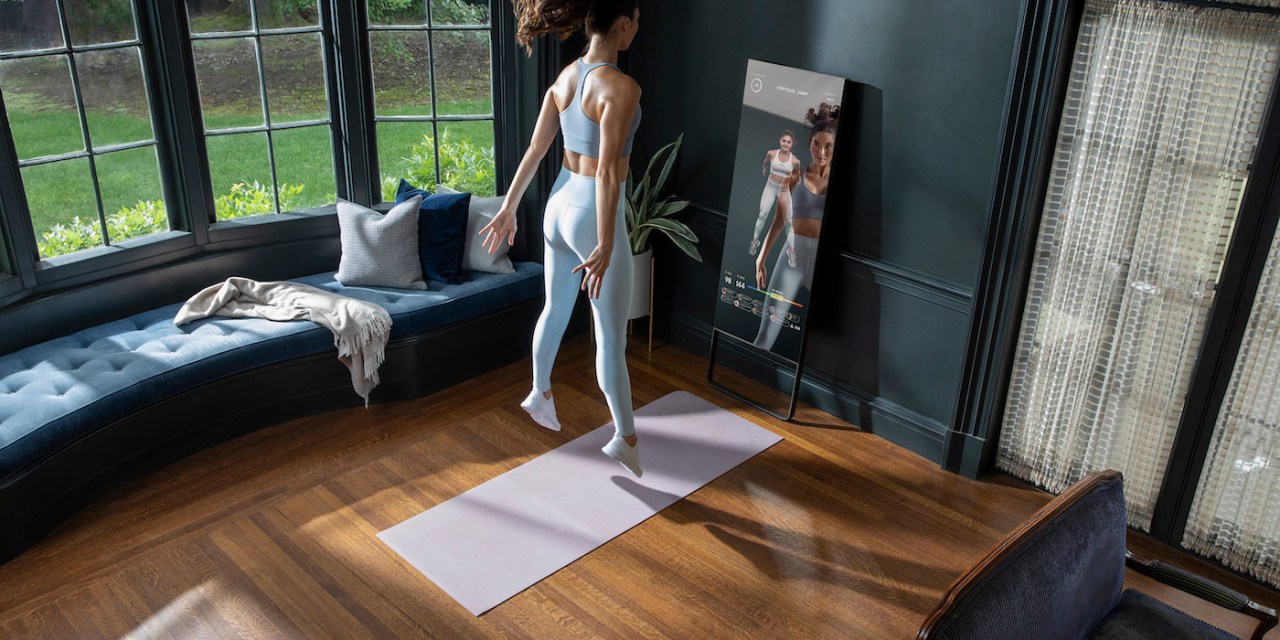 Image via Mirror
At-home fitness startups had a bumpy 2021, and 2022 is going to be the year they prove their staying power. 
Many brands faced a multitude of challenges in 2021, as they struggled to match the growth they saw in 2020 while also dealing with added supply chain costs. These issues appear to be continuing this year, with companies like Mirror ushering in a new top executive, after parent company Lululemon lowered its annual revenue forecast. Meanwhile, Peloton's public image is in flux following a series of competitor lawsuits and PR scandals. 
But, unlike the early days of the coronavirus, customer demand is harder to come by in 2022 — and many of these companies are facing newfound headwinds and crises.
Lululemon's latest earnings, released in December, signal the challenges that major virtual fitness players currently face. For Lululemon's fiscal year 2021, Mirror sales are expected to generate between $125 million and $130 million. This figure is about half of Lululemon's previous estimates, between $250 million and $275 million. Amid this financial slowdown, parent company Lululemon announced the appointment of new Mirror CEO Michael Aragon — Twitch's former chief content officer. Lululemon did not respond to a request for comment about the company's new direction.
Meanwhile, competitor Peloton also reported slowing sales. In its own latest earnings last November, Peloton missed its revenue goals and posted $376 million in net losses. Peloton spent 2021 spending heavily on improving its in-house supply chain following months-long delivery delays. Then, in December, Peloton faced a series of PR crises involving an episode of HBO Max's "Sex And The City" reboot.
Amid all of this, there were a number of legal clashes taking place between these brands. Lululemon took Peloton to court for allegedly copying Lululemon's apparel designs. At the same time, Lululemon has sued Nike over Mirror allegedly infringing on Nike tech patents. 
Still, fitness startups aren't giving up on eating up future market share. 
Strength-training focused Tonal continues to open showrooms and partner with retailers to promote its digital fitness system. Bandier, Neighborhood Goods and Nordstrom are some of the retailers that Tonal has partnered with on pop-up shops. Tonal also continues to raise venture capital. Last March, the company raised a $250 Series E round, helping it reach a $1.6 billion valuation.
Matt Moorut, senior principal analyst at Gartner, said that some of these startups found success by accelerated lockdown sales. "But price points generally remain high and the target market is shrinking as people go outside to exercise again," Moorut explained.
When market demand shrinks, the cost of acquisition generally increases, he said. "And I expect the cost of acquisition will likely rise for several digital fitness startups," he added. 
The stagnation also comes at a time of virtual fitness fatigue, and more people eager to return to in-person gym workouts or group classes. According to Jeffries, as of October 2021, U.S. gym traffic for the month of October was recovering rapidly, and was only 8% below 2019 levels. 
Earlier this month, Planet Fitness CEO Chris Rondeau told CNBC that memberships and customer attendance is still strong despite the Omicron variant's spread. Rondeau noted that visits were low prior to the Covid-19 vaccine rollout last year, but have since rebounded. "During the Delta variant and Omicron, we're not seeing that pullback," he said. "We're not seeing members slowing to come in. We're not seeing joins slowing. We're not seeing cancellations rising." This week, Planet Fitness said that it ended 2021 with 15.2 million members, a 1.7 million increase year-over-year. The fitness chain also opened 132 new locations during 2021.
What's more, existing gyms and studios are building a hybrid fitness business model. Equinox+, Equinox's virtual fitness platform, hit 2 million paid subscribers in mid-2021 – a 135% increase since it launched in 2020.
As more challenges arise, device-based fitness brands like Mirror and Peloton will continue to duke it out for the top spots among consumers. However, Nick Rizzo, fitness research director at RunRepeat, said that despite the current volatility, "the online and digital fitness industry is currently the fastest-growing segment within the fitness industry." 
Other analysts agreed. "I'd expect most of these fitness companies to perform well against their pre-pandemic growth targets for 2022," said Gartner's Moorut. "But the question is how ambitious those targets should be now, given we're likely closer to a market saturation point."