Earnings
// December 10, 2021 ■ 4 min read
Lululemon's Mirror struggles among crowded connected fitness space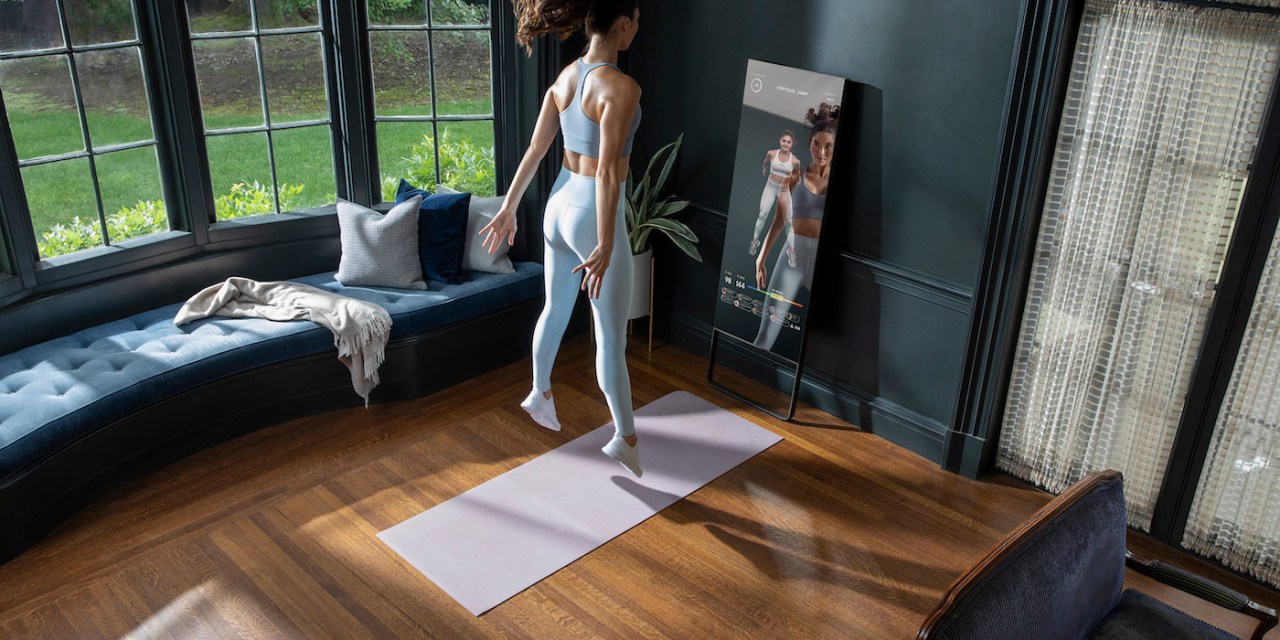 Image via Mirror
Eighteen months after Lululemon's $500 million Mirror acquisition, the connected fitness brand is struggling to scale. Per Lululemon's latest quarterly earnings report, Mirror sales make up less than 3% of Lululemon's total 2021 revenue. What's more, Lululemon slashed Mirror's revenue outlook by half. 
Aside from Mirror's shattered trajectory, Lululemon's growth streak continues. For its 2021 fiscal third quarter, the company recorded $1.45 billion in revenue — a 30% spike over the same period last year. The retailer attributed the boost to an increase in stores' traffic following vaccine rollouts earlier this year. The company's income for the quarter was $187.8 million.
Still, Lululemon's earnings show how challenging the connected fitness space has gotten. Since the vaccine rollout, more people are going back to in-person gyms or not using their at-home equipment as heavily. Digital fitness companies are finding it difficult to acquire customers and, in turn, are slashing their upcoming revenue forecasts. In fact, Mirror isn't the only at-home workout product struggling to maintain its initial pandemic sales growth. In November, Peloton also missed its revenue goals and recorded $376 million in net losses.
Lululemon now estimates Mirror sales to generate between $125 million and $130 million for fiscal year 2021, compared to its previous projection of between $250 million and $275 million. The reduction comes after the device and its recurring subscriptions generated $170 million in 2020.
"As you know, 2021 has been a challenging year for digital fitness," Lululemon CEO Calvin McDonald said during Thursday's earnings call. "We have seen increasing pressures that are impacting the entire industry." 
Michael Binetti, an analyst at Credit Suisse, flagged in a research note that Mirror's heavy promotions leading up to Cyber Monday — up to 30% off — were an area of concern. "We see risk that Lululemon will have to adjust the carrying value of Mirror lower," he wrote.
Despite its lagging growth rate, Lululemon still sees an opportunity to grow the Mirror portion of its business and compete with startups like Peloton and Tonal. On the earnings call, McDonald reiterated the company's commitment to grow Mirror's business in the long run — especially through its store-within-store format. However, there have been reports of internal tension while the two companies attempted to integrate their offerings.  
Mirror's growth could be a slow and steady as virtual fitness brands continue to lure Americans away from traditional gyms and workout studios. Despite the crowded space, more retail brands are betting on fitness partnerships. In August, Gap-owned Athleta invested in virtual fitness startup Obé after partnering together on exercise and lifestyle content.
A RunRepeat research report from the fall predicted online fitness to grow 66.32% by the end of 2021, in comparison to pre-pandemic levels in 2019 and earlier; the connected fitness segment is expected to have a 33.10% per-year growth rate between 2021 and 2028. 
For decades, "the gym industry has long been the major pillar of the fitness industry," Nick Rizzo, fitness research director at RunRepeat, wrote in the research report. However, the emergence of on-demand and live-streamed workouts over the past two years — along with the availability of devices and trackers like Mirror and Peloton — will likely stick around now that consumers are accustomed to the convenience. Despite its ongoing volatility, "the online and digital fitness industry is the fastest-growing segment within the fitness industry," Rizzo said.
At the same time, Lululemon has an edge over new competitors when it comes to workout apparel. Lululemon is currently suing former brand collaborator Peloton over copying its designs in its new private label line. According to Similarweb tracking, since Peloton launched its line on September 9, its apparel site's year-over-year traffic dropped 0.8% and 2.6% in September and October, respectively. During the same period, Lululemon's e-commerce visits grew 6.7% and 2.9%. 
For Lululemon, Mirror is still a major play for its virtual fitness ambitions. Last year, McDonald said he sees Mirror as a complementary brand to Lululemon and predicted it will be profitable by by this year. He pointed to the two brands' overlapping customer base and potential collaborations as sales drivers.
"One of the unique advantages we bring to the space is the many ways we can build brand awareness for Mirror," McDonald said. "As we unlock these synergies, we see a clear path to engage with the more than 10 million Lululemon guests who live the sweat life."