Retailers are betting on the crafting boom to continue into 2021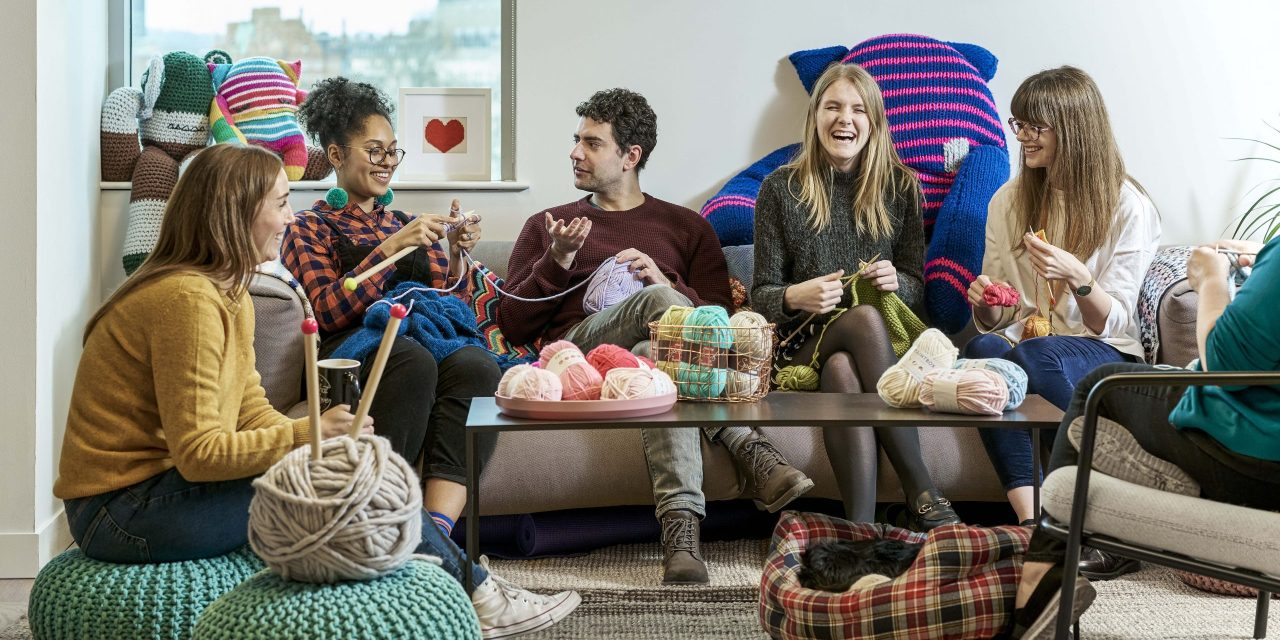 LoveCrafts
Crafting supplies retailers are hoping first-time customers continue picking up their knitting needles and sewing machines in 2021.
Crafting suppliers initially benefitted as consumers flocked to their stores for masks and other personal protective equipment, as well as crafting hobbies to stay occupied at home. In the early pandemic days of April 2020, NPD Group reported a 70% increase in arts and crafts sales, particularly in craft kits and reusable compounds. This increased consumer interest continued throughout 2020, with indexed Google search volumes for terms like "knitting," "embroidery," and "crocheting," outpacing the year prior  6%, 12%, and 18% respectively, according to GoogleTrends.
Now, going into 2021, the bigger players are focusing on social media strategies, and building out their ad targeting strategies to appeal to the casual crafter. Meanwhile, some startups like LoveCrafts are looking to expand their presence geographically after seeing huge sales increases. But, the jury's still out on just how permanent these pandemic gains will be.
"I think the crafting sector will remain larger than it was pre-pandemic," said Neil Saunders, managing director of GlobalData Retail. "However, I think it will be difficult to replicate the kind of sales growth that was seen in 2020." He added that to further aid growth, "crafting retailers need to keep customers engaged, maybe by creating online communities with videos and tutorials and a social aspect."
Here's a look into how some crafting retailers — big and small — are preparing for the post-pandemic economy.
Big gains for the bigger players
Recent earnings reports showcase how large 2020 was for the crafting industry. Joann, which plans to enter the public markets this year, saw a 24.3% boost in revenue in the first three quarters of 2021 as compared to the same period in 2020. New customers accounted for some of this growth, with the company reporting a 15% growth in their customer base in their S1, which went live in February. The company also mentioned the importance of the sewing category, in particular, to its growth.
Moreover, the company wrote that it hopes to keep pandemic-won consumers engaged with an expansion of its social presence, particularly on YouTube, as well as using first party data gained from this new group of consumers to invest in more targeted, digital marketing.
Over the past year, Michaels recorded $1.9 billion in net sales in the fourth quarter of 2020 for a 12% year-over-year increase. In an announcement about top crafting sales trends, the retailer suggested resin, crafting technology, and kids art and education were three top categories in 2020.
Now, Michael's is focusing on keeping this momentum by growing its crafting community by pivoting its social media strategy. On Facebook, Michael's has approximately 3.2 million followers, and has started to feature more user-generated content, as well as promoting partnerships with small crafting influencers like Craft Box Girls.
Even big box retailers are entering the crafting game. Target launched a new private label in March 2021 called Mondo Llama, offering crafting supplies for both children and adults, with a focus on the casual crafter.
A mixed outlook for smaller players
Not all crafting supplies stores reported huge sales growth in 2020 — it depended on where their stores were located (suburban stores outpaced city stores), as well as breadth of products and price point.
Robert Buchsbaum, CEO of the family-owned, fine-art-supplier Blick suggested that growth in online sales (which accounted for 40% of the business pre-pandemic) were offset with dips in Blick's two other arms: art teacher supply and brick-and-mortar sales.
"I think we ended the year pretty flat in sales on a consolidated basis. The whole thing ended up balancing out. This massive growth in one area offset by these massive declines in the other," said Buchsbaum. He added that "it was probably one of the hardest, scariest years I've been through."
Buschbaum said that one interesting trend Blick saw last year is that more parents were buying art supplies for their kids online for the first time. However, he wonders wonders whether these new consumers "may not need our depth in this specific area of fine art that is kind of the differential between us and say, Michael's." Blick's sales were also hampered by the fact that its 60 brick-and-mortar locations are primarily in major metropolitan areas like New York or San Francisco, where many former city-goers have yet to fully return to.
Meanwhile, LoveCrafts, founded in 2012, is in expansion mode after seeing a lot of growth last year. The London-based startup, which sells crafting supplies ranging from cardstock to knitting needles online, raised a $22 million round of rounding and acquired Massachusetts-based WEBS in February to expand its presence in the U.S. According to a press release at the time, LoveCrafts said that it saw an increase in orders from new customers of 166% between March and November 2020, compared to the same time period a year prior.
For LoveCrafts, much of its success was thanks to its predominantly online sales model. While CEO Edward Griffith did have to battle ever-changing restrictions in both the European and North American markets, sales stayed consistently high.
"In terms of the overall year, across different territories worldwide, we are up at about 60% or 70% year-over-year but that varies from the UK being (up) 150% and other territories being a little less," said Griffith.
Griffith attributes increased sales to certain expected product categories like masks as well as increased crafting interest from a younger demographic, but said his surveys suggest that the majority of new sales come from consumer's mental health needs.
"(Crafting) is being used as a way to combat mental health stresses and pressures at home," said Griffith. "I think it's a strong, encouraging, palliative response to a very difficult time." In October, the retailer released a free online "mindful making" workshop with printables, patterns, and project ideas to promote mindfulness and has regularly posted about the intersection of mental-health and crafting on its website over the past year.
Buchsbaum and Griffith have a mixed outlook on whether the crafting boom is here to stay.
"Call me in [the first quarter] of next year," Buchsbaum joked. "I do think people will continue to have more time on their hands…. I'll be curious as people start getting back to their regular lives and start spending their money in more traditional ways. $500 of art supplies is a huge purchase. $500 of going on a vacation is a very small purchase."
Griffith is more hopeful, having brought new customers into the e-commerce fold for the first time.
"If you look at the big three big-box retailers in the U.S., they've been a little more public with their pre and post-pandemic numbers, and you can use them as proxies for where the state of online penetration is," said Griffith. "It was much lower than other sectors and I think that the pandemic will have gone some way into shifting that… stores are part of our future but we are — and always will be — living in the intersection of tech and craft."