DTC Briefing: The case for and against Black Friday discounts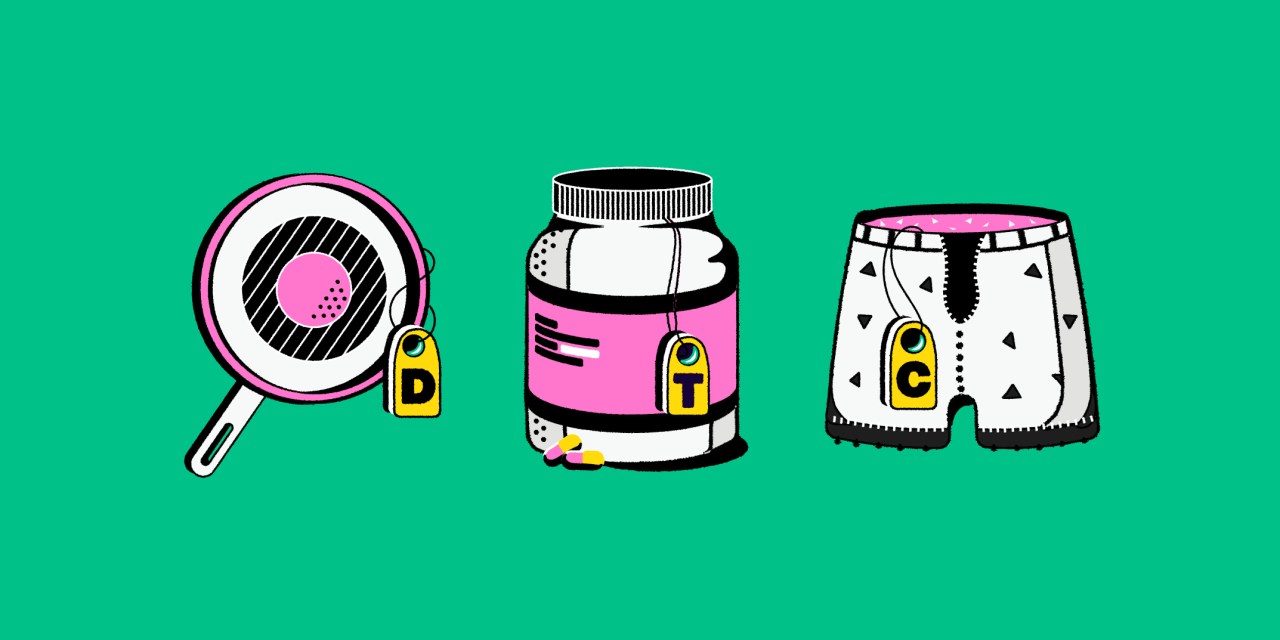 Illustration by Ivy Liu
This is the latest installment of the DTC Briefing, a weekly Modern Retail+ column about the biggest challenges and trends facing the volatile direct-to-consumer startup world. More from the series →
Just how much brands should participate in Black Friday sales have become a hot-button issue for many DTC startups.
In their heyday during the early 2010s, DTC darlings like Everlane and Away prided themselves on never participating in the official kickoff to the holiday shopping season. For a while, this approach helped protect the brand's premium image, or call attention to its commitment to social causes. But many brands who swear off Black Friday eventually find themselves reluctantly participating in the sales event. After initially opting to shut off its website during Black Friday, Everlane now participates in the big sales day, opting to donate a portion of proceeds to various causes instead.
Some retailers like Deciem and Patagonia, see taking an anti-Black Friday stance as a necessity to call out consumerism and promote sustainability. But for many young direct-to-consumer brands, discounting is unavoidable in the coming weeks – especially after months of slow sales that resulted in unsold merchandise. Brands, then, face a few tough choices: how to protect their brand while still acknowledging the biggest shopping days of the year. And, what perks they can offer customers — if not in the form of discounts, then in
As companies prepare for their Black Friday sales – or lack thereof – executives give their reasoning behind taking a for or against discounting stance.
The case for
With Americans looking for deals during this economic climate, some companies are re-tooling their end-of-year strategy to showcase their best offers. Steph Chen, founder of microwave cookware Anyday, told me "the last few months have shown it's obvious things are slowing down in retail."
"It does feel necessary for us, both from a consumer experience and sales perspective, that we need to discount a little deeper this year," Chen said, who launched the brand in 2021. "It's a chicken or egg thing too, because the more other companies discount the more it necessitates us to do it."
Chen said the company is pivoting plans based on learnings from last year – when Anyday centered its campaign on a gift with purchase offer that didn't end up paying off. In 2022, Anyday's sale was 15% sitewide and 20% off purchases of $150 or more, which was the steepest discount the company had done to date. This sale ran exclusively during the Black Friday week, Chen said, and in turn helped the brand convert more customers in November than December – despite the site's traffic being about the same.
"This year we're doing 20% sitewide and 30% off of a $200 or more purchase," Chen said. "We want to incentivize bigger purchases because of how intense shipping costs are."
Additionally, Chen said because people are still looking for a significant discount in December, "it behooves us to stay on sale in some form to capture that interest." In December, Anyday will run limited time gift-with-purchase offers, featuring newly released merch. "Last year we offered a gift that, in reality, we had a lot of inventory of but wasn't that exciting," she said of the Anywhere carrier bag. "These new pieces will be more geared at our core followers."
Other companies are also incentivizing bundling. Direct-to-consumer footwear brand Vivaia is kicking off its sale on November 9 and runs throughout the month, will offer free shipping on all orders; The minimum to receive free shipping is usually $99 per order.
Moreover, as opposed to offering a standard sitewide percentage off, Vivaia co-founder Marina Chen said the company is tailoring the discounts based on its customers' purchase behavior. Chen said most Vivaia customers end up ordering multiple pairs of shoes at a time, so Vivaia is offering 20% off the purchase of two shoes. Customers will receive 25% off their order when they buy three pairs and 30% off four pairs.
The case against
Despite pressures to give into the annual tradition, some companies are sticking with the once-popular strategy: refraining from offering Black Friday through Cyber Monday deals.
Swiss bag maker Freitag is one company that's shutting down during the Thanksgiving weekend.
For the fifth year in a row, Freitag is closing their online store – and for the first time this year, also turning off the POS systems at their physical stores. Instead, on November 24 the company will re-purpose the stores as temporary lending outlets for people to try out their bags. According to the company, the "loans not moans" program will allow anyone to borrow one of 30 bag styles to test for free for two weeks.
The company says the loans put out "an unmistakable signal that the future lies in durable, resource-saving products and circular forms of consumption." The tactic makes for an interesting case, in which the brand is still engaging with customers while promoting eco-friendly shopping habits. "The impact of this campaign on our holiday business is hard to predict," Elisabeth Isenegger, comms lead at Freitag, told Modern Retail. While the company does lose a day's revenue, Isenegger said "the message it delivers is more important to us than having record high holiday business figures."
And while many view this approach as an unnecessary financial loss, she continued, "we see it as an opportunity to promote sensible and conscious consumption habits."
Other companies have an anti-Black Friday stance that comes down to protecting margins. This is the first official holiday season for mattress brand Earthfoam, which launched at the end of last year. But as he's done with his other mattress company, ten-year-old Sleep on latex, founder Karl Shevick said the company is teaching customers to not expect discounts throughout seasonal holidays. This includes Memorial Day and Labor Day, historically popular weekends for mattress sales.
Shevick said the never discount strategy is based on the production and logistics of mattresses. Earthfoam – like many mattress brands – offers a 100 day trial, Shevick explained. Therefore, he argued, a seasonal sale would upset customers who just purchased a mattress – and ask to return it and repurchase at the sale price.
"A lot of mattress companies have gotten around that by raising the regular price when giving discounts, or just always have a sale on," Shevick said. "We feel like we're always selling at the best price, otherwise we would just lower the regular price." Shevick added that Earthfoam's approach is unique to the category, but it makes more sense for apparel or beauty brands to get rid of seasonal products via heavy discounts.
Shevick said that with Sleep on Latex, there were some attempts over the years at offering limited-time deals – but ultimately the strategy didn't make a significant dent in holiday revenue. "We've tried different methods, like offering a gift card for future purchase with purchases, but didn't see much of a difference in sales," he explained; Shevick attributed this to little customer interest in future discounts after they already made a big purchase, given that the brand only sells a couple of bedding accessories besides mattresses. "Customers don't have a big incentive to come back soon after they buy a mattress."
In the coming weeks, the company will let customers know – via email and social media – not to expect a Black Friday sale. "We do this to explain why, because people start asking if they should wait for the sale to buy a mattress," said Shevick.
Interestingly, Shevick said so far, popular shopping periods have still helped bump Earthfoam's sales – attributing it to customers being in a buying mindset. "Even on Prime Day, we got a spike despite not having deals," he said. Naturally, there is an initial disappointment from people who reach out about sales, Shevick said. "But when we explain why, 98% of the time they understand the reasoning."
What I'm reading
According to a new Crunchbase News report, so far this year venture capital funding for DTC brands has declined 97% since 2021.
Per BoF, young watch startups Baltic and Christopher Ward are attracting collectors looking for more attainable timepieces rather than legacy brands.
Direct mail marketing continues to be a cost-effective play for brands, as more companies experiment with traditional advertising channels.
What we've covered
A number of digitally-native brands spoke to Modern Retail about their recent experience with the now-bankrupt Showfields – which included late payments and underwhelming sales.
Two years after going public, medical scrubs brand Figs opened its first permanent retail location this month.
As it attempts to turn a profit, Allbirds is launching an updated version of its original Wool Runner 2 shoe.