'Not your grandma's tomato drink': How V8 is rebranding to fit changing tastes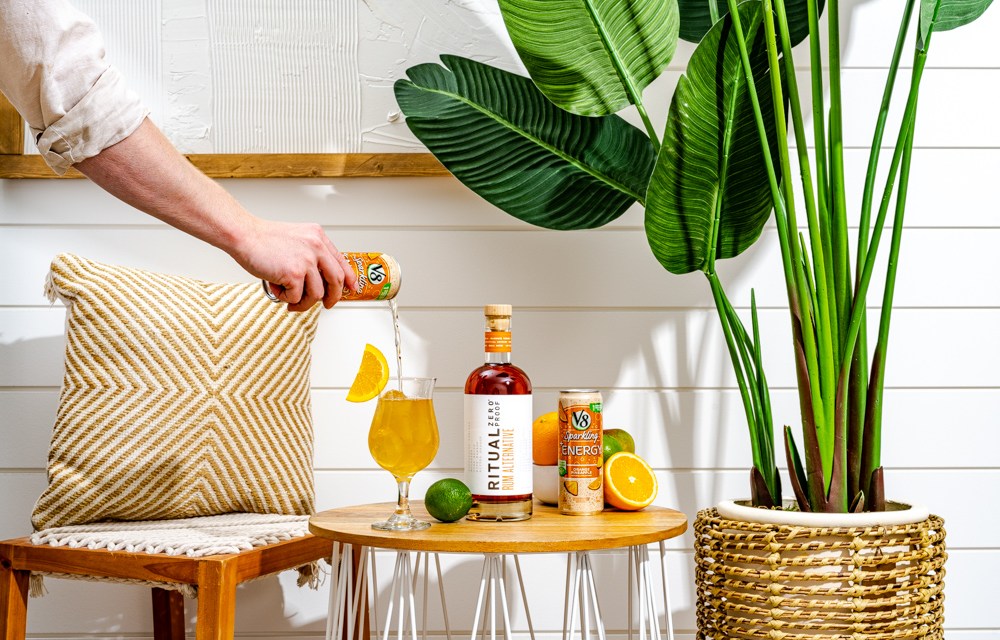 Image via V8
Legacy CPG brands are trying to become hip for a new generation of consumers. Nearly century-old V8, known largely for its tomato juice blend, is one such brand. Over the past five years, V8's product development has tried to rebrand itself by expanding outside its flagship beverage.
The original V8 tomato juice has been around since the 1930s and was taken over by The Campbell Soup Company in 1948. Since then, the shelf-stable line has been synonymous with Bloody Mary cocktails and airplane beverage carts. In recent years, V8 has been releasing new products like V8 +Protein and V8 +Energy, along with collaborations with younger brands to brand itself as a choice for health-conscious consumers. It's part of a brand-wide strategy to expand beyond its tried and true tomato juice roots, with new products like sparkling beverages and collaborations with hip beverage companies.
"We consider ourselves the original plant-powered drink, and want to lean into that more," said Leslie Waller, vp of marketing at V8. 
Waller said that because consumers already think of V8 as healthier than other juices, the brand doesn't have to start its marketing efforts from scratch. "But it's not just your grandma's tomato drink anymore," Waller said. "Now, we have a portfolio that reflects different taste profiles."  
The overhaul started about a decade ago, when the company launched its V8+ line, which now includes extensions like V8 +Energy and V8 +Protein. The brand's newest plant-based protein drink features 10 grams of protein and 5 grams of fiber, launched last November beginning with Walmart. Since then, it has continued to roll out across retailers. Many of the V8+ SKUs include fruit and vegetable blends. However, some of the more modern flavors, such as sparkling pomegranate blueberry, are tomato-free recipes.
The newer products, which focus on low sugar and sparkling juice, have also sparked new collaborations. "Our V8+ line is bringing in younger consumers, not only into our brand but the category as a whole," said Waller.
This emphasis of growing out the V8 portfolio is happening in tandem with a boom in demand. For its meals and beverages division, which includes V8, Campbell's said it experienced major growth during the pandemic. This was largely due to Americans spending more money eating and drinking at home. "Consumption grew 1% over the prior year and was up 11% versus two years ago despite our supply challenges," CEO Mark Clouse said during the last earnings call in December. Part of the 2021 slowdown in V8 sales was due to supply chain issues, including the shortage of aluminum cans, according to the company.
During the pandemic, V8 saw that 25% of customers were buying V8+ drinks to mix with alcohol, while 20% were adding it to nonalcoholic spirits, Waller explained. As a result, the company decided to partner with non-alcoholic spirit brand Ritual Proof Zero on co-branded recipes. In 2021, the collaboration began with influencer mixologist-created recipes, using Ritual's gin and whiskey alternatives.
V8 once again collaborated with Ritual Proof Zero this past January, and included recipes on both brands' websites and social media feeds, and sold Amazon-exclusive bundles of the two brands' products. "As we think about opportunities to modernize the brand, we're building newer SKUs to become associated with mocktails and cocktails," Waller said. 
Waller said that the Ritual collaboration has been helpful in encouraging cross-brand shopping. The V8 Spicy Hot and Ritual Zero Proof Whiskey, in particular, have been a popular bundle, she said.
David Crooch, CEO of Ritual, said the collaboration had also been helpful in bringing in "a customer from a wide age range." Crooch hinted that the two brands may test out various brick-and-mortar Ritual and V8 merchandising strategies next year.
In turn with these new collaborations, V8 is also in the process of redesigning its packaging's graphics "to reflect modern juice culture," Waller said. The new labels will prominently display relevant nutritional value, such as protein and caffeine per serving. The transition process began in December, and will continue to roll out this spring. Starting in April, V8 will also roll out a new TV campaign that features the protein line's new packaging. 
V8's modernizing efforts come as the juice category continues to evolve. 
The juice category has experienced much volatility in the past few years, especially in the grocery aisle. Cold-pressed juice bars have become popular among health-conscious consumers. However, major juice brands have struggled as Americans continue to move away from sugar-filled beverages, including some juices. This trend led PepsiCo to sell off its Naked and Tropicana juice businesses last year.
Nina McKinney, partner at fintech firm CircleUp, said that V8's update brand strategy makes sense because "the rate of change of consumer preferences has been accelerating faster than ever." These habits are being driven by social media, general availability of nutritional information and overall consumer interest in broader health, McKinney explained.
"To keep up with evolving preferences, incumbents must innovate to offer products that meet those consumer demands," McKinney said. 
However, McKinney also noted that legacy brands' attempt at evolving is a tricky strategy. She pointed to successful product extensions from the past few years, such as Gluten-Free Oreo or Lay's launch of Baked Lay's chips. Even health-focused brands, like Kashi, have been forced to expand and include products that cater to trendy diets, such as keto and paleo.
"Ultimately, it comes down to whether the consumer believes that the brand has the authority or brand equity to play within that claim or function," McKinney concluded.
As for V8, it thinks it can successfully target millennials and older Gen Z as more of them transition to at-home entertaining, said Waller. "We want to be the go-to beverage for this cohort of customers."