'An identity crisis': Why PepsiCo is getting out of the fruit juice business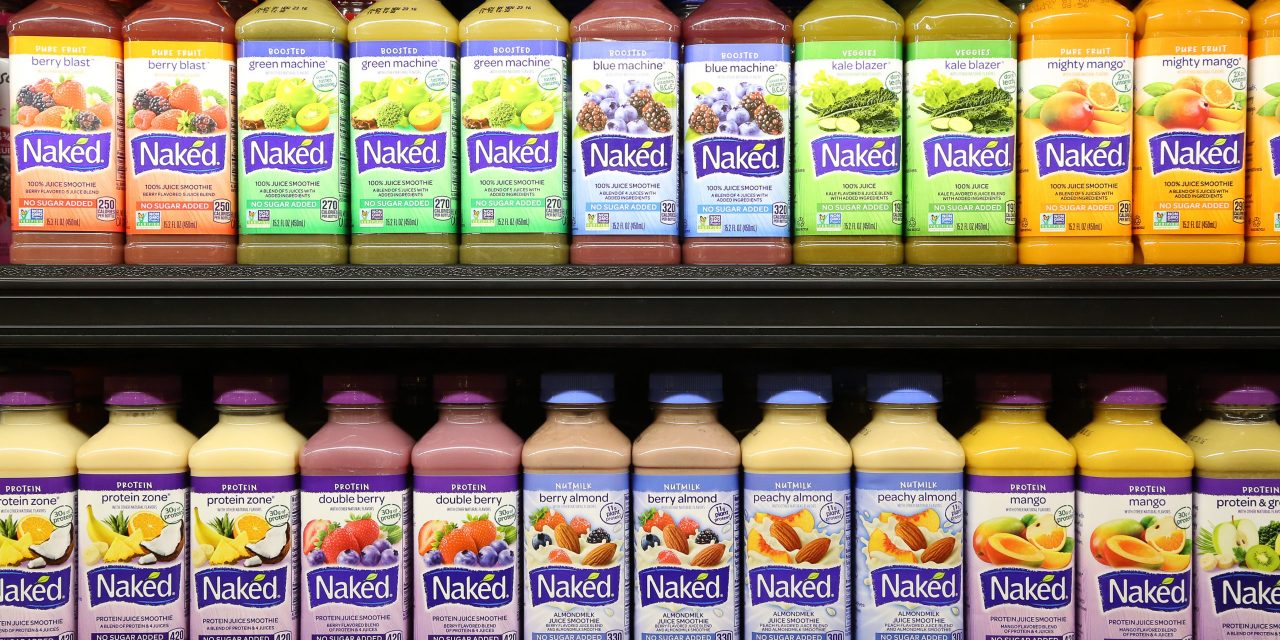 PepsiCo
As fruit juice consumption steadily declines in the U.S., PepsiCo and peers shift their beverage investments elsewhere.
On Tuesday, PepsiCo announced that it would be selling a controlling stake across its North American juice brands, like Naked and Tropicana, to private equity firm Pai Partners for $3.3 billion. The deal is another sign that the fruit juice market is losing steam. From 2006 to 2021 per-capita volume consumption of juice and nectars in the U.S. declined 36%, according to market research provider Euromonitor International.
Over the past ten years, juice has lost its healthy reputation as Americans move to low or zero sugar drinks. At the same time, juice is no longer a breakfast table staple: consumers instead prefer both super-premium smoothies and elaborate ready-to-drink coffee and tea mixes. While mass-market juice brands have attempted to adapt their offerings to speak to these changes, deals like PepsiCo's may become more commonplace as consumers continue to gravitate towards other drinks.
The writing has long been on the wall for PepsiCo's juice brands. From 2011 to 2020, PepsiCo's fruit juice and beverage sales decreased 36%, according to the Wall Street Journal. Moreover, the brands' operating profit margins under-paced the company as a whole, according to retailer's announcement about the deal.
"We came to the conclusion that given our orientation towards higher growth and improving our margins, Tropicana was probably less of a fit with the portfolio [than] it was before," PepsiCo vice chairman and CFO Hugh Johnston told Yahoo Finance Live.
The sugar problem
Over the last decade, scientists, governments and dietitians alike have tried to ween Americans off sugar. In 2014, the World Health Organization suggested that people reduce their intake of sugar to under 10% of their total calories. Over the past ten years, many major cities like Seattle or San Francisco enacted sugar taxes, raising taxes on drinks with sweetened with sugar. All of which, has made some consumers more wary of the sugar content in juce.
"The juice, juice drink, and smoothie categories have suffered from an ongoing identity crisis as factors like sugar and artificial ingredient content came to overshadow the nutritional value of these products," said Caleb Bryant, associate director of food and drink at market intelligence agency Mintel, over email.
Bryant added that 48% of consumers who reported drinking juice less often to Mintel said that they were doing so to reduce their sugar intake.
To combat this identity crisis, PepsiCo launched a 50% less sugar version of Tropicana, Trop50, in 2009 and a 40% less sugar version of Naked, Naked Lean, last year. The company leaned on healthy messaging about the natural and vitamin-filled quality of their juice products, but to what now seems with no avail.
A breakfast coup
At the same time as the sugar wars waged on, juice lost its place at the breakfast table, said Howard Telford, head of soft drinks at Euromonitor International.
"In addition to unpackaged alternatives, such as home preparation of fruit smoothies and fresh or cold-pressed formats, there are simply far more beverage options available to consumers for their morning occasion," said Telford. "Fruit juice no longer occupies a prominent position on the morning breakfast table or in school lunch boxes."
These options include expanded ready-to-drink tea and coffee beverages that mimic café offerings, such as canned lattes. Newer categories, such as kombucha and kefir options, are also taking share away from juice.
It's worth noting that many of these products are higher in sugar and calories than a traditional cup of joe — a single serving of Starbucks' at-home vanilla latte has 30 grams of sugar and 190 calories for example. But so far, that has yet to lead to declining market share in these categories.
When people do drink juice these days, they drink it in different formats like flavoring agents for seltzer, fruit juice shots or pressed formats.
"In the US, the big issues for the fruit juice category emerge from the diminished role of mass-market orange juice brands in consumers' routines over the last two decades as well as the growing preference for super-premium fruit smoothies from independent brands or prepared at home," said Telford.
Beverage conglomerates optimize
Christina Vail, director of client services at e-commerce insights platform Profitero added that product and ingredient costs rose during the pandemic. As such, PepsiCo and other food and beverage brands are especially eager to optimize.
Over the pandemic, food and beverage conglomerates have consistently trimmed or adjusted their product offerings. In October 2020, Coca-Cola announced plans to discontinue 200 products, or half its portfolio. In February of this year, Nestlé agreed to sell its North American water brands to investment firm One Rock Capital Partners for $4.3 billion.
However, food and beverage giants are still eager to acquire new brands in trendy categories. In May, Nestlé picked up tablet sports beverage company Nuun for an undisclosed sum.
PepsiCo's CEO Ramon Laguarta said the sale of its juice portfolio would help the brand to focus on its zero-calorie options and products like SodaStream, "which are focused on being better for people and the planet."
Moreover, even in its prime, juice has always been more expensive to supply than warehoused bottles and cans of beverages like water, soda or energy drinks.
"These [fruit juice] categories are very competitive, declining, and low-margin," said Vail. "There are also some supply efficiencies to be realized too as Tropicana and Naked Juice are warehouse delivered, versus delivered direct-to-store like Pepsi beverages and Frito-Lay products."
Amongst these issues, analysts are skeptical about juice's longterm prospects. While juice had an uptick in sales early in the pandemic — as health-conscious consumers wanted to up their vitamin-C intake — the category is still much smaller than in the early 2000s.
"Some brands may be able to contemporize juice for today's consumers, but the market at large will return to its pre-pandemic decline," said Mintel's Bryant. "PepsiCo's decision to sell Tropicana and Naked reflects a belief that the juice market won't stage a dramatic comeback and that consumers will continue to abandon the juice market in favor of lower-sugar beverages."