How essential retailers are defending against a 2021 slowdown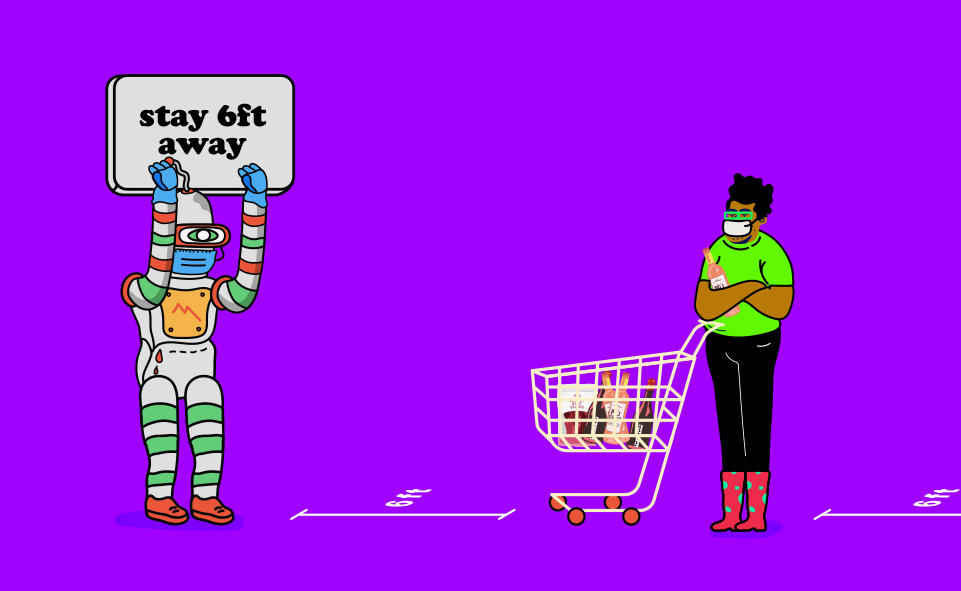 A year ago, essential retailers ruled the roost.
Big-box retailers like Home Depot and Target, hardware stores, grocery stores and drug stores were some of the only places where people in the U.S. could still shop in-person, after the first wave of stay-at-home measures. As a result, they reported unprecedented sales growth through the spring. A sampling of those results from last year: Target's comparable store sales were up 10.8% year-over-year between March and May, Lowe's comparable sales were up 12.3% year-over-year during the same time period, and Kroger's sales were up 19% during its first quarter last year.
Now, the challenge these once-essential retailers face this year, is to capitalize on some of that sales growth they saw last spring. In earnings calls over the past month and a half, most of the executives at these retailers have said that they don't expect to match the revenue growth they saw last year. Rather, the goal is to maintain marketshare. In order to keep shoppers coming back to their stores and websites, these once-essential retailers are using this year to expand into new categories, striking deals with popular brands or launching their own private-label lines, and launching new digital features. But it's a challenging prospect now to keep customers coming back, now that they have more choices about where to spend their money.
"As society starts to open up, trends are not as conducive for retail growth as consumers will start to spend more on experiences such as travel and dining out rather than on products," Neil Saunders, managing director of GlobalData Retail said. Here's an overview of the tactics being employed by retailers in different categories.
Big-box retailers
Target and Walmart saw some of the most consistent sales growth over the course of the pandemic, because customers didn't just come to its stores for cleaning supplies and groceries — Target and Walmart also saw an increase in sales of general merchandise and home goods during the pandemic. Target grew its revenue by $15 billion in 2020, which CEO Brian Cornell said was, "more than the 11 prior years (of growth) combined."
Walmart CEO Doug McMillion said during the company's fourth quarter earnings call in February that the big-box retailer plans to drive "existing and new customer growth through initiatives like Walmart+," its new membership program. He also said that the company plans to increase sales and profit by investing in higher-margin businesses like its third-party marketplace, financial services, health care, and its advertising business, called Walmart Connect, that lets brands buy ads across Walmart's digital properties as well as its store network.
It's worth noting that Target is also trying to build out an advertising business, called Roundel, as are other retailers like CVS and Ulta Beauty. It's a trend that Bryan Gildenberg, svp of commerce at Omnicom Condulting Group, predicts more companies will seek to replicate.
"They are all trying to improve the [digital] experience they create for consumers, that goes beyond [a simple] transaction and — likewise trying to monetize that," Gildenberg said.
Target, meanwhile is placing a great deal of emphasis on upgrading its stores. It's investing $4 billion annually to upgrade its existing store locations, as Modern Retail previously reported.
"Target is investing a lot in its stores, especially in areas where it believes it can deepen its share of spend, like beauty," said Saunders, citing Target's recent announcement that it would launch select Ulta shop-in-shops within existing stores. Target also started launching 17 Apple shop-in-shops in February."
Lastly, Target's continuing to roll out new private label brands in new categories, like a new crafting private label brand, as well as a line of "indulgent snacks."
Hardware stores
Home improvement chains like Lowe's and Home Depot have benefitted from a year in which not only were customers spending more time at home, many of them were also buying homes for the first time.
"For DIY operators their big question is going to have is how much home improvement was pulled forward or spontaneously generated from people spending more time at home," said Gildenberg. He added: "The competitive set is not another retailer, their competitive set is a vacation," alluding to the fact that customers may spend less money furnishing their homes when they can once again resume travel and dining out.
Lowe's is attempting to wring more sales out of its existing customers by stretching its spring sale — which has historically only lasted a weekend — out to four weeks. It's also trying to market itself as more of a home decor destination, carrying more products like bedding and desks and exercise equipment, mostly on its website.
Home Depot, meanwhile is continuing to focus on attracting more repeat business from professional contractors through its pro business. The company has for the past couple years been working to  bring more aspects of its pro business online, including adding more integrations for Pros like a QuickBooks add-on, and tying the loyalty program for its contractors to its website. In November, Home Depot also announced intentions to acquire HD Supply, a distributor of maintenance, repair and operations products, for $8 billion. Home Depot has owned HD Supply once before, but sold it off 13 years ago.
Grocery stores
Grocery stores saw a huge increase in delivery and pickup last year, a shift which many of them have been preparing for for years, though they still weren't expecting customers to embrace online ordering as quickly as they did.
Now, the challenge for grocers is two-fold. One,  getting customers to continue to spend their money at grocery stores as they start to have the option of visiting restaurants again. And secondly, making its delivery and pickup businesses more profitable.
Kroger has been moving forward with a partnership with British grocer Ocado. First announced three years ago, Kroger is partnering with Ocado to build out warehouses manned by robots, in order to pick and place online grocer orders. Kroger opened the first of 20 planned warehouse earlier this month.
Kroger CEO Rodney McMullen also said during the company's fourth quarter earnings call that he is betting on Kroger's private label brands — particularly those in higher-margin categories like meal kits and specialty foods  — to drive growth and keep people from redirecting all of their spending back to restaurants. McMullen said that Home Chef, Kroger's private label line of meal kits, did record sales in 2020.
"I think once you get addicted to something that's high quality, it's hard to go back," he said.
Albertsons is also betting on its private label brands to drive continued sales. CEO Vivek Sankaran said during the company's third quarter earnings call in January that over the past nine months, Albertsons has launched over 1,000-plus new items, beating the company's previously stated goal of launching 800 new items.
Drugstores
Early on in the pandemic, some customers turned to drug stores to buy essential products that were hard to find, like cleaning supplies, as well as more discretionary items like beauty products, while they had fewer places to shop in stores. It's a reversal of what had been previously happening at drugstores –fewer people were buying their snacks and cleaning supplies at drugstores, but instead relying on them for more of their health services.
Walgreens, for example reported that comparable retail sales increased 3.5% between March and May, after more than 12 straight quarters of decline.
But, drugstores aren't betting on this sales growth to continue forever — and in fact, they started to decline as the pandemic went on, particularly as people bought fewer flu and cold medicine this year.
But, drugstores are trying to remake themselves as more of a healthcare destination, and are betting on some of the customers who came to them for the first time for a Covid test or vaccine to come back to use more of their healthcare services. remodeling CVS is in the process of remodeling 1,500 of its stores into "HealthHubs" that will dedicate 20% more floor space to health and wellness products, and host in-store classes on topics like managing diabetes.
Meanwhile, Walgreens is in the process of adding more primary care clinics next door to its pharmacies through a partnership with primary care provider VillageMD, and also recently rebranded its app to highlight more health care services and wellness tips to customers.