Lowe's is rethinking its annual spring sale to focus more on design inspiration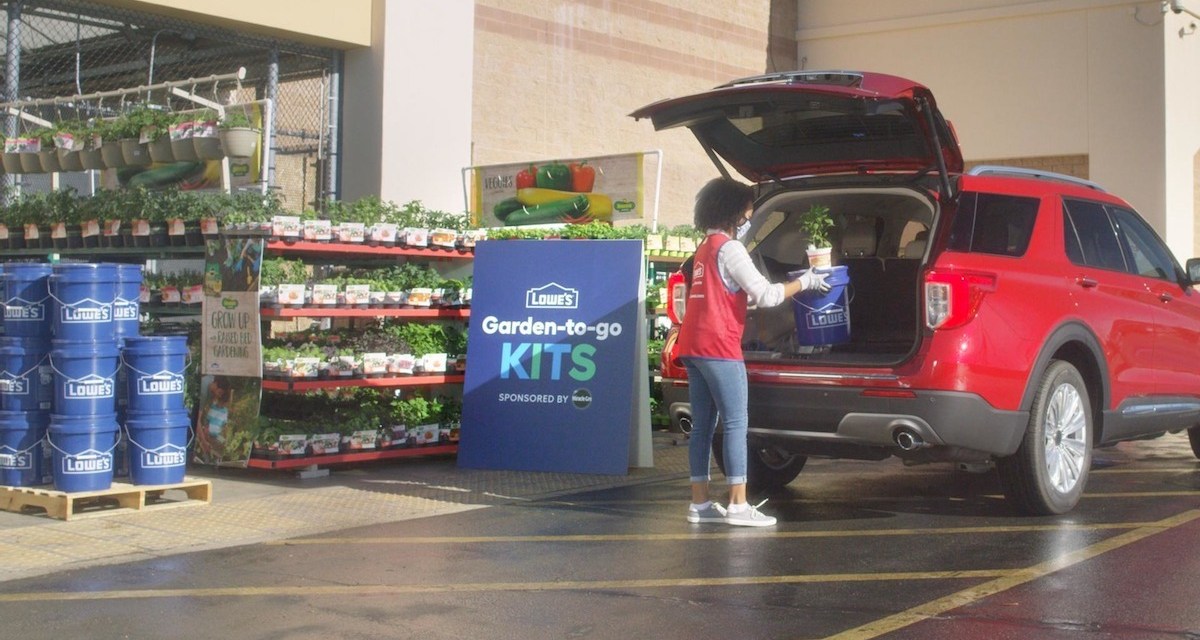 Lowe's
Spring has historically been the biggest sales season for home improvement retailers like Lowe's — and this year is no different.
This year, Lowe's is hiring 50,000 seasonal employees this year to prepare for the spring rush. But the retailer is also rethinking its approach to its annual spring sale, in order to market the home improvement retailer as more of a destination for home decor. Rather than just being the place that customers go to buy supplies for sanding a deck, Lowe's also wants customers to think of it as a place to look for inspiration when designing their bedroom or backyard. In order to do so, Lowe's is starting to carry more products in the home decor space on its website, like bedding and cookware, and plans to run more marketing campaigns that focus on design inspiration.
To promote their spring sale, which kicks off on April, Lowe's is testing out a few new tactics. The company is partnering with influencers like Peloton instructor Ally Love, to show how people can use their favorite travel destinations for design inspiration, with each influencer hosting an Instagram Live with Lowe's to show off their spaces. It's a series Lowe's is calling "Home Trips." Lowe's is also hosting weekly giveaways people can sign up for to receive items for family-friendly activities to complete while they are still at home. Prizes include items like a garden-to-go set or materials to build a butterfly garden.
Lowe's has been on a quest to subtly reinvent itself over the past year, as part of the company's "total home" strategy. Last spring, the company started carrying more desks and home office equipment on its website, to cater to shoppers who had to start working from home. Over the holidays, its stores started carrying toys and offered delivery of fresh Christmas trees for the first time.
During its fourth quarter earnings call in February, Lowe's executives didn't disclose how well these exact products in particular performed. But chief merchandising officer Bill Boltz pointed to the fact that sales in home-related categories like paint, garden, and outdoor living were up 30% compared to the fourth quarter last year as reflective of "the consumers' continued focus on the home."
In an interview with Modern Retail, Boltz said the company's "total home" strategy was about "putting an umbrella over everything that we are doing for the home." He said that Lowe's won't be going into categories like grocery, but rather adding more products to compliment home improvement projects.
"For your bedroom, [we can] put not only the carpet on the floor and the bed in the bedroom but put the mattress, put the bedding, put the comforter on the bed," Boltz said.
It's an opportune time for Lowe's to try and get customers to buy more types of products from its stores. Lowe's sales last fiscal year totaled $89.6 billion, up 24% year-over-year. More customers stopped by Lowe's stores last spring and summer, as it was one of the few retailers deemed "essential" and allowed to remain open during last year's stay-at-home orders.
But Lowe's isn't the only company betting on home decor to drive sales growth — as Modern Retail previously reported, home has been one of the best-performing categories for retailers like Macy's and Kohl's during the coronavirus pandemic, and are also looking to add more products in this category.
Jason Goldberg, chief commerce officer at Publicis, said that Lowe's success in the home category depends on what popular brands it's able to convince to sell through its website and stores, as well as how it does at adding more tools and content to its website to serve the customer in need of home design inspiration. "[Lowe]s is not thought of as a brand that focuses on aesthetics," Goldberg said.
As Lowe's seeks to expand into new categories, Boltz said that the company will primarily be using its website to test out new products, and then will eventually carry the best-performing products and categories in stores. Lowe's is already doing this with fitness equipment — the company started carrying fitness equipment on its website in 2019, and is now testing out carrying them in some stores.
"We want to continue to build out that endless aisle," Boltz said. Our stores are only a set amount of square footage, and they can only handle a certain amount of SKUs."