Earnings
// August 21, 2023 ■ 3 min read
Shoppers are flocking to off-price stores like T.J. Maxx and Ross in search of deals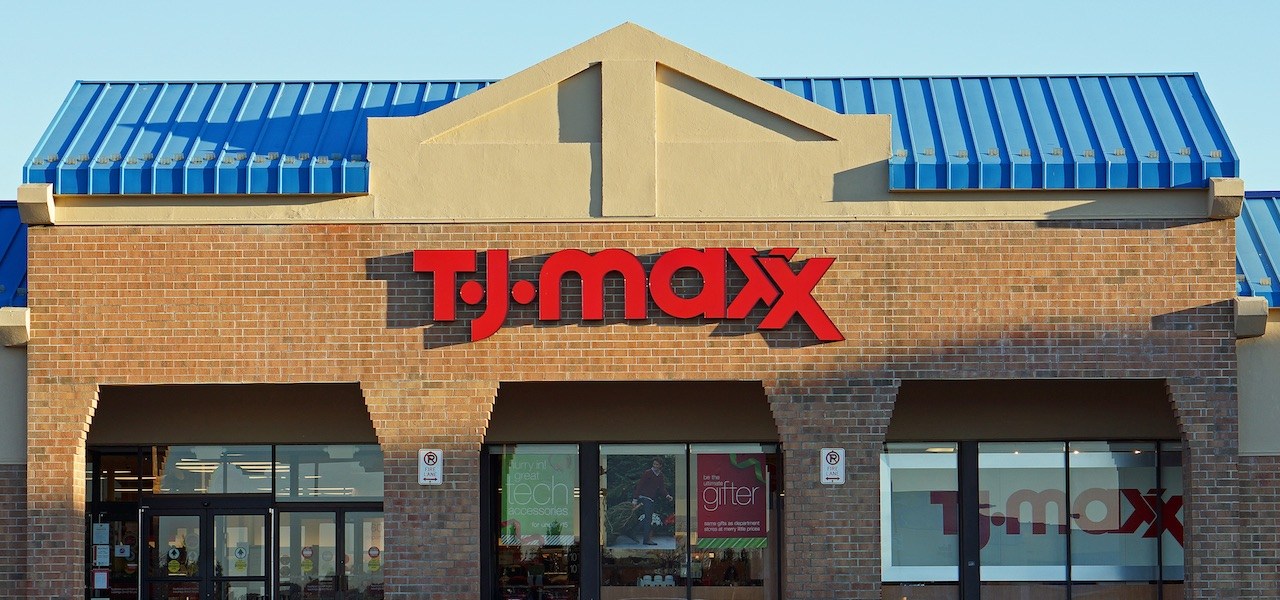 TJX
Retailers like Target and American Eagle Outfitters have been struggling to entice customers with apparel and accessories. But recent earnings show that shoppers are still looking for name-brand fashion — they're just seeking them out at off-price stores like T.J. Maxx, Burlington and Ross.
Off-price retailers faced myriad challenges over the past couple of years, including maintaining sufficient supply and inflation. But these value-focused business are now benefiting from other companies wanting to get rid of excess merchandise. Additionally, they're seeing an increase in shoppers as people are increasingly desperate for deals.
On Wednesday TJX, which operates T.J. Maxx, Marshalls, HomeGoods and HomeSense stores, reported that sales were up 7.7% year-over-year during its fiscal second quarter earnings, with revenue coming in at $12.8 billion. Net income came in at $1 billion. The company attributed the growth to higher store traffic, as customers scour racks for deeply-discounted pieces by brands like Rag & Bone and Theory. Even the homeware category, which is struggling across many retailers, is showing resilience at TJX. HomeGoods saw sales increase by 4% over last year, according to the company, thanks to customers looking for less expensive home decor.
Retail analysts expect TJX stores to continue generating traffic. Lorraine Hutchinson, retail analyst at Bank of America, said that as the largest off-price company, TJX is outperforming other retailers around the country. In a memo, Hutchinson wrote that TJX has a solid potential for further growth, both in its physical footprint and internationally. "We view TJX as a market share gainer that is well positioned to benefit from trade-down," she said.
TJX said its inventory improved as a result of many retailers offloading their premium merchandise over the past year. "The third quarter is off to a very strong start and we are seeing tremendous off-price buying opportunities in the marketplace," TJX. CEO Ernie Herrman said in the earnings release. "Going forward, we continue to see excellent opportunities to grow sales and customer traffic, capture market share, and drive the profitability of our company."
On Thursday, Ross CEO Barbara Rentler expressed a similar sentiment in the retailer's positive second-quarter results. "We are pleased with our second-quarter results, with both sales and earnings well above our expectations," Rentler said in the release. "Along with easing inflationary pressures, customers responded well to our improved value offerings throughout our stores. Second-quarter operating margin was flat to last year at 11.3%."
Ross reported a net income of $446 million, up from $385 million in the same period last year; According to the company, same-store sales were up 5%, vs. down 7% in the second quarter of 2022.
Not all off-price retailers are performing as well. Most recently, in May, Nordstrom Rack saw sales drop 11.9% year-over-year. The company attributed this to the elimination of store fulfillment for Nordstrom Rack digital orders in 2022. On the other hand, CEO Erik Nordstrom said that Rack is the largest source of new customers for the company.
Burlington, another off-price player that competes with TJX's umbrella of stores, also boosted its assortments thanks to product liquidation across the industry. In June, Burlington announced it will take over 50 former Bed Bath & Beyond locations in a $13.53 million deal.
TJX said that its shoppers are gravitating toward fashion and home goods like furnishings and throw pillows. "Our overall apparel and accessories sales were very strong. And our overall home sales significantly improved and returned to positive comp sales growth," said TJX chief executive Herrman. "Clearly, our terrific mix of branded, fashionable merchandise and great values resonated with shoppers when they visited our stores."
Jessica Ramirez, a senior research analyst at Jane Hali and Associates, said retailers like Burlington, TJX and Ross have been attracting customers with more sought-after items. "Across our recent shop, we noted a stronger brand assortment," Ramirez wrote regarding Burlington stores in a recent report. These included Michael Kors, Guess, Tommy Hilfiger, Calvin Klein, J. Crew, Reebok and Adidas, among other brands. Departments like women's apparel and beauty were also a standout at Burlington stores, she said. "I do expect off-price to continue to gain traction," Ramirez said.