How off-pricers are poised to win thanks to late inventory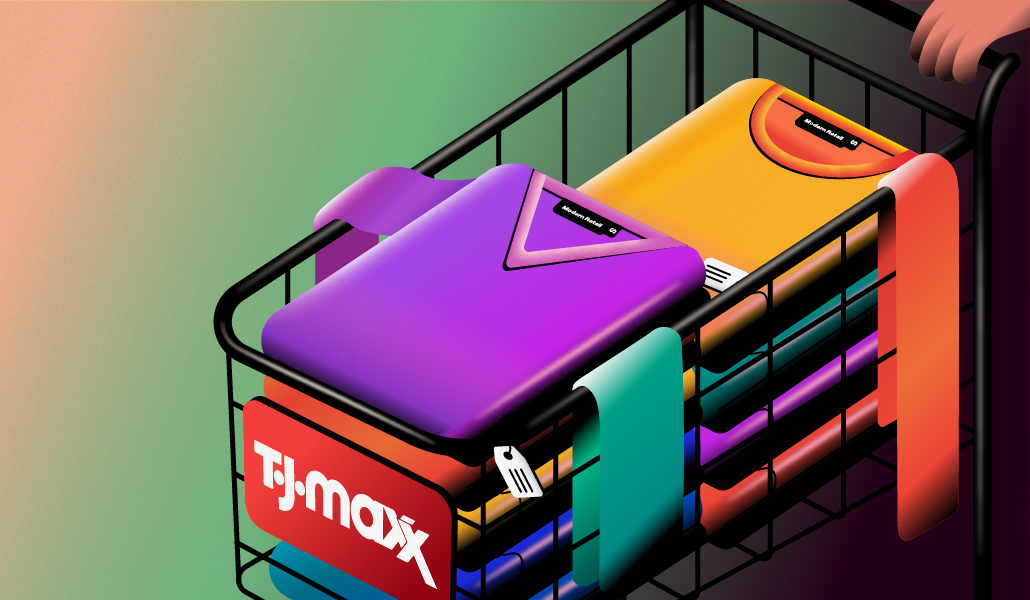 Ivy Liu
This story is part of The Chain Game, an editorial series looking at all the ways the supply chain has been upended over the last two years. You can read the entire package here.
When times are hard for most retailers, off-pricers usually thrive. This notion rings especially true now as supply chain disruptions led a lot of holiday inventory to arrive late — merchandise that is now up for grabs for off-pricers. 
Victoria's Secret said in November that 45% of the inventory it ordered for the fall was delayed when some of its products were stranded on 100 ships. Gap took a $16 million hit in the fourth quarter with same-store sales for its Old Navy brand being flat compared to 2019 due to ongoing supply chain disruptions. Nike said in September that it was taking 80 days to move merchandise from Asia to North America — that's double the time it took pre-pandemic.  
What might be a problem for some retailers presents an opportunity for off-pricers — like T.J. Maxx, Ross and Burlington — who buy unsold or excess inventory. As retailers continue to be challenged by inventory arriving months later than intended, off-pricers come at an opportune moment to take advantage of product liquidation. Experts said off-price retailers will likely have a larger selection of merchandise as shipping containers continue to arrive late. 
"Congestion at the ports and delays upstream in the supply chain have resulted in difficulty of products getting to the stores' shelves. We've all experienced that, and it's also resulted in inflationary pressure," Matt Katz, managing partner at SSA & Company said. "What will happen as a result of that is the potential for products to be out of season when it gets through the port. Out-of-season products are always products that the discount channel likes."
Meanwhile, off-pricers offered a more optimistic view of the sector's future growth by either opening new stores, raising their dividend or doing both. Ross and Burlington plan to open 100 and 120 new stores this fiscal year, respectively. Ross also raised its quarterly dividend by 9%, and TJX Companies, which owns discounters like T.J. Maxx and Marshalls, raised it by 13%.
Experts said companies usually don't raise their dividends unless they're confident about their medium- to long-term growth.
Off-pricers have historically thrived during supply chain disruptions due to their flexible sourcing strategy. During the tail-end of the U.S.-China trade war in 2019, multiple off-price retailers said at that time that they were poised to benefit from tariffs and economic disruptions. For instance, Burlington said in 2019 that the company only imports 6% of its products outside the U.S., so only a small percentage would be impacted by tariffs. 
"They just have such a wide array of suppliers that they can go to," said Sucharita Kodali, vice president and principal analyst at Forrester. "These off-price sellers have always had their pick of excess inventory. They just take almost anything that's there and even if there's less that may be available at one moment in time, it sounds like there's more than they ever know what they could make use of."
TJX, for example, sources its products from about 21,000 vendors and over 100 countries, according to its website. Burlington, on the other hand, has a network of about 5,100 brands.  
In TJX's fourth quarter earnings report, the company said it is "well-positioned" to flow spring merchandise into its locations and online. TJX Companies CEO Ernie Herrman praised the company's teams for ensuring a consistent flow of products this holiday and the entire year, per the earnings report. 
"That inherent flexibility of being able to vary what you buy based on what's available is what helps them and these types of disruptions historically," David Brown, a managing director and leader of Alvarez & Marsal's Consumer Retail Group, said.
Brown said off-pricers have the advantage of not being locked into a specific assortment. Gathering together various pallet of goods allow off-pricers to offer a "treasure hunt" experience to their customers. In the apparel category, Brown said off-pricers are in a better position than their competitors due to their value-based offering, especially as consumers look into stretching their budgets over the next few months due to rising inflation. 
Off-pricers, however, aren't immune to other pandemic-driven issues. TJX said that temporary store closures due to Covid-19 may have resulted in up to $1.61 billion in lost sales. Experts said these companies may also be feeling the squeeze of inflation and pass on price increases to consumers. In November, T.J. Maxx announced it is hiking prices for some upscale merchandise, although it did not specify which ones. 
Additionally, though off-pricers are less impacted by international shipping constraints, the truck driver shortage remains a problem for them domestically. This past year, the U.S. is projected to have a shortage of 80,000 drivers, according to the American Trucking Associations.
SSA & Company's Katz said the challenge for off-pricers now is to give consumers a reason to shop at their stores. After all, access to quality products while on a budget is what keeps customers coming back, he said.
"Off-pricers have never been constrained by product shortages. We're an economy that has an abundance of products available," he said. "The challenge for the off-pricers is to be able to create an assortment out of the inventory that's available and provide the freshness to the consumer."