DTC Briefing: Why some startups are shaking up their retail strategies this year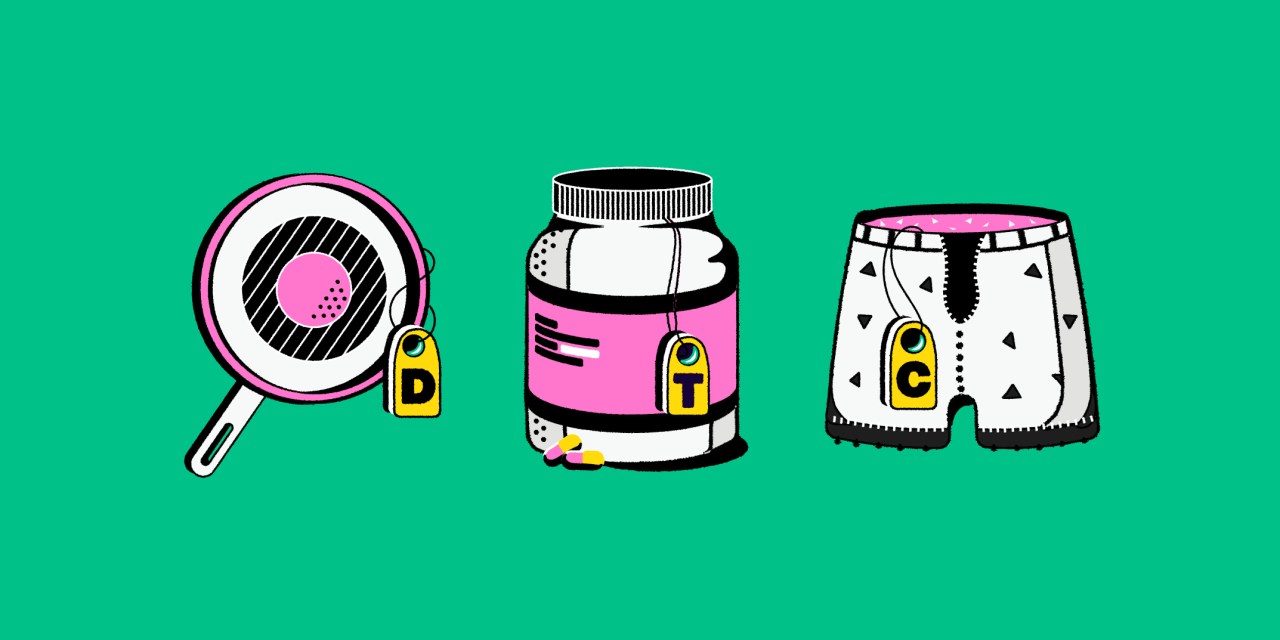 Illustration by Ivy Liu
This is the latest installment of the DTC Briefing, a weekly Modern Retail+ column about the biggest challenges and trends facing the volatile direct-to-consumer startup world. More from the series →
It is no longer a matter of if — but when — an e-commerce startup expands into physical retail. The only question that remains is in what form. And startups are still trying to figure it out.
It is a pendulum that swings every few years: Some startups, like Everlane, swore that they would never open any stores, and then discover that actually, there are some benefits to having stores. Or, some startups like Casper ink wholesale deals after initially focusing largely on its own stores. Still others like Allbirds, press pause on new store openings after opening up dozens of brick-and-mortar locations, stating that they need to focus more on profitability instead.
But this year, it seems that more startups are recalibrating their physical retail strategy thanks to the tough economic environment. Some startups, like Aurate and Ritual, opened one or two stores, then decided it was more advantageous to focus on wholesale for the time being, and shut down their owned locations. Others, like Allbirds, found that they opened too many stores too quickly. While they still believe that stores have a place in their growth strategy, they are pausing new store openings until they can figure out how to operate their brick-and-mortar fleets more efficiently. And still others find themselves in more serious trouble from ill-fated brick-and-mortar investments; sleepwear startup Lunya filed for bankruptcy in June to clear unprofitable retail leases.
That's not to say that some startups aren't finding success in physical stores. Warby Parker, for example plans to open 40 new stores this year, and said that stores have helped increase customer spending, which is up 9.2% this year. But in speaking with people across the DTC industry, it seems that some startups are having wild success with owned stores and others are not — and no one has any idea what the right strategy is. 
"I hear such different things," Anish Shah, CEO of executive recruiting firm Ruckus said. His firm, which has worked with startups like Goop and Misen, gets approached by some companies that are in the process of closing all of their stores. "Other companies we are talking to are like retail is the only thing that is going to save us," he said.
Closing up shop
Part of this disparity simply boils down to the fact that startups try a lot of different things, and sometimes they don't always work out. Take DTC jewelry brand Aurate as an example. It previously operated two retail stores in New York and San Francisco. But the company has since closed those stores to focus on its wholesale partnerships with Macy's and Helzberg Diamonds.
"Since we sell real gold and real diamonds, fitting out a store with our entire collection is not an insignificant investment, let alone if you're doing this for 200 store," co-founder and CEO Sophia Kahn told Retail Dive. "Our new wholesale partnerships allow us to do this in a very [cost] efficient way."
Other startups haven't ruled out once again opening their own stores in the future, but have decided that they aren't in the cards for now. DTC vitamin brand Ritual opened its first permanent brick-and-mortar store in Abbott Kinney, Los Angeles in May of 2022. But founder and CEO Katerina Schneider told Modern Retail in an email that Ritual decided to close this store, and is instead "focused on harnessing opportunities that expand our profitability margin." Ritual also started selling its products on a wholesale basis in Whole Foods in September of 2022, and in Target in April. 
"We opened our store last year and figured out how to grow an effective owned retail space. At the same time, we had the opportunity to launch nationwide at Whole Foods Market and Target, and we're already #1 in many channels," Schneider wrote, adding that Ritual is profitable. "While we've closed our store for now, we're keeping an eye on what owned retail can be in the future."
Startups scale back
Some startups were more gung-ho about expanding into physical retail than others. Many took advantage of the plethora of cheap rent deals that were available immediately following the pandemic. Other startups made physical retail a bigger part of their growth strategy when pitching venture capitalists or Wall Street on their potential.
Allbirds, for instance, has made physical retail a huge part of its growth strategy post IPO, opening 44 U.S. stores over the course of six years.
But in recent quarters, sales have fallen, while losses have grown. Now, Allbirds executives say that they have no new U.S. store openings planned for this year and will instead focus on expanding its physical retail presence via wholesale this year. Instead, this year the company is more focused on improving the profitability of its U.S. store fleet. But CEO Joey Zwillinger said that the company knows that "brick and mortar – both our own and third party – is an important way to reach new consumers and also increase spend among our valuable omnichannel consumers."
Aaron Luo, co-founder and CEO of handbag startup Caraa, is one DTC CEO that has resisted the temptation to open up any physical stores over the years. Caraa's products are available for sale on its website, as well as in select wholesale retailers like Nordstrom and Macy's. 
Luo said that, in his opinion, for brands that are doing under $50 million in revenue, stores act more like "a top-of-funnel marketing driver, to a certain extent, versus a real revenue driver."
He said that Caraa has decided, so far, not to open its own stores because it feels like it is not worth spending that much money on something that acts as more of a marketing driver. 
"When I think about investing [in stores] versus investing in other R&D or marketing or partnerships," he said, it became clear that stores just didn't make sense right now for Caraa.
But, he said that for "brands who are very established, already have a ton of brand recognition," and do closer to $1 million in sales per month through stores — then stores make more sense.
No one-size-fits-all playbook
Rebekah Kondrat, founder of consultancy Rekon Retail, said it is difficult to draw a through-line between which DTC startups are succeeding in owned retail right now and which are not. Sometimes, it can simply come down to a matter of the brand's very first store not panning out the way that it hoped, for a variety of reasons. Maybe the startup picked the wrong initial location. Or, maybe it had too high of expectations for how high foot traffic would be initially.
Particularly following the pandemic, she said a lot of brands figured "this will probably be the most advantageous time to test retail, because the brands were able to get such good terms that [it was] so low risk." 
She she said the sentiment that she gets from startups right now is that executives are looking to explore "any and all new channels" — including wholesale and other advertising tactics like influencer marketing. Essentially, DTC brands have realized focusing on one channel — whether it be online, wholesale or owned stores — no longer works. Rather, that they have to experiment with a bunch of different growth tactics, and scale what works.
"I think that that for, for me, at least, is very different than [conversations from] two years ago, where it was like – we have like one channel and we're laser focused on that," Kondrat said. 
What I'm reading
What we've covered
Marketing automation startup Klaviyo filed to go public. Here are five things you need to know from the startup's S-1.
Shopify is increasingly launching free, pared down versions of apps that already exist within its app store. Here's how that dynamic is playing out after Shopify launched its own cross-selling app, called Shopify Collective, which mirrors existing apps Carro and Convictional in some ways.
How DTC brands like The Sill are trying to approach off-price channels in new ways.