Ritual expands its retail presence with Target launch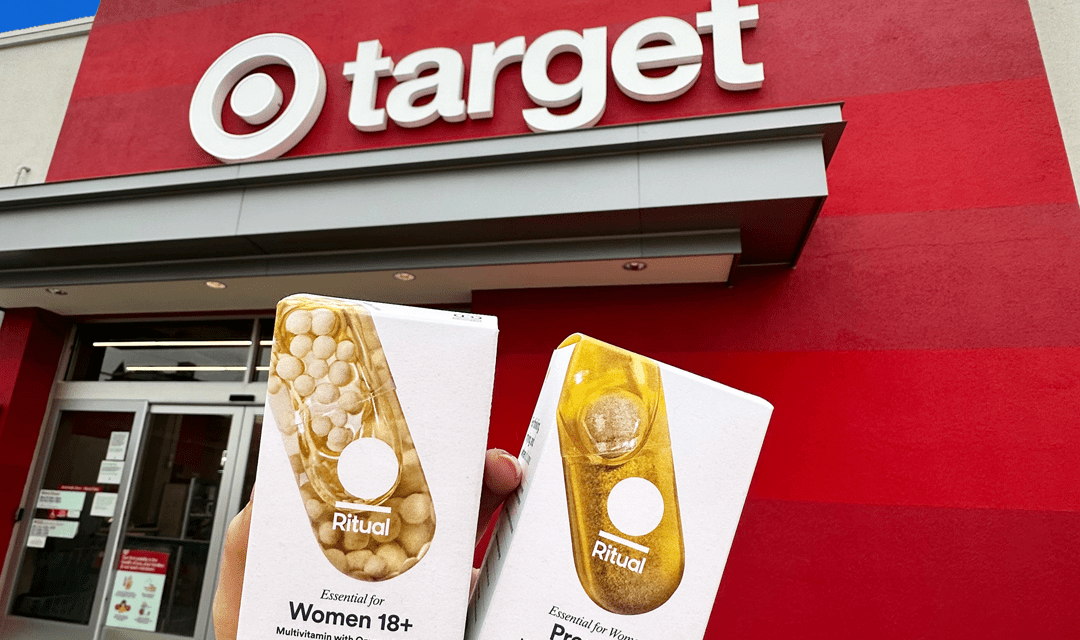 Health and wellness provider Ritual will start selling its products across Target stores nationwide this week. This is Ritual's first retail expansion into brick-and-mortar stores outside of its wholesale presence at Whole Foods.
Ritual's products, which include multivitamins for adults, prenatal and postnatal, will be stacked in Target shelves in stores and online as part of the big-box retailer's Target Clean and Target Zero programs. Ritual is launching unit cartons made with 100% recycled materials to be sold as part of Target Zero, an initiative by Target to sell products that help reduce waste. Ritual said it has also started selling on Amazon's marketplace from June 2022. TikTok will be a big part of Ritual's marketing strategy to spread awareness about its retail expansion, the company said.
Katerina Schneider, founder and CEO of Ritual said, "we've approached our retail expansion really thoughtfully. We first launched at Whole Foods and that was a really strong testament to our high-quality ingredients and the traceability and bringing that to shop to retail for the first time."
She added that getting to the point to be able sell in Target stores has been a "pretty long process."
"I think we always knew we wanted to be in retail, but we wanted to cross a certain threshold on our DTC business. We became profitable [in 2021] and a scaled business and then we felt ready," added Schneider.
"We've kind of proved ourselves, I would say, and Target was a natural expansion because it was always our mission to bring higher quality, traceable products to shelves and to mass retail. It's just like a slow, methodical progression," added Schneider.
Founded in 2016, Ritual sells multivitamins for adult men and women. Ritual initially launched with just one single SKU, a multivitamin for women 18+, and tried to focus on perfecting that, Schneider said. At Target, the company is launching with four SKUs. Since inception, it has focused primarily on its DTC channels, gaining over a million customers and hit nine figures in sales in 2021. Prior to this, Ritual made its Whole Foods debut in the fall of 2022.
Forrester senior analyst Sucharita Kodali said Ritual's Target launch is a "huge deal" because it helps the brand achieve tremendous volume and scale through this partnership. Kodali said in the past, only select digitally native brands like Native and RX Bars have managed to succeed in selling at retailers like Target and reaching critical brand awareness. Native, for example, was acquired by P&G in 2018.
For brands like Ritual, Kodali said "the hardest part is to get that sales volume. And that sales volume is heavily dependent on mass merchandise for CPGs, because you need volume to make your marketing cost-effective. You need volume to get to economies of scale from a manufacturing standpoint, and your margins are just way too low."
Schneider said Target's strategy was in-line with Ritual's because "they're focused on fewer brands and more curation for their guests. And I think that aligns really nicely with what we're trying to do."
Ritual is also hoping to achieve some brand awareness with this Target deal. "It's interesting when you go direct-to-consumer only, it's harder to achieve brand awareness. You have to pay for it in some ways, or really work hard for it. And I think when you're in stores, people instantly see you everywhere, and so I do believe that being omnichannel will kind of rise all ships," added Schneider.
To promote the launch, Ritual has filmed a video with Schneider and her family shopping for Ritual products inside a Target store. Ritual said it will promote this video through organic posts and paid campaigns on social media, with TikTok being a big focus.
"I do think Target represents this American Dream story. I'm a refugee, I was born in Ukraine and moved here with my family and being in a mass channel, there's something so so exciting and representative, something bigger than just selling product," Schneider said.