Earnings
// August 10, 2023 ■ 4 min read
Allbirds and Warby Parker are acquiring fewer customers from new store openings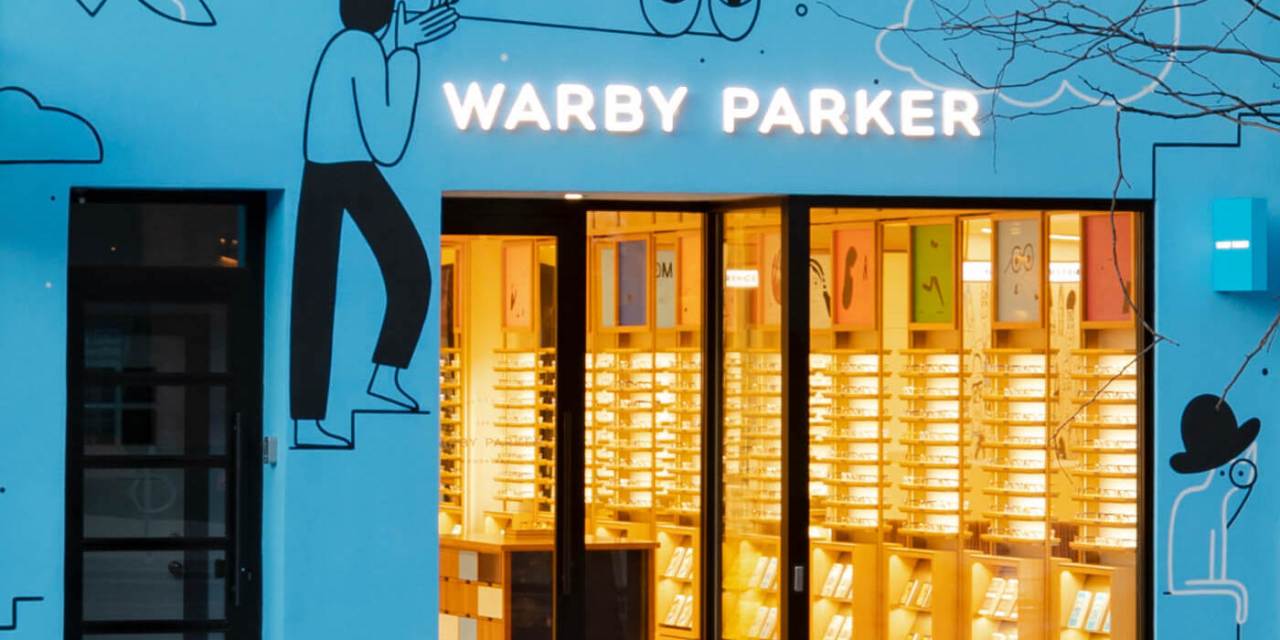 Warby Parker
After investing heavily in owned stores, DTC companies Warby Parker and Allbirds are finding that a bigger brick-and-mortar presence is yielding mixed results.
Both startups reported quarterly earnings this week, showing modest topline improvement and narrowing losses. Allbirds sales were down in the second quarter, but still beat expectations; revenue dropped by 9.8% to $70.5 million from the previous year and losses came in at $28.9 million. Meanwhile, Warby Parker's also increased overall sales, by 11% year-over-year. The company's net losses were $15.9 million this past quarter, down from $32.2 million in the same period last year.
But one big commonality between the two companies is that they are acquiring fewer new customers from new store openings as they have in years past. Allbirds, for its part, has effectively paused new store openings as its focus is now on improving profitability and expanding its distribution via third-party partners. Meanwhile, Warby Parker's number of active customers is growing more slowly than it has in years past, even as it opens more stores. In the wake of iOS14 changes, stores had been painted as a more cost-effective way for DTC brands to acquire new customers. However, as these brands open more stores, they aren't necessarily seeing the same growth rates they used to from their earliest batch of stores.
Allbirds has already been facing slowing growth in the past few quarters; earlier this year it announced a "reset" for its operations. However, the company says it's making strides since announcing the turnaround plan in March. Part of that recalibration includes slowing the rate of Allbirds stores and growing wholesale distribution.  
After adding 12 new North American locations in 2022, Allbirds opened just two new U.S. stores during the second quarter – one in Connecticut and another in the San Francisco Bay Area. An Ohio location was also added at the close of the quarter. This brings its total U.S. door count to 44. The company is also shifting to third-party distribution – especially in the international market, where sales grew by 4.3% in the quarter. The brand currently sells in Nordstrom, REI, Public Lands and Zalando in Europe.
On the earnings call, Allbirds co-founder CEO Joey Zwillinger said that the company is emphasizing "four-wall profitability in stores" – instead of continuing a brick-and-mortar expansion spree. Zwillinger said all the new stores "opened against early 2022 lease timings, and we currently have no further U.S. openings planned."
Dylan Carden, a retail analyst for William Blair, said that Allbirds is set up to recalibrate its business operations by next year. "A big component of these efforts is clearing through inventory that was built up to facilitate ill-fated product extensions," Carden said. This will include cash conservation efforts such as offloading excess inventory and focusing on the core product lineup.
Carden added that Allbirds is also creating efficiencies in its overseas distribution by switching its international business – typically 25% of sales – to a third-party distribution model. Deals with distributors in Canada and South Korea are set to close by the end of the year.
Warby Parker continues its streak of investing in new stores, where the company is also building out vision exam centers. The company opened 13 new stores in the second quarter, ending it with 217 stores in total.
Neil Saunders, managing director of GlobalData, said in a memo that even with more store counts, the slowing growth of active customers remains a concern for Warby Parker. During the second quarter, he wrote that Warby Parker only managed to increase its active customer number by 1.2%.
"This is despite the fact 39 new stores have been added over the past year, an uplift of 21.9% in the company's footprint since last year," he wrote. "To be fair, a lot of the erosion is coming from a reduction in online customers, but stores should also act as a recruiting sergeant for all channels and be helping to generate a much higher rate of increase."
"The pace of expansion has been waning for over a year," Saunders said of the stores' customer activity. He noted that in 2022, there were 12,697 active customers for every Warby Parker store, while this year that figure dropped to 10,507.
Overall, Saunders said this implies that Warby Parker's business is becoming less productive. Still, Warby Parker confirmed it will continue to add new stores this year – with plans to end the year with 40 new overall locations. There was no mention of specific markets, but co-founder and co-CEO Neil Blumenthal said during the earnings call that Warby Parker has "the potential to reach at least 900 locations over time."
But one major benefit of the brick-and-mortar investment, Saunders said, is that stores help Warby Parker increase customer spending, which is up 9.2% year-over-year. Additionally, all the new shops offer Warby Parker's eye exam services. "In essence, this creates a new revenue stream from eye exam fees and drives sales of more expensive eyewear lenses and contact lens subscriptions," Saunders said.