DTC Briefing: New data shows inflation thwarting growth for some startups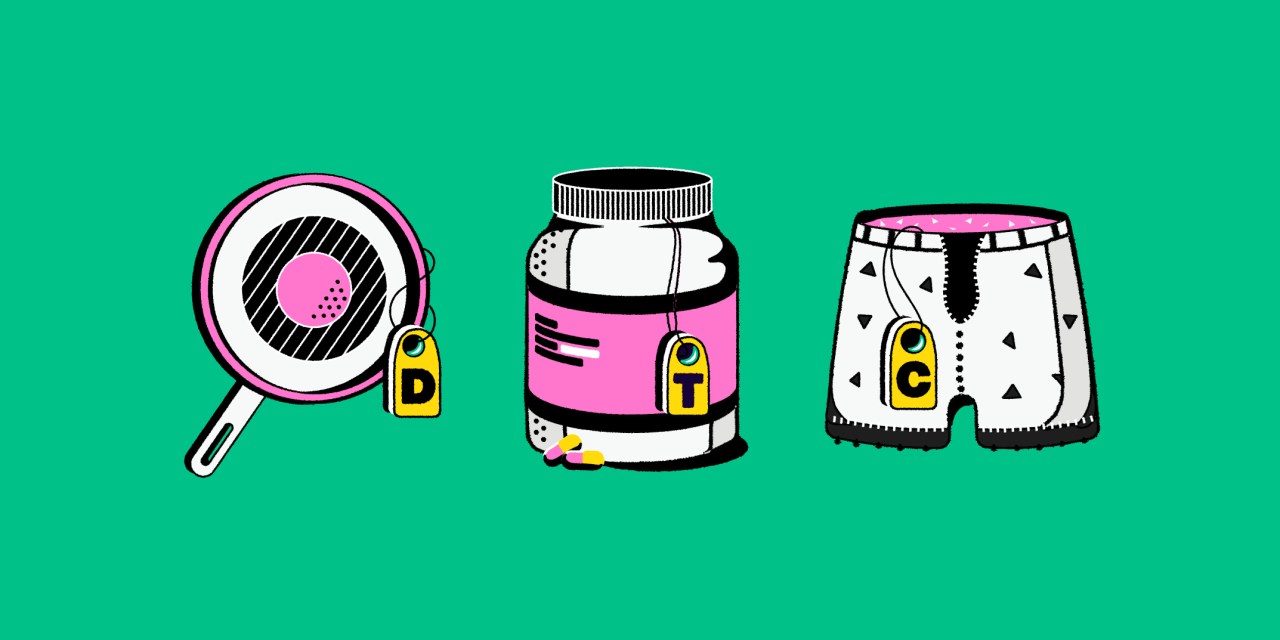 Illustration by Ivy Liu
This is the latest installment of the DTC Briefing, a weekly Modern Retail+ column about the biggest challenges and trends facing the volatile direct-to-consumer startup world. More from the series →
For months, direct-to-consumer brands have been battling to grow sales amid inflation — and at least in some categories, rising prices are starting to show signs of thwarting growth.
This month, several agencies and e-commerce vendors released reports about how sales for their DTC clients fared in the first quarter. These reports indicated slowing direct-to-consumer sales across several product categories, many of which saw triple-digit growth during 2020 and 2021. 
Most prominently, home furnishings — and to some extent, apparel — are struggling to maintain the growth rate they saw at the height of the pandemic. Meanwhile, health and beauty spending remains resilient. At the same time, more affluent shoppers have either traded down brands or purchased less frequently – in turn, hurting average order values. But it's not all doom and gloom for e-commerce startups — as attracting new DTC customers becomes more challenging, many are turning to wholesale for growth. 
What the data shows
This month, fintech startup Ampla released its inaugural State of Emerging Brands report for the first quarter, which tracked billions of dollars of transactions from 300 to 400 brands. Ampla's report showed wellness to be the top category for spending, followed by apparel. In this case, wellness products range from supplements to organic pharmacy products.
Mike Grillo, vp of marketing at Ampla, said that the spike in health and wellness in the first quarter was likely due to new year's resolution spending. Categories like food and beverage fared the worst, as people continue to pull back non-essential grocery items. 
Similarly, email and SMS provider Klaviyo also released a spending report that shows signs of the "Lipstick Effect," with people trading down to smaller luxury indulgences and focusing on self-care. According to Klaviyo's first-quarter trend recap, the "health and beauty category saw an increase in order count by 36%, while jewelry saw a decrease of 15%" compared to the same period last year.
Grillo said that the most surprising stat was revenue being up year-over-year among Ampla's clients by almost 30% over last year. "But there's a 13% quarter-over-quarter decline, some of which can be attributed to seasonality," Grillo said. Grillo added that with so many DTC brands diversifying through wholesale and third-party marketplace distribution, the growth of their DTC channel is likely taking a back seat.
According to the latest data by marketing firm Belardi Wong, the slowing rate of growth has been ongoing across categories since January 2022, with demand drastically dropping in April 2023. Polly Wong, president of Belardi Wong, said e-commerce companies with average value orders under $250 are doing better than their higher end counterparts. 
The agency works with over 300 brands, including DTC companies Lunya and Buck Mason. Its latest brand survey showed that in April, revenue growth was flat year over year. The flattening is especially prevalent in troubled categories like home decor. "Unfortunately home decor is struggling, with sales being down 19% in April for our brands," said Wong. "This segment is struggling to comp the peak of the pandemic and spring 2021." 
Even though apparel spending picked up at the end of April, AOV dropped from 7% growth to 1% year-over-year. Similarly, March saw revenue was down 4% year-over-year and a decline of 8% in conversions for Belardi Wong's brands.
What this means for direct-to-consumer brands in the coming months
Some of the continued slowing activity is being attributed to people continuing to spend on experiences, rather than physical products. According to Klaviyo's data, Americans are now spending more on services and experiences, rather than home goods, for instance. The marketing platform's report showed that order count and AOV decreased in the house and home improvement category compared to the same period in 2022, by 19% and 17%, respectively.
Wong said that with higher income shoppers spending less, the stagnation is likely to continue through the end of the year. "Historically, affluent consumers were known to be resilient but that's no longer the case given the volatile economy," Wong said. "I think it will be a slow summer because travel is still growing," Wong said. 
Rachel Roff, founder Urban Skin Rx, said that many brands, including Urban Skin Rx, "encountered a steady decline in DTC awareness and ROAS in 2022." Roff cited recent shifts in algorithms on social media platforms, paired with the high cost of paid media, for the decrease in ROI. "Though 2023 has become more predictable, our team has developed unique opportunities such as promoting hero products for $1 during a limited time with an effort to drive growth on DTC," Roff said. 
For retail partners like Ulta and Target, the company is creating exclusive social content to drive folks to the retailers' websites and doors. For example, Urban Skin Rx is offering gift cards to those retailers with proof of purchase. "We're also activating organic social media campaigns on Instagram and TikTok that amplify our support programs at retailers such as Target," Roff said. This month, shoppers receive a $5 Starbucks gift card with their Urban Skin Rx at Target.
This inevitable shrinking in direct-to-consumer sales — as wholesale takes precedence — is why some new brands are taming expectations for their DTC channels.  
Chris Salgardo, founder and CEO of men's skincare startup Atwater Skin, which launched in 2022, said the company made the conscious decision to forego trying to grow only through DTC at the start. By launching at retailers like Nordstrom and Saks, as well as health and fitness destinations, Salgardo said Atwater has been able to cut customer acquisition costs by half. 
Salgardo said that, as expected, people remain cautious due to concerns over an impending recession and banking failures. He confirmed that while partnerships are taking off, recently online customers are coming to Atwater Skin at a slower pace. "It's been slower over the past couple of months, but as a new brand surrounded by impactful retailers, we have identified double digit growth month over month."
These dynamics are also affecting Atwater's outlook on revenue growth in the coming months. 
"The market has never been more dynamic but uncertain," Salgardo said. "We prefer a cautious way forward, keeping our acquisition costs in line versus spending frivolously to compete for market share." 
What I'm reading 
Temu

is already adding pressure to America's logistics network,

according to

a new Intelligencer story.

Peloton

is reinventing itself as an accessible digital fitness platform

by launching

tiered app memberships. 

Axios

reported

that

Birchbox

co-founder and former CEO Katia Beauchamp says

FemTec Health

, which acquired the beauty subscription business in 2021, owes her $2 million in compensation.
What we've covered 
Want to discuss this with our editors and members? Join here, or log in here if you're already a member.