DTC lingerie brand Adore Me pushes into wholesale with Walmart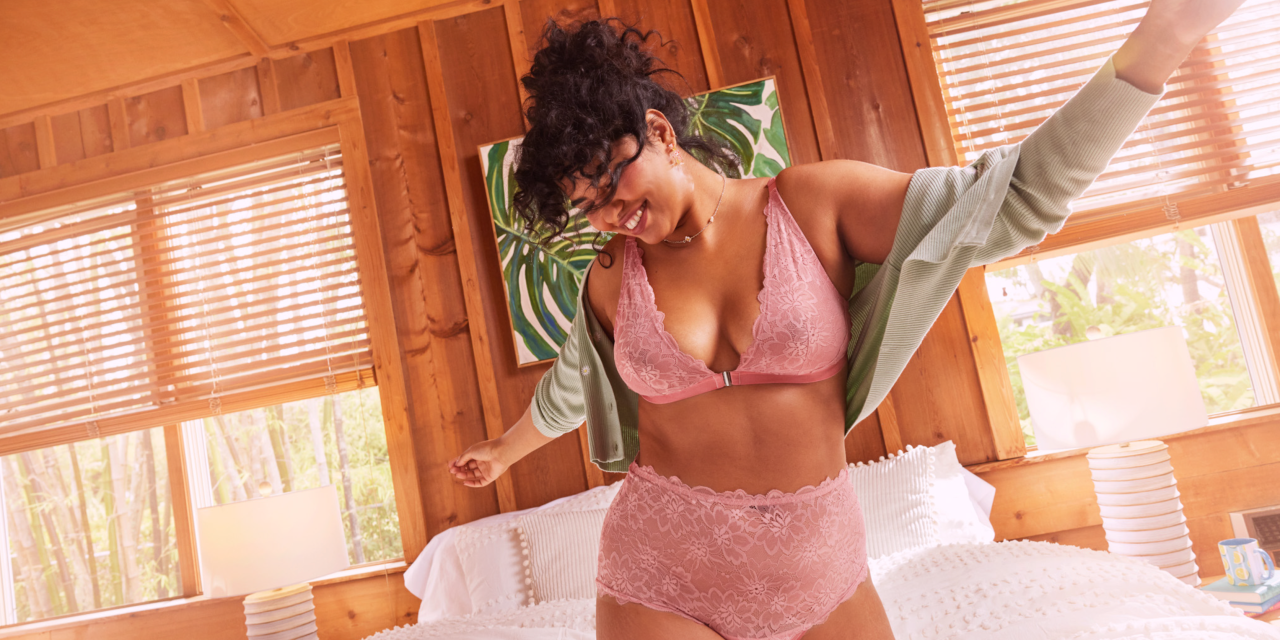 Adore Me
Adore Me, a lingerie brand known for its extended sizes and brightly-colored collections, can now count on a new audience among its fans: Walmart customers.
Over the past two years, Adore Me has worked behind the scenes with intimates manufacturer Gelmart to create an exclusive line for Walmart called Adored by Adore Me. The first Adored by Adore Me collection launched in September, while the second went live this week in 1,900 Walmart stores and on Walmart's website. The Spring 2023 collection includes three styles of bras and three styles of underwear in several colors.
Adore Me has come a long way since its founding more than a decade ago. While the brand started as online only, it went on to build several mall-based stores across the eastern and southern U.S. It also jumped into live shopping with events that averaged about 70,000 viewers. In September 2022, Adore Me became the first lingerie brand to be certified as a B Corp. And, in January 2023, it was acquired by Victoria's Secret for an undisclosed amount, although a press release stated that Adore Me generated about $250 million in revenue in fiscal 2022. Inking a deal with Walmart, the world's leading retailer, only increases Adore Me's reach.
The announcement of the deal between Victoria's Secret and Adore Me did not mention opportunities for wholesale, specifically. At the time, the parent company said that the acquisition "creates meaningful sales and profit upside opportunities for VS&Co." Speaking to Modern Retail, Adore Me's Vice President of Strategy Ranjan Roy noted that the Adored expansion was "independent of anything with the acquisition." "We have a number of technical integration projects underway, but as a brand, from a merchandising perspective, we operate completely independently," he said.
When creating a line for Walmart, Adore Me wanted to avoid simply cloning its existing offerings. Instead, it wanted to figure out how to develop products specifically for Walmart's audience while staying true to its core values of "inclusivity, affordability and accessibility," Roy said.
The Adored line thus folds in Walmart shoppers' preferences — for example, customers were "really looking for more structured bras and bralettes," Gelmart Chief Marketing Officer Caroline Levy said — but also has items that "are fun, that are sexy, that have color," Roy explained. "[We're] really trying to capture a range of that, because I think that's… always been a big differentiator in the market."
The line is also a fraction of the price of a typical Adore Me product. A two-pack of the new Dakota Hipster, Morgan Cheeky or Jamilla Brazilian underwear, for example, retails for $11.98 on Walmart.com, while their corresponding bras retail for $19.98. On Adore Me's website, bra and underwear sets typically range from $40 to $60.
Several apparel brands have developed offshoot lines for big-box retailers. Champion, for example, developed a widely-popular C9 activewear label for Target in 2004, while Levi's once cooked up a line for Walmart and Target. However, it's less common for a DTC brand to make a separate line for a company like Walmart, Bryan Gildenberg, founder of commerce consultancy Confluence Commerce, told Modern Retail. Most DTC brands getting into mass channels come from categories like food, beauty and personal care, he said. And, "in those categories, it's a little harder to develop a custom line, just because the manufacturing costs would be way more expensive."
Doing so is easier for apparel, though, and with a custom line for Walmart, Adore Me can get the best of both worlds, Gildenberg explained. Adore Me can continue to price its core brand at what it was before, while at Walmart, it can "get an understanding of the degree to which Adore Me consumers who are… from the website… trade down to the more discounted brand," he said.
In addition, "Walmart is a little bit more exurban and rural and a little bit lower income than the average DTC consumer," Gildenberg said. "My guess is they [Adore Me] are reaching a very different audience through their Walmart proposition that they're reaching through their standard DTC offer. And that helps eliminate some of the risk of cannibalizing one brand."
While it's still early, Adored by Adore Me sales have been "strong" the last six months, Gelmart's Levy said. Both Gelmart and Adore Me see "room to grow" in wholesale and at Walmart, she added, especially in terms of "more styles, more space on the floor and more categories" besides bras and underwear.
Correction: An earlier version of this story said Adore Me generated about $250 million in profits in 2022. This was actually revenue. The story has since been updated.