DTC Briefing: Truff launches in-store promotions alongside Popeyes collaboration to drive retail sales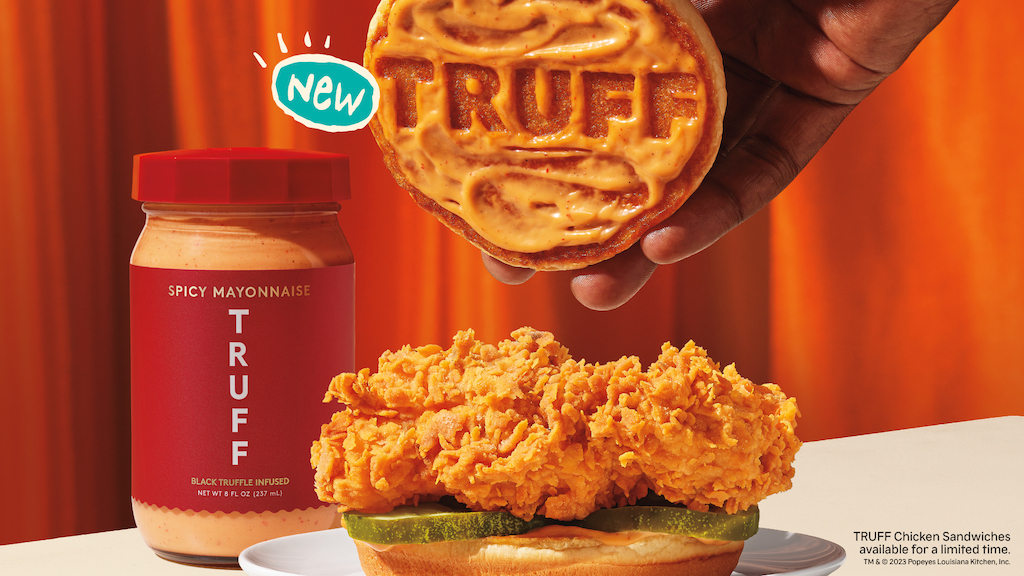 Popeyes
This is the latest installment of the DTC Briefing, a weekly Modern Retail+ column about the biggest challenges and trends facing the volatile direct-to-consumer startup world. More from the series →
As a food brand with DTC roots, sauce brand Truff is expanding its marketing playbook alongside its growing physical presence.
This week, the company is helping launch a spicy chicken sandwich in partnership with Popeyes. It's the latest fast food collaboration by Truff, having released a Taco Bell menu last year; These are part of Truff's long-term plan to strike national partnerships to raise its profile among mainstream customers. The Truff spin on the sandwich, according to Popeyes, takes it to a "fancy" level by pairing Truff's spicy mayonnaise with its famed chicken. The partnership points to a growing trend among DTC brands that are forging more national retail to expand.
The collaboration has multiple components, including a digital campaign that includes national TV ads and social media promotions, along with a TikTok contest for a chance to win a spot on Popeyes new "Yachtsteraunt" concept next year. On the DTC side, Truff is running an in-restaurant promo to drive people to its website. Through product sampling platform Aisle, those who purchase the Truff chicken sandwich can text Truff a photo of their receipt and receive 25% off on Truff's website. This time around, Truff said it's also using the restaurant campaign leveraging the brand's retail footprint to cross-promote both the Popeyes sandwich and on-shelf sauces.
To promote the launch of the sandwich, Truff worked with retailers to feature the Popeyes campaign on its shelves. Through the signage, Truff is promoting the nearby sauce while also informing shoppers nearby that Popeyes is selling it. Through coupon tags placed by the products, Truff is also aiming to direct customers back to its DTC site.
Reno Yanes, executive vice president at Truff, said that this type of in-store promotion is a first for the brand. The idea came to add a grocery component to the QSR collaboration, and vice versa. "As we looked at the previous promotions we did, we thought 'how can we drive this into retail?'" he said. "Not just to drive sales but show our customers they can use our product in new ways."
Additionally, Yanes said this portion of the campaign gives Truff's mayo a stamp of approval among new customers discovering it at the store. "It's showing that our sauce is used by an iconic restaurant many people know and love," he said. It makes sense, since co-branded items have become a popular move for food and beverage brands, and in some cases help drive retail purchases of their products.
This is Truff's biggest national collaboration rollout to date. It took nearly a year to execute the different aspects of the campaign. Truff worked with a number of its national grocery partners to include bottle neck tags, shelf talkers and wobblers in the Truff aisles. Some will also feature a coupon scan code for a store discount on the Truff spicy mayo, which will also act as a tool for data collection on how customers interact with the fixtures. These signage will be featured in select Albertsons, Safeway and Harris Teeter, among other national grocery chains.
As Yanes described it, these fixtures will act as miniature in-store billboards at about 1,500 retailers around the country, many near a Popeyes location. "It's also meant to encourage shoppers to recreate the chicken sandwich at home," he added, by purchasing the ingredients right in the condiment aisle. This tactic also helped boost the proposition for retailers, with the goal to drive velocity in their stores.
Working with major chains on executing the aisle creatives had its challenges. "Some retailers moved quickly on it, some couldn't or don't allow for shelf talkers," Yanes said – and each retailer picked from the various wobblers and shelf talkers, including the size that makes most sense for their stores.
Brad Jashinsky, director analyst at Gartner, said the Popeyes collaboration is another example of Truff marrying its premium products with more accessible everyday food purchases. The on-shelf promos are another iteration of that. "It's likely going to catch the eye of someone going through the aisle, due to the brand recognition Popeyes has," he said.
Other DTC-first food brands are testing out new expansion avenues via restaurants, coffee shops and juice bars, as a way to reach new customers in person while retaining their core digital audiences. The baking brand Supernatural, for example, has been building out a food service arm with chain stores like Milk Bar.
When it comes to restaurant partnerships, Jashinsky said "I always think of what's in it for both sides." For instance, new and limited-edition menu items have shown to be big traffic drivers for fast casual restaurants. At the same time, an upstart CPG brand like Truff can introduce itself to new customers through this form of product sampling. And because these items cost a little bit more than the standard versions, Jashinsky said, they can increase the average order size for QSRs.
"For a young CPG, these collaborations can also expand the consumer's mind of what the product is known for," he said. "Truff has typically been associated with pasta and Italian food, so seeing their sauce on a spicy chicken helps build that perception."
As for the DTC promotion, Yanes said it's not the focal point of the collaboration's marketing campaign – but Truff incorporated it as another touch point for customers. Even though Truff's distribution and marketing tactics are moving more and more into the physical world, Yanes said "we try thinking about how we can use our digital side to promote the collaboration further."
What I'm reading
Menswear brand Rhone is expanding into womenswear, with the first collection launching in retail next year.
Despite real estate volatility, a number of DTC companies continue betting on stores – with Ink + Alloy and Mizzen+Main some of the latest to announce store openings.
After years of helping beauty dupes go viral, TikTok is now grappling with counterfeit products and fraudulent sellers.
What we've covered
Why The Container Store is partnering with DTC brands like Cadence and Character to refresh its assortment.
How Pair Eyewear uses TikTok to drive more than a quarter of its sales.
Period care brands like August, Lola and Cora have created the Tampon Tax Back Coalition.