Why The Container Store is betting on DTC brands to refresh its assortment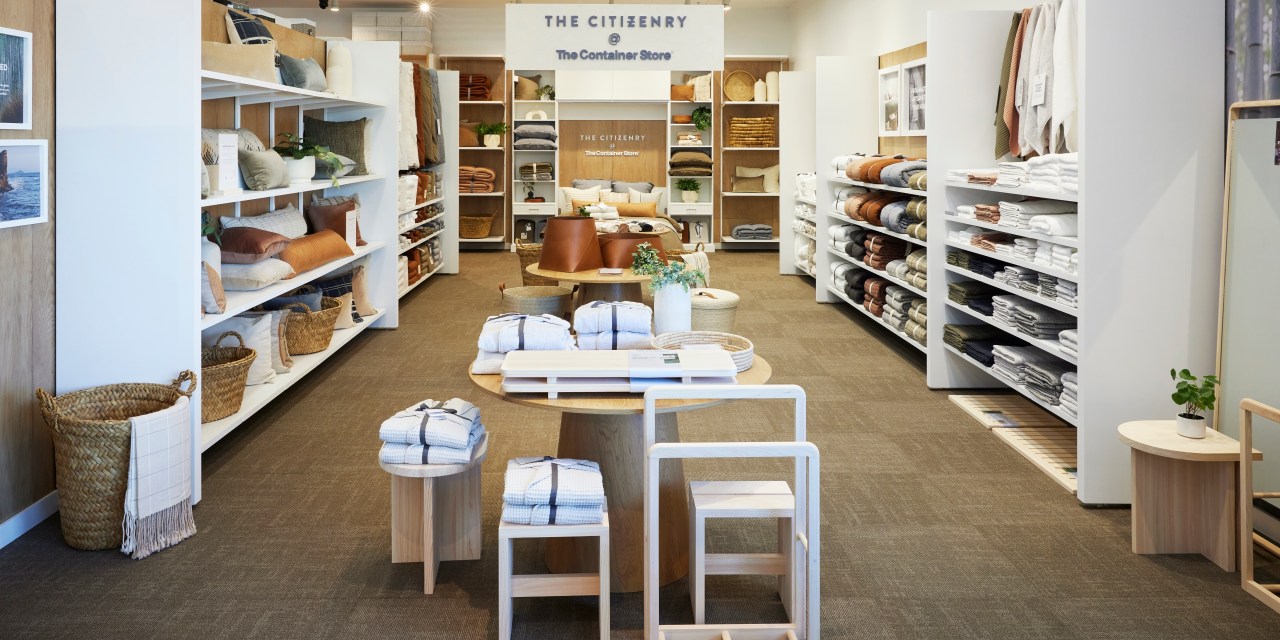 The Container Store
As wholesale partnerships become more common for DTC brands, The Container Store appears to be a popular avenue for young brands to try out their brick-and-mortar chops.
Direct-to-consumer brand Modern Picnic — which sells products like picnic bags, lunch bags and food containers — launched in physical retail for the first time in May at The Container Store. Home improvement brand Character, founded in 2022, just recently became available at around 90 Container Store locations nationwide. The Container Store also became one of travel container brand Cadence's first major retail partners in September.
The Container Store told Modern Retail that it has been actively refreshing its assortment with DTC brands. The company started introducing new brands to its shelves last year, and so far, it has added 50 brands. In a recent earnings call, The Container Store said that its new products have so far been effective in acquiring new shoppers with new customers making up 24% of sales for new products in the first quarter.
"We were pleasantly surprised with our customer adoption of those new brands," said Stacey Shively, The Container Store's chief merchandising officer in an interview with Modern Retail.
In the first quarter, consolidated net sales for The Container Store were $207.1 million, down 21.1% from the same period last year. In the past, some of The Container Store's effort to energize its offerings involved hosts from HGTV and Netflix TV shows such as Marie Kondo and Cassandra Aarssen. By adding younger and trendier DTC brands, the company hopes that it would give people a reason to shop at The Container Store.
Retailers like Target and Walmart have been some of the most common wholesale partners for startups. But as retail generalists that have thousands of brands and products, it can be easy for startups to get lost on the shelves, said Polly Wong, president of marketing firm Belardi Wong. In this case, a specialty retailer like The Container Store could be an ideal channel for startups because it holds a narrower category of goods.
"Just because you're on the shelf at Target, doesn't mean your products going to sell because there are so many shelves and so much product," Wong said. "The Container Store is a big-box store that has a little bit more of a curated angle and doesn't have quite the assortment of someone like a Target."
For Modern Picnic, The Container Store was always one of its target wholesale partners. The company was founded in 2018 and currently has five of its products available for sale at five Container Store locations. Modern Picnic initially pitched its products to The Container Store in hopes that it could get in front of the retailer's "diehard customer base."
Modern Picnic founder Ali Kaminetsky said that when its products entered The Container Store, her team was able to hold an educational meet and greet with the store associates where they shared the brand's vision and mission.
"The partnership happened really organically and pretty quickly," Kaminetsky said. "We were really impressed with not only their willingness to work with small, emerging brands but also their true operational excellence and speed in which they were able to bring the idea to market."
The Container Store's Shively said that the retailer has trained its associates to be spokespeople for the brands. For young brands that are getting their wholesale strategies started at The Container Store, Shively said the retailer would have frequent meetings with the vendors. The Container Store's digital and marketing team also collaborates with brand partners. Last month, the company unveiled the Uncontained campaign, which aims to bring awareness to its upcoming new products and brand partnerships.
"I've worked at some other large retailers, you hand [brands] a vendor manual. Well, that's not super helpful," Shively said. "If somebody doesn't know how to do something, it's our role to help educate them on how to get there."
Shively said that the company is also attempting to offer a more tactile in-store experience for some of its digitally native partners. For example, it set up a shop-in-shop experience for home goods company The Citizenry exclusively at The Container Store in Plano, Texas. When Cadence recently debuted in The Container Store, the company added a special endcap where shoppers can read about the brand's story and find samples that aren't in a package.
This year, The Container Store aims to add over 60 to 70 new brands with the goal of introducing 1,000 new products by March 2024. The company said there isn't a set limit on how many brands it plans to partner with, but when looking for a potential vendor, it mainly values differentiation and products that "make sense" for its shoppers.
"It really started with looking at what are all the brands that are really providing solutions for people on the go," Shively said. "What we were finding is the direct-to-consumer brands are on this so much faster than some of our other partners and it just became a natural fit."