With pandemic uncertainty abound, retailers are leaning into staycation messaging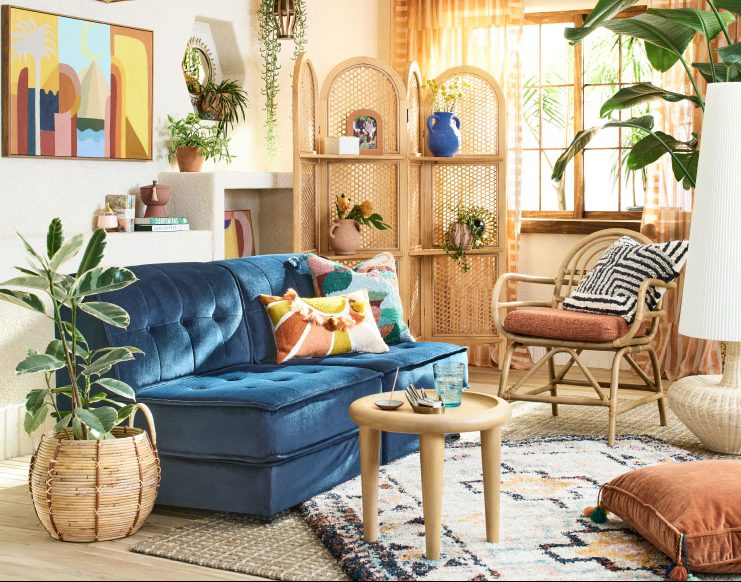 Target
Although people are starting to leave their homes more, retailers still want shoppers to invest in their homes.
Retailers ranging from multi-category conglomerates like Walmart, to travel-focused brands like Away, are still using "travel-at-home" messaging to promote new products, for a few reasons. While categories like grocery and home furnishings flourished during the pandemic, growth has recently slowed. Now, big-box retailers are pitching new private label brands as "globally inspired" and encouraging customers to fulfill their need for adventure by investing in their home. Meanwhile, certain methods of transportation — like air travel — have yet to return to pre-pandemic levels, so travel brands are hedging their bets by promoting how new products can also be used at home.
Last week, Walmart launched its Winemakers Selection Reserve Series, a new set of travel-inspired wines, focused on the classic styles of the regions where the varietals are sourced from, like a French Rosé or Argentinian Malbec. In the press release about the collection, Jason Fremstad, vp of adult beverage at Walmart, described the collection as a way to "visit the Andes Mountains in Mendoza, Argentina" or "explore Italy's delle Venezie region."
The wines are low-cost versions of more premium global offerings: each bottle only costs $10. Fremstad told Modern Retail in an email that the retailer was focused on sourcing from "the world's most prominent growing regions" and capturing a sense of place in each bottle.
"Winemakers Selection Reserve Series will transport our customers to these exciting destinations, without [them] ever having to leave their home," said Fremstad.
Multi-category retailers like Walmart are launching new private label brands at a time when they are facing headwinds in some of their most important categories. While home and furniture sales are still up year-over-year, they are decreasing month by month: from April to June 2o21 furniture and home furnishings sales have decreased 6% or 723 million, according to the U.S. Census Bureau. In grocery, sales declines have already started: U.S. retailers reported first quarter year-over-year sales declines amidst a return to restaurants.
Walmart reported during its most recent earnings report in May that general merchandise sales — led by home goods sales — were still up "low 20%" year-over-year. Grocery sales, however, declined year-over-year in the first quarter of 2021.
"If [home furnishing] retailers want to continue growing, they will need to innovate to stimulate the consumer into spending or capture share from other players," said Neil Saunders, managing director of GlobalData. "For food and grocery, the market is already in very modest decline as categories like household care and some store cupboard staples are in decline after last year's stocking up. Strategies which evoke thoughts of travel are generally smart as a lot of people are pining for vacations and to get away after a long period of being locked down."
Other big-box retailers' latest private labels and partnerships in the at-home space also have a similar global focus like Walmart.
Target recently partnered with bohemian home furnishings brand Jungalow for a Jungalow x Opalhouse line of furniture and home decor. In a post about the new launch on Target's blog, Jungalow founder Justina Blakeney said the new collection was partially inspired by her travels to India, Mexico, Morocco and Italy as well as eclectic crafts around the world.
Last month, Bed Bath and Beyond launched a new home decor private label named Wild Sage. In a press release about the new brand, Wild Sage was described as "globally inspired designs [that] bring a world of inspiration to customers' doorsteps and into their homes."
In January, Anthropologie partnered with dutch artist Milou Neelen on a line of dishwear and accessories, Hotel Magique, that were inspired by a what a boutique hotel between Anthropologie and her might look like. The line's category page reads, "Dreamers, explorers, and positive thinkers alike, this one's for you."
Homeward-bound travel accessories
Meanwhile, while home brands pivot to travel, suitcase and travel accessories brands are focusing on the home. More people are traveling again, but travel is not back to pre-pandemic levels; TSA checkpoint daily traveler numbers, for example, are still much lower year-to-date compared to the same period in 2019.
Laura Willensky, DTC suitcase brand Away's chief commercial officer earlier told Modern Retail that the brand's April 2021 accessories launch needed to work for a travel industry in flux.
"We launched our first line of travel accessories in early April with return to travel certainly on the horizon, but not quite fully arrived," said Willensky. "With this in mind, we wanted to offer products that provide comfort anywhere, whether you're at home or on the road."
To highlight the dual purposes of those products, the brand's marketing campaign showed models using accessories like neck pillows or compression socks at home. Earlier this month, following its accessory launch in April, the brand released a new set of products tailored to versatility: packable bags.
The packable bags' campaign tagline is "ready for anywhere," and Away highlights how the product can be used across a wide variety of travel situations — from a day trip across town to an adventure across the ocean.
Like Away, suitcase brand Paravel this month released a set of packing cubes in partnership with organizing guru Marie Kondo. The limited-edition deep blue color of the set, advertises the brand, offers a sense of tranquility "to suitcases and closets alike."
Saunders, however, is more skeptical about travel retail's ability to appeal towards home than home goods ability to appeal to travel.
"Travel brands playing to home use will have success in some cases and, quite honestly, it is better than doing nothing at all," said Saunders. "However, the idea that people will buy suitcases just for home storage is somewhat fanciful. Sure, they will buy them if they actually feel they need a new suitcase for when travel becomes viable again, but if they want better storage then they will buy proper home storage solutions."