Why Bulletproof is ramping up product expansion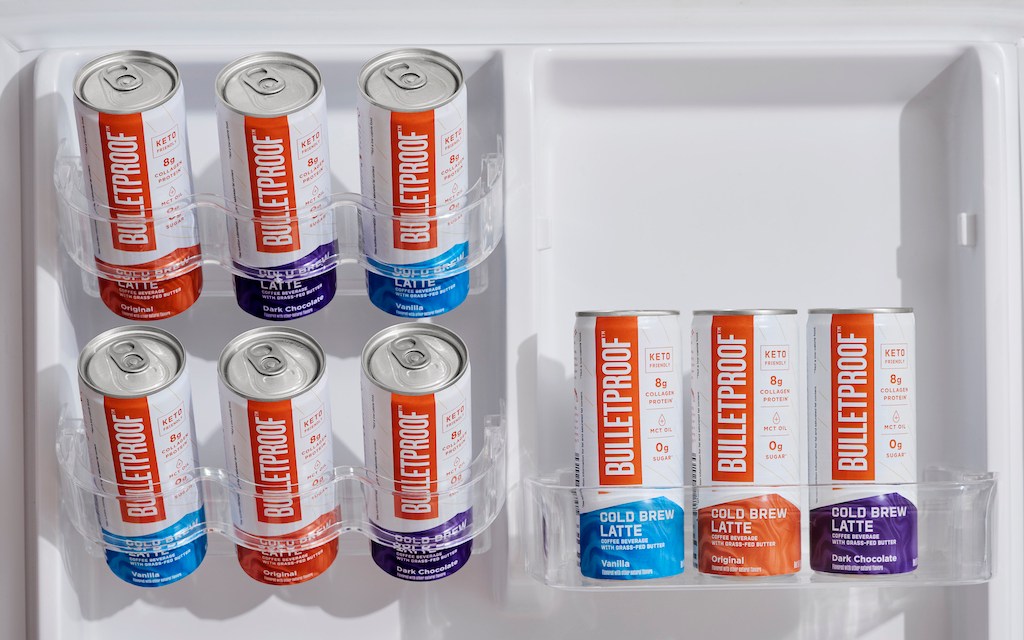 Image via Bulletproof
Bulletproof coffee, which launched in 2013 with an MCT oils-based coffee drink that purports to stave off hunger and help with weight loss, is trying to move beyond its niche biohacking branding.
CEO Larry Bodner, who took over from founder Dave Asprey in September 2019, is bullish on the company's new trajectory. The company launched 43 new SKUs in 2021 and is on track to debut dozens more this year, resulting in more new product launches in one year than it had over the past three years combined. "We think health and wellness-focused consumption will stick," Bodner said. "So we have to find new ways to develop relevant formats made of our core ingredients." 
Since its launch, Bulletproof's customer base has been made up of folks focused on nutrition and keto dieting, said Bodner. "We want to reach consumers interested in general health and wellness by offering our ingredients in more recipes."
Bulletproof coffee currently sells coffee, MCT oil, nutritional supplements and protein bars. Like other brands, Bulletproof said that during the pandemic, it saw a major sales increase in home brewing products, like Keurig cup and coffee beans, as well as immunity supplements. However, one segment that's been hit hard is Bulletproof's individually-wrapped bars. These products, said Bodner, tend to be grab-and-go items. While consumers stocked up on frozen food and multi-serve meals, nutritional bar sales plummeted at the beginning of the pandemic — particularly in March and April 2020 — according to a joint Bernstein and Food Navigator report. During this period, performance nutrition bars sales dropped by 20%, meal replacement bars fell 17.9%, and weight management bars sales dropped 11%.
Another challenge has been the combination of shorter grocery store trips and lack of sampling. With the decline of this traffic, fewer customers were able to sample and purchase a single product. Bulletproof's largest wholesale partners include Whole Foods, Wegmans, CVS and The Vitamin Shoppe. The company also sells its products at hundreds of independent health food markets. 
To offset these grocery store losses, Bulletproof turned to its DTC channels, including the website and its Amazon store. Over the years, the company's website has amassed over a million customers, about half of which are active shoppers. Bulletproof ramped up digital marketing efforts, including influencer partnerships, to capitalize on this customer pool. 
Part of Bulletproof's strategy is to launch products that are easier to take on-the-go, as well as some products designed for people who started brewing coffee at home more during the pandemic. The first new product the brand launched this year was a creamer, made with Bulletproof's Brain Octane MCT Oil. According to Bodner, this made it easier for existing customers to make the creamy coffee recipe on the go, compared to the traditional multi-step blender recipe. The creamer has since sold out twice, both on the company's DTC site and on Amazon.
To build on its home brewing success, this month Bulletproof launched compostable Nespresso-compatible pods. Its revamped to-go items include adjusted ready-to-drink coffees. Previously, Bulletproof's refrigerated drinks came in calorie-heavy bottles "that weren't truly single serve." The company is preparing to debut a new line of 8-ounce, vitamin B-infused cold brew cans, due out in June.
Another recent change was modernizing Bulletproof's packaging to help it stand out in store aisles and attract more shoppers. The new design features bigger logos and sleeker orange and white graphics. It also lists product ingredients and their nutritional benefits more clearly, with labels  such as "keto-friendly" and "caffeine free."
Bulletproof is also constantly reformulating products in response to customer feedback. Some customers said Bulletproof's bars had too much of a crunchy, brittle bite. "So we've reformulated them to have more MCT oil, which gives them a smoother texture," Bodner said.
Carly Sutherland, a CPG consultant whose clients include General Mills and Pepsi, said that, going forward, brands will need to adapt to changing consumer lifestyle needs, such as the new "hybrid" work from home schedule.
When it comes to on-the-go SKU variations, the options are endless and can expand beyond food and beverage, Sutherland said. "There is also room for creative merchandising." It could include, for example, reusable thermal mugs, measuring spoons and branded powder scoopers.
Kendall Dickieson, a social and influencer strategist for CPG and DTC food brands, said that, in general, more brands are restructuring their lines in time for people making more frequent trips to the store. 
"Brands that have been around for a while tend to see consumer fatigue when there isn't enough innovation," Dickieson said. She went on to say that, with the bulk-purchasing the pandemic brought on, brands are having to get creative with their "on-the-go" products. 
"Many CPG players doubled down on their strengths, like single-serve and home brewing coffee," Dickieson said. "But they realize they need more touch points that appeal to their in-store customers and stand out on the crowded shelf."