Unpacked: From deep discounts to phaseouts, how retailers are unloading excess inventory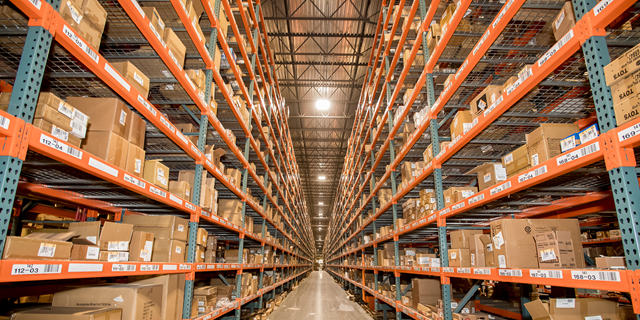 Target
As excess inventory piles up in warehouses, retailers are looking into different methods of freeing up space. 
Target said its product inventories increased 43% from last year and Walmart's was up 32%. Both retailers have resorted to methods like discounting to offload goods. Dozens of Old Navy stores, on the other hand, have scaled back on the company's inclusive sizing program to realign their inventory.   
Retailers recently warned that they had too much inventory as a result of shifting consumer demand and supply chain issues, which had a significant impact on their bottom lines. As consumers spend less money on categories that trended during the pandemic — like athleisure and home goods — and more on travel and entertainment, retailers are left with a supply of goods that consumers no longer want, at least at full price. In a bid to reduce their inventory levels, some have resorted to discounting, while others have completely cut down their assortment.
"These orders have to be placed weeks and, usually, months in advance for most items," said Brad Jashinsky, director analyst at Gartner. "You're seeing excess inventory arriving back retailers ordered, you know, months ago when consumer demand was really high."
What retailers are doing to get rid of goods
A few quarters ago, some of the products retailers stocked up on were experiencing high levels of demand. During the first quarter of 2021, apparel, home and hardlines were some of the categories that led sales growth for big-box retailers like Target. So much so that retailers like Walmart and Target decided to increase their inventory levels and invest in new exclusive brands in these categories. Target, for example launched a home storage organization line called Brightroom at the beginning of 2022.
But in its most recent quarter, Target reported that the categories that were leading sales growth had flipped; customers were instead spending more on categories like luggage and toys.
As a result of this sudden shift in spending trends, decisions that were made months ago are having an impact on retailers' operations now. "It's that challenge of do you want to have excess inventory or no inventory? And given that decision, it's probably better to have that excess inventory," Jashinsky said. "But there are so many factors… that I don't think anyone could have predicted."
One of the early moves retailers make to right-size their inventory is to cancel shipments from suppliers before they hit the waters, Jashinsky said. Target, earlier this month, said that it has already canceled vendor orders as part of its plan.
To trigger demand, some retailers are marketing deep discounts to entice shoppers, said David Berliner, national leader of BDO's restructuring and turnaround services practice. 
"Part of it is trying to create demand for something that's typically either not exactly in season or you just have too much and your normal sales are not going to reduce the levels enough you need to encourage more people to buy it," Berliner said.
Walmart and Urban Outfitters are rolling out markdowns for apparel goods after mis-predicting demand. With inventory levels up 9% from the previous year, Best Buy CEO Corie Barry said during the first-quarter earnings call the company expects "promotional activity to increase." Target said it is carrying too many bulky items like furniture and television and will be putting bigger items on discount to give shelf space to merchandise with higher demand. 
"Consumers who weren't really thinking of buying that, because it's on a nice discount, will buy it," Berliner said. "If you sell things at a big discount that hurts your profitability."
Demand for goods can vary based on geographical location, so if some products don't end up selling well in one store a retailer might ship them to a different store, said Jashinsky. Other retailers might also ship unsold goods to their own outlet stores. Best Buy, just recently said it plans to double the number of outlet stores it has over the next year, which executives said will alleviate space from their core stores.
There are winners and losers in tough times — and off-price retailers are poised to be the former as inventories overflow. Off-price retailers — such as T.J. Maxx, Ross and Burlington — often buy unsold or excess merchandise. Already, Burlington said during an earnings call in May that it is seeing a supply of products from brands that the company hasn't seen for years. 
"The buying environment now is better than it has been for years. Our buyers are seeing great deals," said Burlington CEO Michael O'Sullivan. "We have taken this opportunity to build our reserve inventory."
If all else fails, experts said liquidation could be the final move to dispose of unsold goods. Liquidators like Quicklotz Liquidations and Liquidity Services focus on reselling unsold or returned merchandise from full-price retailers like Amazon and Target. Liquidating products could also mean destroying products completely, which some luxury brands, such as Coach and Burberry, have received backlash for in the past.
The inventory glut's aftereffects
In the coming months, some retailers have already warned investors that profits may continue to be in the red. 
Target's operating income has already dropped 43% year-over-year in the first quarter and Walmart's decreased by $1.6 billion. For the second quarter, Target said it expects its operating margin rate to be about 2%, less than the 5.3% rate it gave initially.
"If you have really high excess inventory levels like a lot of retailers do right now, you're having to spend more money on warehouse space – whether that's internally or at ports," Jashinsky said.
Experts said some retailers may end up phasing out certain products or variations in a bid to manage their inventories better as was the case at Old Navy. Its parent company Gap said it had overestimated demand in stores for its larger sizes. Around 75 stores will no longer carry extended sizes in the U.S. and 15 in Canada. Last year apparel retailer Loft has also cut out its plus-size offering due to "business challenges."
Additionally, BDO's Berliner said that retailers might rethink their sourcing strategy. given the fact that there's no end in sight for supply chain constraints. "I think people got comfortable with the supply chain and took risks having all their or a good percentage of their sourcing coming from one region or a country," he said.
Jashinsky said that although many retailers expect inventory levels to begin normalizing by the fourth quarter, there are too many variables involved to predict future outcomes. 
"That's the crystal ball question," he said.