'People feel the need to get dressed up': Apparel retailers struggle to adapt to changing preferences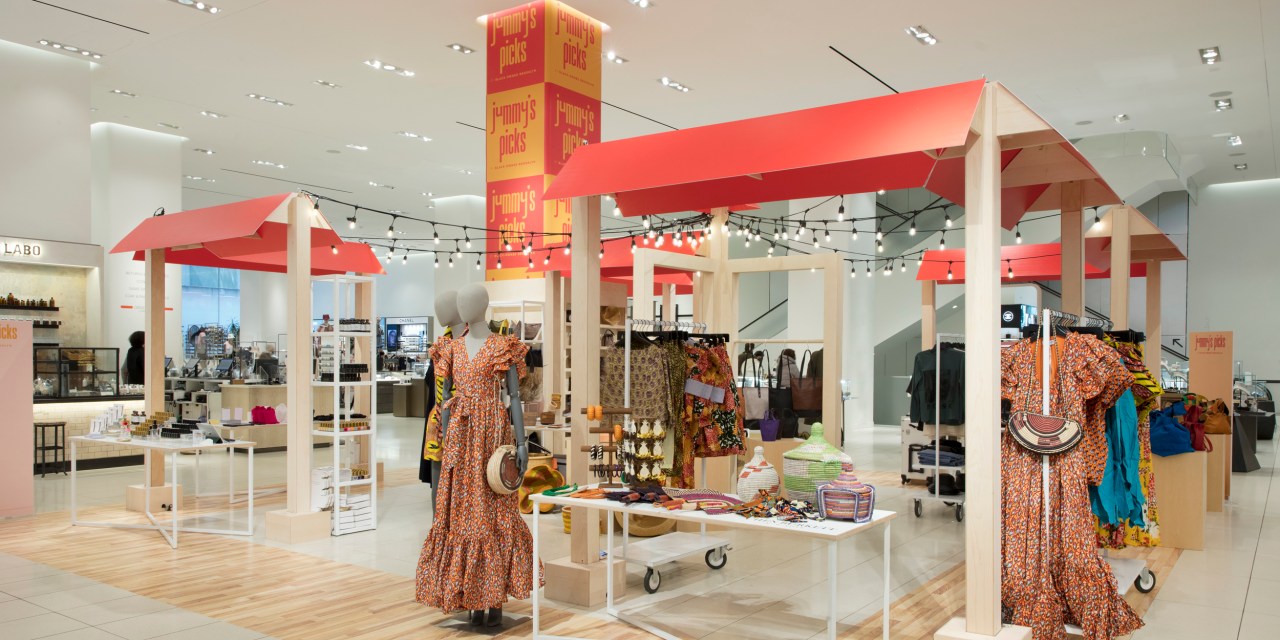 Connie Zhou
It's been a mixed bag for apparel companies in the first quarter, as these retailers navigated inventory headwinds and changing style preferences.
Companies like Poshmark, Revolve and TJX Companies reported better-than-expected earnings with revenue up between 13% and 43%. Department store stalwart Kohl's, however, saw revenue decrease from $3.8 billion to $3.7 billion year-over-year, and big-box retailers like Target and Walmart were forced to discount apparel after mispredicting demand.
Apparel retailers are facing numerous headwinds that promise to further dampen bottom lines including continued supply chain pressures and inflation. Moreover, apparel preferences are rapidly changing from stay-at-home basics to workwear and partywear. To see the trends driving apparel sales and the headwinds facing apparel retailers, Modern Retail rounded up recent earnings call comments from apparel retailers in the first quarter.
Party-wear is in
In the first quarter, shoppers were spending on out-of-home apparel for both a return-to-office and a return to events.
Kohl's, Revolve and ThreadUp all reported strong growth in dresses, with the category delivering 150% growth year-over-year at Revolve. "Our customer is out again, living a very active social lifestyle," said Revolve CFO Jesse Timmermans in the retailer's first-quarter earnings earlier this month.
At Poshmark, meanwhile, prom was up 75% and wedding apparel was up 39%. "[It's] real meaningful growth in event-oriented shopping," said Poshmark CFO Rodrigo Brumana last week in the retailer's earnings call.
And events are also driving interest in accessories as well. ThredUp also reported over 50% growth in high heels. Etsy executives said jewelry and accessories were top-performing categories.
"Special occasion… is one of the few areas in apparel that's actually continued to be strong," Gabriella Santaniello, founder of retail consulting firm A Line Partners, told Modern Retail.
Pandemic-wear is out
While athletic, athleisure and lounge apparel were all pandemic juggernauts, growth is slowing for some retailers.
At Kohl's, active only performed in line with the company, while dresses and denim outperformed. At Target, apparel basics were down in sales while trendier apparel was up.
"While apparel basics moderated in the quarter, trend-based apparel accelerated meaningfully as increasingly people are returning to the office or dining out with friends," said Target evp and chief growth officer Christina Hennington during the big-box retailer's earnings on Wednesday.
Some athletic-focused retailers also struggled in the quarter. Under Armour, for example, missed estimates as its gross margin decreased and sales were relatively flat year-on-year. Foot Locker's revenue underperformed estimates as same-store sales dropped.
"I just think after two and a half years of feeling like you're just lounging around, people feel the need to get dressed up," said Santaniello. "Athleta is struggling, Aerie is struggling, we see it across the board where it's just softer sales and not as much demand."
Indeed, as the space gets more crowded and consumers shift spend toward eventwear, comfort-focused brands will have to tread more carefully going into 2022 to drive incremental sales.
The athletic brands and retailers have to follow through and evolve," Jessica Ramirez, a senior research analyst at Jane Hali and Associates, told Modern Retail. "You could have a sports jacket that could be quite stylish but with a smart, athletic fabric or tap into other categories. What silhouettes are they providing to the consumer that could be useful at the moment?"
Forecasting misses
Citing changing consumer preferences, supply chain issues and a colder-than-normal spring, retailers like Walmart, Target and JD all discounted apparel this quarter.
"We started being aggressive with rollbacks in apparel, for example, during Q1," said Walmart CEO and President Doug McMillon in the retailer's earnings on Tuesday. "The category mix in the U.S. was heavier in food and consumables and spending shifted somewhat away from more discretionary items, including categories impacted by unseasonably cool weather such as apparel."
The change from informal to formalwear, too, also happened more quickly than Target executives expected. When consumers spent on discretionary items, explained Target CEO Brian Cornell, they focused that spend on experiential items like vacation dresses or travel accessories.
Supply chain issues ranging from continued freight cost increases as well as the rising costs of fuel amid inflation have made it harder for retailers to get the product they want at the time they want it for a reasonable price.
"We expect that this year is going to be unpredictable for us," said Etsy CEO Joshua Silverman in the retailer's earnings earlier this month, which reported 5.2% consolidated revenue growth. "There are certainly many moving parts both tailwinds and headwinds, which are difficult to forecast… we'll have to fight harder for consumers' time and money."