Q&A
// December 6, 2021 ■ 4 min read
'The idea is to evolve from being a mall store': Express's svp of e-commerce on the retailer's digital growth path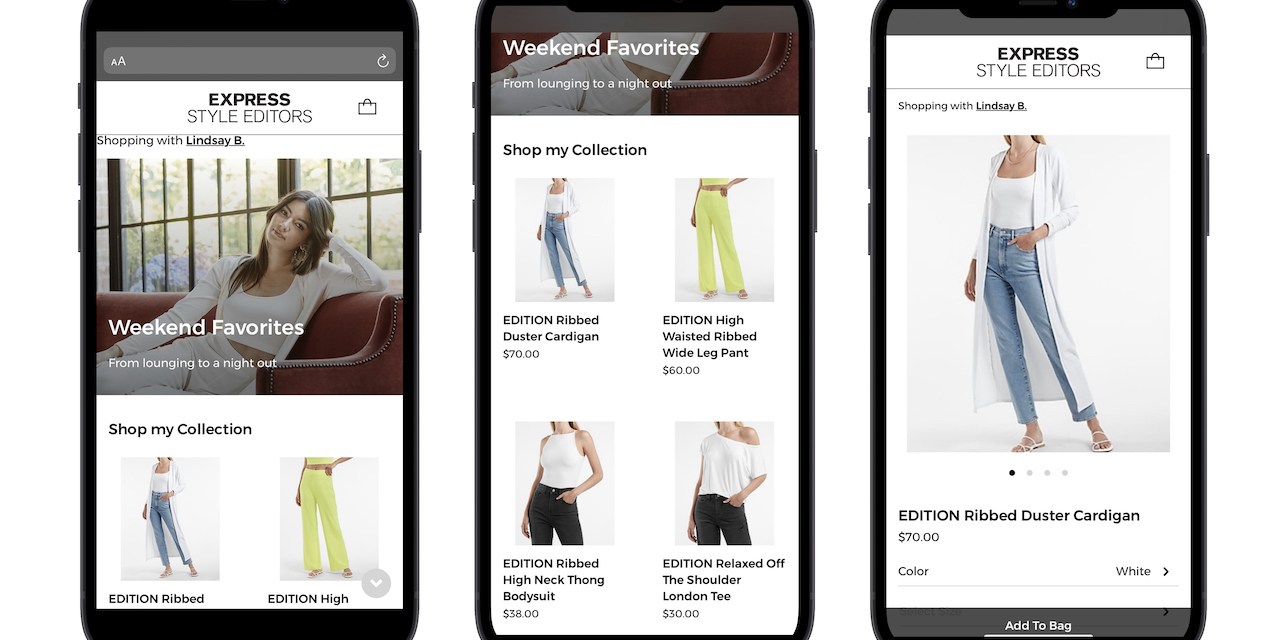 Image via Express
For the past two years, Express has been on a path to improving its digital sales.
At the beginning of 2020, the retailer began closing some stores and downsizing others to better utilize square footage and improve margins. Other investments include improving its website's e-commerce capabilities and building out a shoppable mobile app. Last month, the company also introduced its Community Commerce program with designer Rachel Zoe, which allows aspiring stylists to run their own Express storefronts and earn a commission from sales. 
These changes, along with the return of more formal fashion purchases this year, helped Express weather the pandemic and grow its online sales. Last week, Express's 2021 third-quarter earnings showed e-commerce sales were up 26% over the same period last year, leading the retailer to improve its full-year 2021 outlook. The company reported revenue of $472 million, up 47% compared to 2020, and recorded a profit of $13 million compared to a $90 million loss during the same period in 2020.
In an interview with Modern Retail, Brian Seewald, svp of e-commerce at Express, explained how the company is on track to build a billion-dollar e-commerce business by 2024. This interview has been lightly edited for length and clarity.
Express has been rapidly growing its online business. Which new e-commerce features and programs do you credit for the growth?
A lot of them fall under the four key pillars we created to reach our e-commerce goal. These are: personalization, omnipresence, fit and style and community. What we did late last year into this year has largely focused on amplifying user-generated content. Even increasing outfitting content to showcase versatility of our products has helped. 
The e-commerce team's job is to showcase and bring the product's versatility to at-home shoppers. We're also placing more focus on improving our mobile app, which many of our loyal shoppers use. We've been constantly testing website features to see what customers respond to. We recently began experimenting with social commerce, including on social media and our own website, which we think is a big area of opportunity. 
How has the return of more formal dressing impacted your e-commerce strategy?
People want to get dressed again. We've seen a shift toward categories like office wear, dress business and men's suits. Even our more casual styles are growing, and our denim business is going strong. 
However, customers need to see how they can wear a piece with their existing wardrobe or even other items in their cart. We've pulled back on promotions this year, and you'll see us continue that in the coming years. We're now communicating the fashion aspect, whereas in the past we spoke more to the price points. 
How does the new community styling program fit into your digital strategy?
The idea is to evolve from being a mall store to being powered by a styling community. We're calling on style editors who are passionate about our brand and are entrepreneurial. 
Now that people are more comfortable, we're starting to get our style editors into our store environment, which I think is going to inspire even more shopping. Our stores can be used for hosting live events and offering our version of experiential retail. 
What other ways do the stores fit into your new e-commerce-focused direction?
We know we need to bring the physical and digital experience together. Our buy online, pickup in-store has grown a lot this past quarter and we view it as an area of growth opportunity. We think mobile is the key to that. More specifically, the app will act as an in-store shopping assistance. As we get into 2022 and early 2023, we want to get more advanced with personalized experiences and streamlining the checkout experience. For example, offering filters that allow visitors to shop a local Express store, then pickup their order there.
How do you plan to build on this momentum now that customers are returning to previous routines
Our overall strategy isn't necessarily going to change, but we'll continue to test new things that can enhance our shoppers' experience. Three years ago, live shopping wasn't necessarily on our radar but we have to try newer formats to meet customers' new habits. At the end of the day, we want to give them confidence to add our products to cart.