'Slow turnaround': Kohl's new initiatives may not be enough to keep activist investors at bay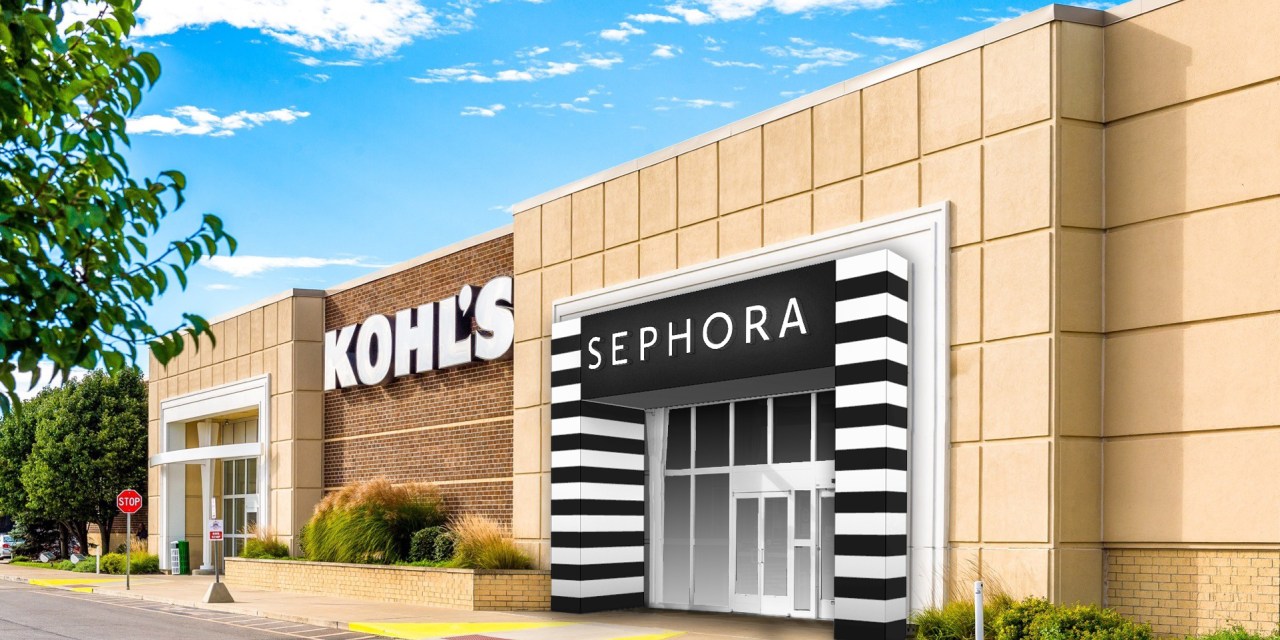 Image and video courtesy of Kohl's. ©2017 Kohl's Department Stores, Inc.
Activist investors have been trying to take the reins at Kohl's for over a year. In response, the department store tried to shake up its retail strategy with buzzy partnerships. But these recent moves may not be enough.
Over the past few years, Kohl's has invested in two significant partnerships to increase sales. Beginning in 2019, Kohl's started allowing customers to make Amazon returns inside its stores and followed that partnership up the next year with an announcement that it would be launching hundreds of Sephora shop-in-shops. Kohl's has also revamped inventory to include more relevant athleisure styles and brands. In turn, Kohl's announced in its fourth-quarter earnings call this March that it had improved its operating margin to 8.6% in full-year 2021. Moreover, the retailer issued an outlook of just a 2% to 3% sales increase in 2022.
However, these incremental improvements haven't stopped Macellum Advisors — a 5% shareholder at Kohl's — from urging the retailer to sell off all or parts of its business. The activist investors' latest proposal asked Kohl's to appoint 10 Macellum-backed people to the board. The retailer has urged board members to reject this proposal. Still, the activist pressure on Kohl's shows no signs of slowing down.
With this, it's unclear whether or not Kohl's will be able to right the ship. It makes for a difficult situation for the ailing department store. While analysts interviewed by Modern Retail aren't sure a sale is truly in Kohl's long-term interest, they admit that the retailer's turnaround strategy has been slow
Macellum attacks
Kohl's has had middling earnings for years. The retailer finally reached pre-pandemic 2019 revenue numbers in the second quarter of 2021. However, 2019 revenue was below 2018 revenue and 2018 revenue was nearly flat with 2017. Kohl's had a strong second and third quarter last year. However, fourth quarter revenues underperformed analyst expectations and the retailer — like many department store peers — has long struggled with consistent growth.
Macellum's intervention largely focuses on the struggles of the broader department store category. In the first takeover letter Macellum sent to Kohl's back in February 2021, Macellum said Kohl's "chronically underperformed against its peers" and demonstrated "weakness in its operating performance."
In its latest proposal, Macellum pointed to the fact that Kohl's rejected two acquisition offers as the current boards' inattention to its fiduciary duty to shareholders. The firm also highlighted the fact that Kohl's hasn't shown same-store growth for over a decade. Kohl's, meanwhile, said that the 10 potential appointees weren't qualified. Six of them had never served on a board before. Kohl's added that one of the sale offers that the retailer had earlier rejected valued the company at $64 a share, below Macellum's own estimate for the company at $100.
This is just the latest back in forth in what is now over a year-long saga between activist investors who want the company to sell all or parts of its business to maximize share prices.
Macellum first took aim at Kohl's in February 2021 in partnership with Ancora Holdings, Legion Partners Asset Management and 4010 Capital. Then, these investors tried to take control over the board in order to cut executive salaries, decrease inventory levels and sell off real estate. Kohl's rejected this full board takeover attempt in February but, in April, the group came to an agreement of three new directors.
But, in early December, Reuters reported that Macellum was ramping up to challenge the retailer once again after the retailer underperformed Macellum's sales expectations. Indeed, by January, Macellum was once again asking for additional board seats. Just after in January, Kohl's announced that it had received multiple offers to buy its business and, two weeks later, rejected those offers.
Macellum's latest 10-seat board request comes on the heels of those rejections.
"The initial interest in Kohl's has also created a flurry of activity which has been self-perpetuating, which is why there are so many interested parties," Neil Saunders, managing director of GlobalData, wrote in an email.
Still, Saunders points out that these offers may not be best for Kohl's in the long run.
"Most activist investors smell money," said Saunders. "They believe that can monetize Kohl's by doing things like selling off real estate or splitting out the e-commerce business. Those things would indeed yield some short-term gains, but they are not really in the long-term interests of Kohl's."
Kohl's points to slow improvement
And, in many ways, Kohl's has been working to improve its business.
First and foremost, the retailer has attempted to streamline its inventory. In recent year, Kohl's has said its stopped selling underperforming apparel brands like Mudd or Candie's in favor of expanded partnerships with more popular brands like Levi's.
"Our inventory is up to last year, they're fresh receipts, and the customer is responding," CEO Michelle Gass said during Kohl's fourth-quarter earnings.
Overall, the retailer also announced intentions to pivot towards an athleisure-led apparel portfolio. The retailer launched its own athleisure portfolio, started selling Champion and launched a partnership with Land's End and Eddie Bauer over the past year.
"Kohl's has done the best in the department store sector in trying to turn around its business: getting rid of brands that are underperforming and bringing brands that might be a little bit more interesting to the consumer," said Jessica Ramirez, a retail research analyst at Jane Hali and Associates.
Kohl's has also utilized its shop-in-shop partnership with Sephora and Amazon returns program to bring in new customers to Kohl's stores.
"[Sephora] stores are doing a mid-single-digit lift relative to the stores that don't have Sephora," said Gass. "25% of customers who are coming in and shopping Sephora are brand new to Kohl's. So that provides a lot of opportunity. And we are fostering that."
Ethan Chernofsky, VP of marketing at foot traffic analytics firm Placer.ai said that Kohl's "locations with a Sephora inside have consistently performed better than those without." Saunders, meanwhile, praised Amazon returns as "a smart move."
However, Ramirez points out that "it's a slow turnaround."
Sales are up year-on-year for the retailer, but comps are part of an abysmal pandemic sales period for the retailer and the broader department category. This year, weekly foot traffic at the retailer has been down an average of 16% compared to 2019, according to Placer.AI data. Fourth-quarter sales numbers missed analyst estimates.
"The core of the business still needs to be revitalized," said Saunders. "Too many stores feel lackluster and down at heel, areas like home are not nearly compelling enough, and merchandising in-store leaves a lot to be desired."
Saunders added that Kohl's has thus far over-relied on third parties like Amazon and Sephora to turn its business around, rather than creating a unique and differentiated proposition in-house.
"While activists do have a valid point that Kohl's should be performing better, their solutions are not the way to achieve it," said Saunders. "We need to hear more about building the business, not treating it as an ATM."