Department stores are running out of ways to reinvent themselves going into 2022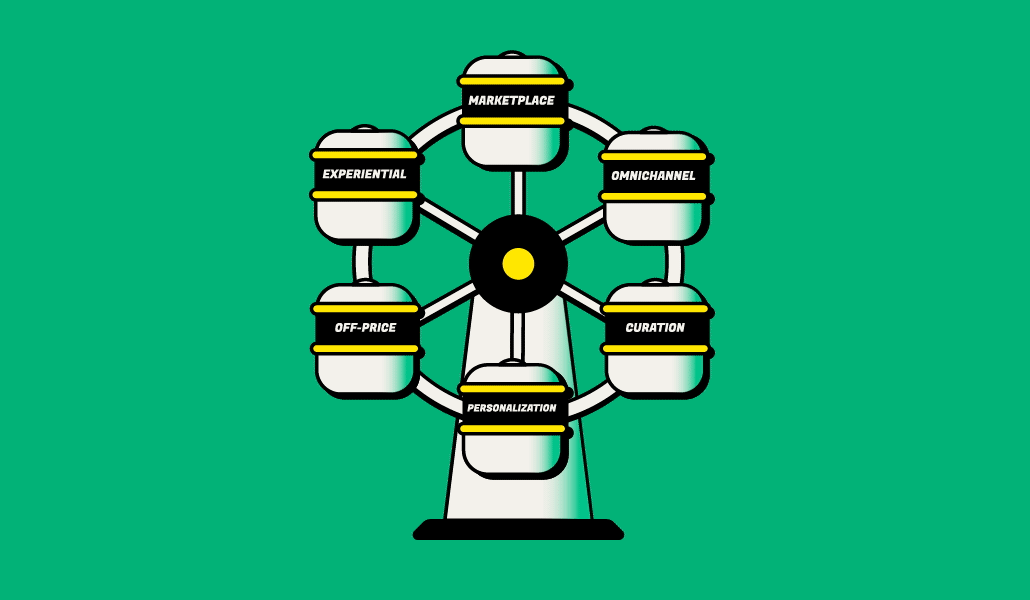 Ivy Liu
From building third-party marketplaces to breaking off their e-commerce businesses, department stores are throwing every idea at the wall in a bid to reinvent themselves in 2022.
Legacy department stores have long struggled to adapt to a new retail landscape: even pre-pandemic, between 2015 and 2019, century- and decades-old retailers like Sears, Gordmans and Barneys declared bankruptcy. Meanwhile, department stores that managed to hang on — like Nordstrom, Macy's and Kohl's — still saw revenues decline and debts rise. The pandemic made a bad situation worse. In 2020, Neiman Marcus and JC Penney declared bankruptcy, while Lord and Taylor shuttered completely. Green Street Advisors estimated that about 40% of U.S. department stores had closed since 2016 by the end of 2020.
This year, however, buoyed by lifted restrictions and a subsequent return-to-store, department stores fought back.
In 2021, digital innovation became a focus for department stores. In the spring, Saks announced its plans to spin-off its more profitable e-commerce segment into its own publicly traded company, and activist investors soon pressured Macy's and Kohl's to consider a similar strategy. Last month, Macy's announced its plans to build out a third-party marketplace to complement its more traditional e-commerce site, taking cues from Walmart and Amazon. In-store, meanwhile, these same retailers are trying out anything from small-format stores to store-in-stores to off-price.
But going into 2022, these legacy retailers are facing an identity crisis that will soon come to a head. Kohl's promise to be an online-offline integrated business is at direct odds with an activist investor plan to split the retailer into parts. Macy's plan to build out an Amazon-like marketplace pushes the department store away from its historic focus on brick and mortar-driven apparel sales. Bloomingdale's is moving away from its branding as a mall staple for older upper-class shoppers and testing out more smaller-format shops for millennials. Many of 2021's new investments are go against what these department stores have historically been about.
"I think the challenge for the department stores going forward is to truly find what they represent in the consumers' eyes," said Michael Brown, a partner at consulting firm Kearney. "As category killers evolved, they've been taking off pieces of the department stores' businesses… the department store has to find what's going to be true for them."
A new push for digital dominance
After years-long reticence to embrace the digital practices that helped Amazon overtake department stores, these retailers have been forced to quickly bulk up their e-commerce segments during the pandemic.
This year, department stores are doubling down on some of the initial digital investments they made last year. Macy's, for example, just relaunched its mobile app to accommodate livestream shopping, tie item availability to local stores and seamlessly integrate digital purchase and in-store pickup. Kohl's, meanwhile, is expanding its in-store dedication to online orders by adding additional parking spots for curbside orders, upgrading its online order to store pick-up fulfillment technology and piloting self-pickup at 100 store locations.
As a result, digital sales are outpacing these retailers' in-store sales: digital sales were up 6%, 19% and 20% year-over-year at Kohl's, Macy's and Nordstrom, respectively, in the third quarter of 2021.
Fueled by this digital growth, many department stores like Kohl's and Macy's have finally returned to pre-pandemic sales levels in the back half of 2021. But it's little cause for celebration as department stores struggle to grow sales from a smaller base. Macy's 2019 full-year sales, for example, were relatively flat year-on-year.
In turn, department stores are trying to expand their reach digitally in the hopes that it can help them continue growing the business. Macy's announced plans in September to build out a third-party marketplace in the vein of Amazon or Walmart.
Matt Baer, chief digital and customer officer at Macy's said in a press release that the company expects its digital business to generate $10 billion in sales by 2023, and that the marketplace will produce "incremental revenue" on top of that.
Tiffany Hogan, a director of retail insights at Kantar, said that the marketplace model allows the retailers to take the "capabilities they already have in digital" while quickly expanding the number and types of products they sell.
"I think a lot of retailers, especially the kinds like Macy's that suffered more in 2020, are probably realizing that maybe they need — I don't want to call it a backup plan — a more robust ecosystem," said Hogan.
But while many department stores are increasingly finding ways to integrate online and offline efforts into one, another strategy has emerged. In March, Saks' parent company Hudson Bay announced that it would be splitting Sak's more profitable e-commerce site into its own publicly-traded company, Saks.com.
Brown described it as "less of a consumer strategy and more of a valuation optimization strategy." (Hogan added the model was "a little bit of financial skullduggery.")
"We really don't believe that this is a long-term strategy," said Brown. "This is a short-sighted effort to artificially manipulate valuations that eventually will have long-term, negative repercussions on portions or the entirety of the business."
Still Brown thinks it's "hard to tell" if Kohl's and Macy's might follow in Saks' footsteps. Both were pressured by activist investors to try the model this year. Last month, Macy's CEO Jeff Gannette told CNBC that no decision had been made, but the company had hired consulting firm AlixPartners to "pressure test" the business and the spin-off proposal. And Kohl's has yet to offer a response to Engine Capital's advice to spinoff.
At Nordstrom, meanwhile, the company has also reportedly tapped AlixPartners for a spin-off of its own. Instead of a standalone e-commerce business, however, Nordstrom is reportedly considering spinning off Nordstrom Rack, its off-price arm. During the retailer's last quarter, sales at Nordstrom Rack were down 8% compared to 2019. During the same earnings presentation, CEO Erik Nordstrom said, "we are not satisfied at all with our Rack business at all as clearly our recovery is lagging what we think it should be."
The evolving role of brick-and-mortar
In addition to building out an e-commerce business, the other major way that department stores have had to evolve is by rethinking the roles of their stores. Department stores have historically run much larger than other retail stores — Nordstrom's stores, for example, average around 140,000 square feet — and have been stuffed to the gills with apparel, accessories, shoes and more.
"A lot of these large-format stores that were built pre-Amazon, pre-online shopping, are over-spaced," said CBRE's vp of partnerships, Kevin Marschall, to Modern Retail earlier.
As a result, many department stores are moving away from their storied multi-level flagships in major metropolitan cities to smaller stores. Many of these moves were in motion before 2020, but were accelerated after the pandemic highlighted the dangers of paying exorbitant amounts of rent.
Bloomingdales, for example, rolled out its first "Bloomies" store in Virginia this year. The store is one-tenth its average department store size, curated by the location it serves and aimed at Millenials and Gen Z shoppers. Nordstrom, meanwhile has experimented with a Nordstrom local concept in New York and Los Angeles. The smaller stores don't sell product but instead offer order pick up and clothing alterations to expand the retailers' reach in neighborhoods without a traditional Nordstrom.
But smaller isn't always a magic bullet. Macy's, for example, rolled out a new 20,000 square foot retail concept called Market by Macy's, led by Story executive Rachel Shechtman in February 2020. The first Market by Macy's in Southlake, Texas featured a diner called Herald that served local cuisine, and carried only 157 brands, whereas a typical Macy's store might carry hundreds if not thousands of SKUs.
However the expansion of Market by Macy's has slowed thanks to the pandemic. Right now, Market by Macy's only has five locations, all in Texas. This July, the Southlake Market by Macy's closed for renovations as the company rethought the concept. Macy's efforts to grow Market by Macy's has also been complicated by the fact that Schechtman left the company in 2020.
Alongside investing in new formats, department stores are also refreshing their stores with new shop-in-shop partnerships.
Macy's bet on the revival of formerly defunct Toys 'R' Us ahead of the holiday season this August, rolling out over 400 Toys 'R' Us shop-in-shops this year. Macy's svp of home, leased and food, Stephen Moore, earlier told Modern Retail that "our partnership allows Macy's to significantly expand our footprint in [the toys] category," a growing category for the retailer.
Kohl's meanwhile snagged a partnership with Sephora, with plans to open 800 Sephora shop-in-shops over the course of this year and next. During the third quarter of 2020, CEO Michelle Gass said the category only accounted for a "modest low single-digit" percentage of its total sales. However, the retailer plans to triple its beauty sales in the next few years, and believes the Sephora partnership can help it achieve that.
It's worth noting that Kohl's isn't Sephora's first department store partner. Sephora previously had a shop-in-shop deal with JCPenney, which is scheduled to end in 2023. Despite beauty sales being a bright spot for JCPenney, it wasn't enough to prevent the Dallas-based department store chain from filing for bankruptcy in May of 2020.
As Sephora jumping ship from JCPenney to Kohl's shows, many of the tactics that department stores are experimenting with to save themselves have been tried before — and they haven't always worked. But particularly with activist investors breathing down their necks, the pressure will only grow next year for department stores to use every tool at their disposal to grow the business.
"We will continue to see more marketplaces and new ways to engage the consumer — whether it's virtual shopping experiences or live streaming — come to fruition at many retailers over the next several months," said Brown. "I think in terms of the financial engineering [spin-offs] that we talked about, I think it will come to a head this year."