Podcasts
// December 19, 2019 ■ 3 min read
Modern Retail Podcast: 2020 will bring a DTC shakeout — and a better understanding of the human cost of growing a brand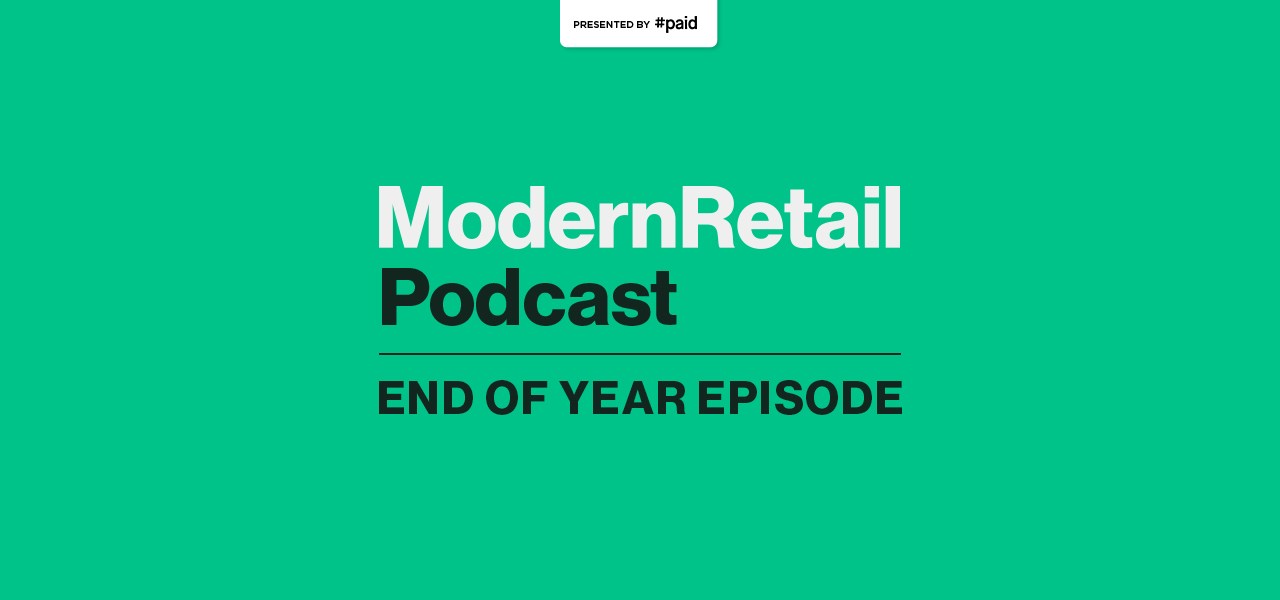 Subscribe: Apple Podcasts | Stitcher | Google Play | Spotify | RSS
This week, it's a look ahead at what 2020 may have in store for retail.
Modern Retail reporters Cale Weissman and Anna Hensel join host Shareen Pathak for a roundtable discussion about the beats and developments they know so well, from how Walmart and Target will seek to challenge Amazon to whether venture funding for direct-to-consumer startups will dry up.
Here are a few highlights from the conversation, lightly edited for clarity.
The future of customer experience.
Cale Weissman: "The Away situation highlights how many companies focus on their culture and growth, but they don't think about their front-facing staff — customer experience, customer service. That highlights the intrinsic culture a company has. A lot of these DTC companies selling consumer-facing products think of themselves in the way tech thought of itself 10 or 15 years ago: 'grow at all costs,' 'hustle or die,' that sort of thing. And they didn't really factor in the human component of being bombarded with people who might not be happy with their product. We're beginning to see that bear out, and a lot of these companies are going to be faced with this question of 'as we're growing, if our product is popular and thousands (if not millions) are buying it, how are we going to treat our staff who are the intermediaries between the brand and the product?"
The next crop of DTC brands will be that much smarter.
Anna Hensel: "Among founders and investors this year, there's definitely an acknowledgment that just a direct-to-consumer business isn't necessarily right for venture capital investment. That alone isn't going to create the 10x return that a venture capitalist needs. So it'll be a little bit scary, you're going to have some companies struggle to raise their next round of funding and maybe that will mean layoffs or a fire sale. But it's also exciting because some of the companies starting up today are trying to be more thoughtful about profitability and a clear plan to get to it. They're more open to selling in retail stores or striking partnerships earlier on that can lead to greater distribution. We'll see this next crop of brands have a better plan for profitability than the first generation of start-ups."
How the smaller giants will challenge Amazon.
Anna Hensel: "The two most interesting stories of how retailers might try to compete with Amazon are Target and Walmart, and they've both taken different approaches this year. Walmart, especially under Marc Lore, has pushed to match Amazon as much as possible on speed of delivery. They're pushing for next-day delivery on select items, but they've also tried to carve out their own defense against Amazon on grocery delivery. Walmart has basically said that 'we see our stores and ability to fulfill fresh groceries as a key advantage we have over Amazon, so let's use that to drive our online business.' Target has also pushed to use its stores as an advantage. They're trying to push their stores to fulfill more online orders. The latest stat was 80% of online orders are fulfilled by Target stores through same-day delivery or 'buy online, pick up in store.' I'm encouraged to see more retailers saying 'hey, why don't we try to use our stores against Amazon,' because that's what Amazon doesn't have."