Target is using its stores for same-day delivery and online order fulfillment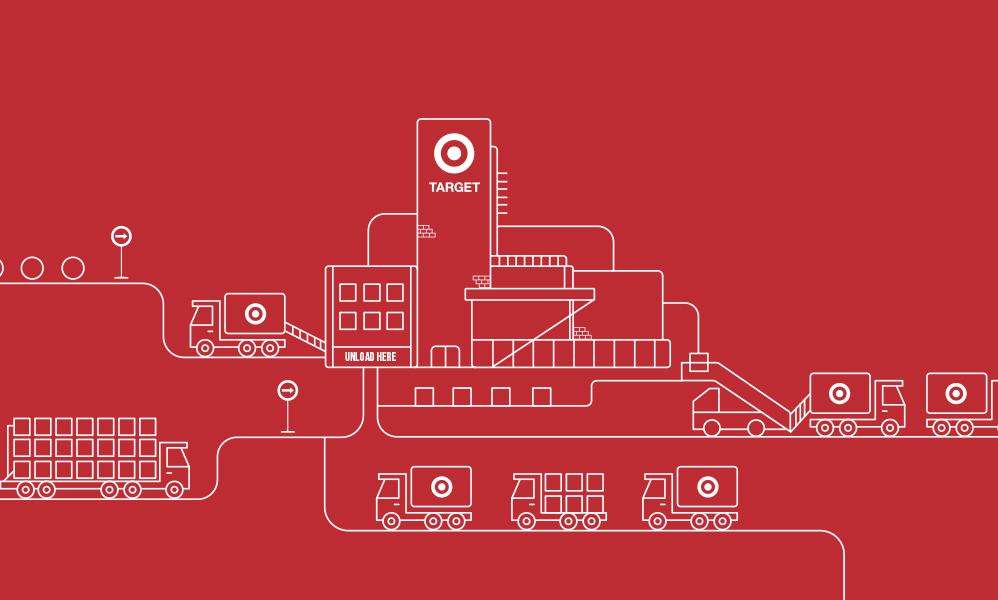 Target is putting more muscle behind store fulfillment for online orders, a strategy that's served it well so far in the digital retail era.
Today, Target is rolling out same-day store delivery to online orders on Target.com, a service operated by last-mile delivery partner Shipt, which the retailer acquired in 2017. Previously, Target customers had to sign up for a Shipt membership (which costs $99 annually) and search for Target items available for same-day delivery through the Shipt app. Now, Target customers with or without a Shipt membership can search through Target's online inventory for same-day eligible items and order directly from Target's site in order to receive them that day, with Shipt's contractors picking orders and delivering them from 1,500 Target stores.
When checking out, non-Shipt members can either sign up for a Shipt membership on the spot, or pay a one-time delivery fee of $9.99. Target's website will now offer a filter for items that are available in a customer's area for same-day delivery; right now, about 65,000 items can be delivered the day they're ordered, largely in categories like grocery, baby, and home essentials.
Store fulfillment for online orders is something Target has been investing in heavily. Through a combination of ship-from-store, same day delivery powered by Shipt and in-store order pick-up and drive-up options, Target stores now fulfill 80% of online orders. As CEO Brian Cornell told investors during the company's first-quarter results for 2019, it's an operation that's profitable for Target. According to the company, it costs 90% less for Target to fulfill online orders by store pick-up and drive-up compared to fulfilling them from a warehouse, and 45% less to ship orders from stores. As a result of these investments, Target's digital business is on the rise: It grew 42% last quarter, and Cornell attributed half of that growth to order pickup, drive Up and Shipt fulfillment.
"What's interesting here is the speed at which Target has succeeded in this space, juxtaposed to how department stores have fared. A lot of it has to do with how well do they know the customer, what does the customer want out of a digital experience, and how can they get the product to customers in the best way," said Omar Akilah, vp of product management at supply chain service Yantriks, who formerly was the director of product management at Target. "All these things point to: Where Amazon had a leg up in frictionless commerce, Target has caught up using the strength in real estate and stores to make it easier for customers no matter what way they want to shop."
Target has continued to improve on the ways stores play a role in online orders. Since the first quarter of 2018, it added drive-up capability to 1,000 stores, and it's now available in 1,400. In-store order pickup saw a sales growth in the same period of 83%. Target is in the middle of remodeling 1,000 store locations, and with those updates, it's building better order pick up experiences to make it easier for guests to navigate.
It's also changed the way Target staffs its stores: The company has hired more operational and fulfillment-related employees, and equipped them with tools that help to locate items for online orders as fast as possible, reaching a rate of around 95% for store pick-up orders that are ready to be picked up within an hour. At the same time, Target has shifted its approach to store employees from generalists to specialists — people with category expertise in areas like apparel, beauty and electronics who can better assist customers.
Investments in digital capabilities also drive repeat purchases and bigger market share. During testing, Target saw average order values in markets where Shipt was available on Target.com increase between 10 and 15%. Once customers tried the services, the repeat-rate for same-day delivery was around 80%.
"The bifurcation of winners and losers is what we're seeing, and our performance speaks for itself. We're seeing market share gains in all categories, in stores and digital, and sales are up consecutively," Cornell told investors in May. "This is from execution in stores, customer response to owned brands and customer experience. The emergence of winners will be who's investing in business and adapting to an omnichannel environment, while those ceding share are ones that haven't been able to evolve in a new environment."
A previous version of this article stated that Shipt delivery was available in the Target app. It's currently only available through Target.com on mobile and desktop.
—
Sign up for the Modern Retail Briefing to get retail news, analysis and insight delivered to your inbox every morning.