'Kids don't care': Brands are catering to aging millennial parents with children's streetwear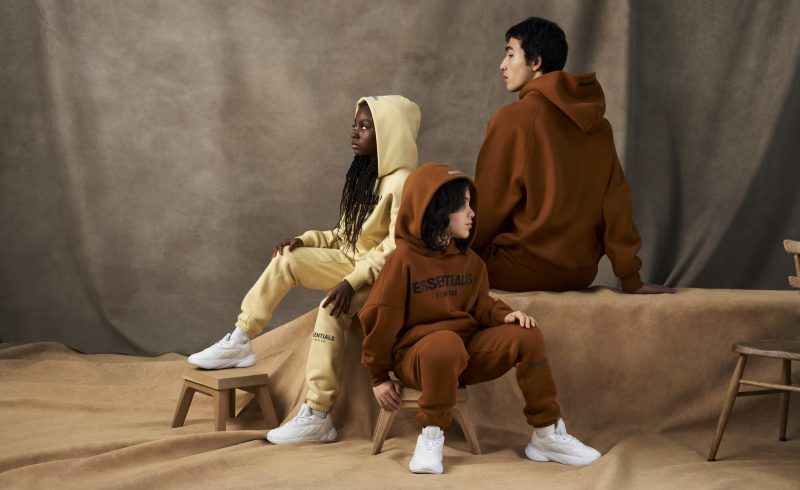 Mr Porter X Fear of God
As children's apparel sales growth outpaces adult's, brands are developing streetwear styles for tots.
Over 2021, hip adult streetwear brands like Fear of God, Off White and Ssence all released childrenswear for the first time. At traditional children's apparel retailers, meanwhile, streetwear aesthetics were increasingly prioritized. OshKosh B'gosh, for example, partnered with Kith for a "selection of workwear silhouettes reinterpreted through Kith's lens." And, at streetwear resale platform StockX, kids streetwear and sneaker resales are up 150% year-over-year, outpacing adult growth.
Comfortable and athletic styles aren't new in children's apparel, which often puts a premium on durability and moveability. Parents, however, are now increasingly willing to buy into the streetwear hype-cycle of limited edition $100-plus hoodies for their kids. In turn, brands are leaning into a new opportunity to release buzzy kids styles at higher price-points, as well as embracing the limited edition marketing and product drop cycle of formerly adult-only streetwear brands.
Streetwear price tags for kids' apparel
In April of last year, Fear of God Essentials, the athleisure sub-brand of Fear of God, released its first kids line. The kids' versions of the brand's hoodies, sweatpants and tees maintained FOG Essential's minimalist and genderless aesthetic. The collection sold out quickly, and now resales for "about 70% above retail" at StockX, said Jessie Einhorn, the resale platform's senior economist.
"When you see a large price premium like that it means that there's more demand than there is supply," said Einhorn. "If you look at the hierarchy of which sort of products are growing faster, as men's sizes are growing, women's sizes are growing even faster than men's. And then the smaller sizes — the toddler and the preschool sizes — are growing even faster than both of them."
The broader childrenswear market is worth about $40 billion in the U.S., according to Mordor Intelligence. Moreover, according to Euromonitor, the sector is growing more quickly than men's and women's apparel.
In some ways, apparel brands have embraced children's streetwear since streetwear was first developed in the '80s and '90s. GapKids, for example, has been selling casual kids denim and tees since 1986. However, kid's streetwear in 2022 often comes with a higher price-tag.
The most expensive, top-selling kid's product at StockX — defined as items with over 50 sales — is a sunglasses collaboration between Kaws and SD that averages almost $500 in resale. A Bape backpack, another top selling product, would run parents about $315 dollars. One color of a FOG Essentials kids hoodie, meanwhile, lists for over 230% above retail at about $150. In contrast, a kids hoodie at GapKids costs about $30, while kids sunglasses at Oshkosh B'Gosh can be found for as little as $10.
Einhorn believes the rise of the kids' version of hype culture was somewhat natural, given the maturation of the streetwear industry — and the creators powering it. "This entire culture was born in the '80s… and the people that came of age watching Michael Jordan play, they're all aging into a demographic that's having kids," said Einhorn. "Whether its Yeezy or The Hundreds or Fear of God, the creators themselves are reaching that middle age where they're thinking about what their kids want to wear."
New marketing opportunities
The rise of streetwear for kids has also provided a new opportunity for retailers to try out new product release and marketing strategies.
At children's apparel subscription platform, Dopple, for example, the rise of gender-neutral and baggy clothing has allowed the company to send the same products to both boys and girls.
Dopple CEO Chao Wang said gender neutral fit is becoming more popular with parents. "When we first launched… it was parents with boys that wanted that streetwear look," said Wang. "Now it's much closer to 50/50."
Alongside Dopple, a wide variety of big box retailers launched gender neutral kids styles last year, including JC Penney and PacSun. PacSun's line, in particular, featured silhouettes like cargo pants and oversized tees with streetwear-inspired graphic text and colors.
What's more, apparel brands are also testing out new types of product launch strategies for kids-focused lines.  A decade ago, perhaps only sneakerheads would line out the door for the latest Supreme launch. However, a 2021 Pymnts and ScaleFast survey of over 2,000 people found that 43% of customers had tried out a product drop and 76% of those customers liked the model.
In turn, footwear brands like Nike, Reebok, Crocs, Puma and Adidas have all released limited edition kids styles or colors to drum up buzz and encourage incremental purchases beyond basic footwear needs.
Nike, for example, released a Spongebob-themed Kyrie collection in kids sizes while Reebok partnered with Peppa Pig for cartoon-branded sneakers. Moreover, limited colorways of Nike's Dunk and Jordan styles, meanwhile, "account for about 90% of the top selling kids sneakers," said Einhorn.
Wang is somewhat skeptical about kid's knowledge of, or affection for the streetwear space. "Kids don't care," said Wang. Tweens or teens may care about hype, she added, but kids likely prioritize comfort or style instead.
But it may not matter. Parents — those with the access to the funds needed to purchase these children's styles — are increasingly interested in doing so.
"There's a strong correlation between what people are buying for themselves and what people are buying for the kids," said Einhorn. "I do think a lot of this is being driven by parents buying for their kids."