How supply chain woes caused the hottest sneakers to become scarcer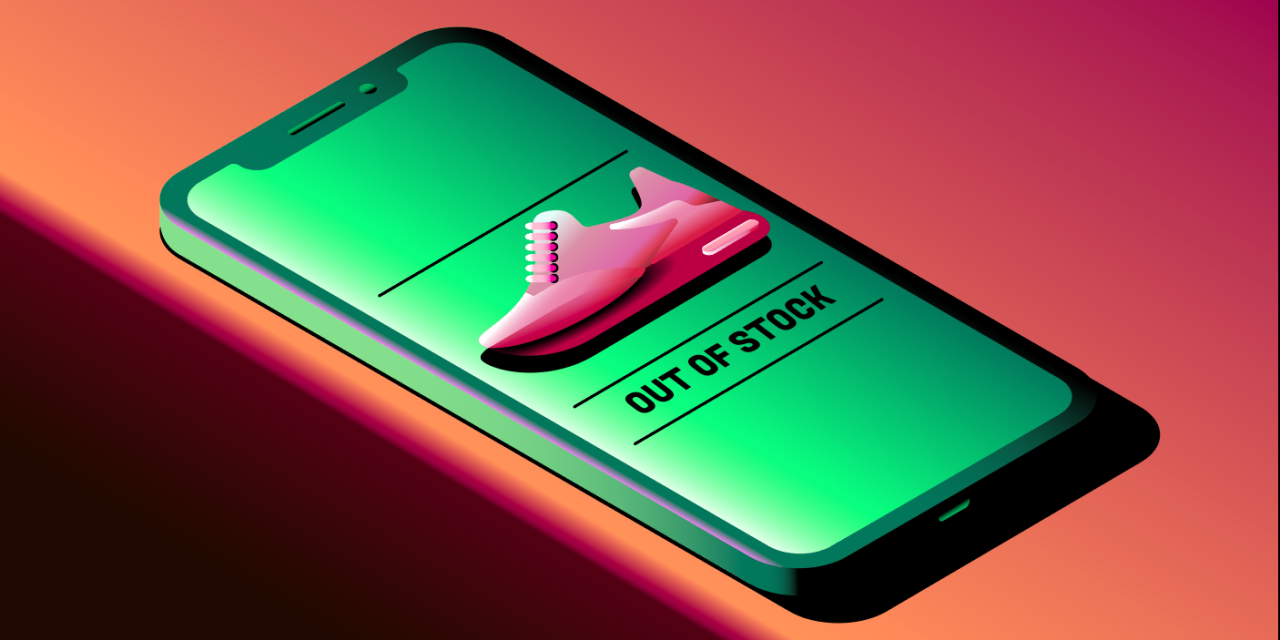 This story is part of The Chain Game, an editorial series looking at all the ways the supply chain has been upended over the last two years. You can read the entire package here.
Sneaker sales grew rapidly last year — up 20% in 2021 versus 2020, according to the NPD Group — but continual supply chain issues have led to out-of-stocks.
Even today, many brands' best sellers are still out of stock in most or all sizes. A woman looking for a size 6 in Reebok's best-selling Club C 85 Vintage style, for example, wouldn't be able to find it at Reebok.com, Nordstrom, Urban Outfitters, Madwell, Dick's or Pacsun. Half of the sizes of Nike's best-selling Air Force Ones in both black and white, meanwhile, are also currently out of stock on the brand's site.
Top sneaker brands manufacture their components across multiple countries and continents, causing inventory availability to fluctuate greatly over the past two years. It's an issue they are still trying to get a handle on — executives at Nike, Deckers and Adidas suggested during recent earnings reports that limited inventory receipt mitigated sales growth during the holidays. Now, these sneaker brands are beginning to adapt their supply chains to new needs — increasing pricing to match new costs or investing in automation. But if brands are too optimistic in their investments, analysts warn that these companies could be left with too much inventory in the second half of 2022.
Supply and demand
Global brands like Nike, Brooks and Adidas accounted for the majority of sneaker revenue and of best-selling styles in 2021, according to the NPD Group.
However, these sneaker brands have been hit hard by inventory challenges over the past two years due to their sprawling, globalized supply chains. Some of the supply chain challenges top sneaker companies have faced are ones that all retail companies have encountered over the past two years. Last year, for example. U.S. shipping container shortages delayed products at Nike.
But other issues have been uniquely challenging for sneaker brands due to where they manufacture. Nike in particular has been hit hard by coronavirus outbreaks last year in Vietnam, where roughly half of its sneakers are manufactured. In December, executives announced that temporary Vietnam factory closures decreased inventory production by 130 million units.
Sneaker brand Deckers, meanwhile, was hit by domestic issues. In September Deckers' executives reported that 45% of inventory was in transit — compared to 20% in an average year — due in part to labor and staffing issues. In February, Deckers' executives said running brand Hoka's growth was limited by port congestion.
"The issues really seemed to be random," said NPD senior advisor Matt Powell. "It wasn't all basketball shoes or all shoes from one brand that got held up, it was it was various products from various brands over… time."
Inventory delays resulted in all sorts of domino effects, beyond just more styles of sneakers being out of stock. Out of stocks drove up customer demand in a somewhat cyclical nature, and markdowns decreased. According to Powell, the proportion of athletic footwear customers bought at a discount was down compared to 2020, as well the two years preceding the pandemic.
In some ways, these issues were a positive for footwear companies who've long embraced a scarcity model of purposely limited sneaker runs. Almost every major sneaker company — from Nike to Adidas to Reebok — utilizes some form of drop model to drive buzz, releasing a limited amount of a certain style, color or collaboration. Adidas' Yeezy sneaker drops regularly cause site crashes from the huge influx of new customers (and bots) hoping to get their hands on a pair. Nike's Jordan drops often sell out within minutes, if not seconds, after being listed.
But, these supply chain issues made it more difficult for brands to drive scarcity on their own terms. Multiple times throughout the pandemic, sneaker brands have had to delay drops due to inventory delays or Covid-19 outbreaks — most recently, two Jordan drops reportedly slated for December were pushed back until early this year.
The sneaker scarcity has also led some consumers to spend more of their time and money on resale apps that had the styles that consumers wanted already in stock over the past year.
"Rapidly rising demand and limited availability for its most sought-after styles drove Nike to see double the resale value gain of any other brand this year," Mayank Hajela, The RealReal's senior director of men's, told Footwear News in January.
The RealReal announced Nike's "high value sneakers" increased 32% in value last year, outpacing even ever-appreciating brands like Rolex and Hermes. Meanwhile at StockX, Nike's "Travis Scott Jordan 1" currently retails for about $1,500, or nine times its original retail value.
The struggle to shore up supply
Today, increased costs make getting and producing enough product a continued issue, explained Brian Ehrig, a partner at consulting firm Kearney. Ehrig points to rising oil costs affecting synthetic production, continued decreased capacity from Vietnam shutdowns in the fall and rising labor costs as continued pain points.
"If you take materials cost plus labor costs, that's typically about 80% or more of the cost of the product in normal times, then you layer on ocean containers being more than they were a year before and all of this creates tremendous cost pressure," said Ehrig.
The key for many of these companies to continue to adapt to continued pressures will be adjusting supply chains to be more efficient.
In the past, explained Ehrig, athletic companies' production processes were centered in China. Over time, they globalized to other regions, but spread production too widely. An upper part of the shoe may be manufactured in Indonesia, while the lower half might be produced in India. Then, the two parts might be assembled together somewhere entirely different.
"It's basically just a super inefficient structure in the supply chain," said Ehrig. "You have lead times that for a shoe company are typically in the 15- to 18-month time period, and they're trying to make all these predictions about what's going to sell a really really long way out."
In turn, in earnings comments across the year, sneaker executives regularly touched on the ways they were working on fixing their supply chains.
Nike's CFO Matthew Friend announced expanded digital fulfillment capacity via new automation techniques propelled the brand to a 20% increase in Black Friday sales, in Nike's earnings call for the period ending November 30.
In Deckers' February fiscal third-quarter earnings call, CFO Steve Fasching said, "aligning sufficient inventory levels with elevated demand has become increasingly difficult [at Hoka]. To help offset this issue, we have stepped up our airfreight usage to supplement ocean and port delays, but shipping by air is causing gross margin compression."
Adidas' CFO Harm Ohlmeyer, meanwhile, announced in March that the brand was "implementing significant price increases as we speak" to accommodate the rising costs needed to get products manufactured and shipped out. In the first half of 2022, the brand will raise prices on direct-to-consumer exclusives and then will expand to other products in the second half of the year.
However NPD Group's Powell warns sneaker companies not to get ahead of themselves when it comes to production.
"Everybody made pots of money during the pandemic because they didn't have to promote," said Powell. "Did they have missed sales? Sure. But their percentage of profit went went way up…. I fear as we move into a more normal world again that there'll be too much inventory, which will drag prices down."