How subscription service Book of the Month is preparing for the holidays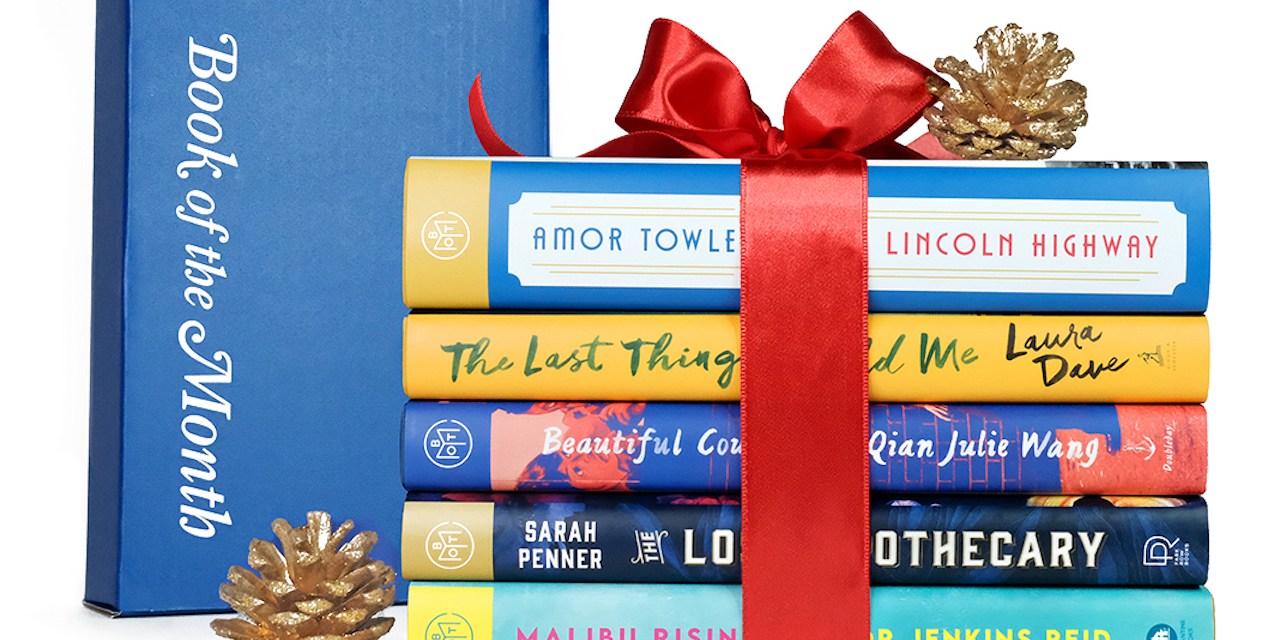 Image via Book of the Month
As one of the largest book subscription services in the U.S., Book of the Month is trying to position itself as a go-to gift this holiday season for shoppers who might find their favorite books out of stock. 
According to industry tracker NPD Bookscan, last year's stay-at-home orders gave printed books a boost, which is still going strong. Print book sales increased 13.2% percent from 2020 to 2021, resulting in a 21% jump between 2019 and 2021. But, amid this growth, the book industry is also facing delays due to several factors, such as paper mill labor shortage and shipping freight costs.
To harness the ongoing demand, Book of the Month — which currently has over 250,000 monthly subscribers — has been planning for an uptick in subscription gifts. 
Growing through a DTC approach
Blake Orlandi, chief operating officer at Book of the Month, said "the pandemic had us well positioned, where we're both bootstrapped and profitable." 
The original Book of the Month service was founded back in 1926 as a mail-order catalog. After multiple acquisitions over the years, the book sales business was eliminated by 2012; the company had difficulty competing with newcomer Amazon, Orlandi said. 
But, according to Orlandi, Book of the Month has been on a multi-year growth trajectory after being relaunched by parent company Pride Tree Holdings in 2016. Book of the Month's subscription business grew over 50% year-over-year during 2019 and 2020, and is on track to hit similar levels this year. "We relaunched it as a modern e-commerce club," said Orlandi.
Customers can purchase or gift a membership plan for either three, six or 12-months intervals; the monthly subscription costs $14.99 per month (customers can save by signing up for a full year's subscription for $149). On the first of every month, the company releases five new hardcover titles for subscribers to make one selection from.
Selections are shipped when members finalize their pick for that month. Members can also skip orders each month, but their book credit rolls over to be used at a later date during their plan's period. There are additional perks to being a long-term subscriber. For instance, after their first year as a member, customers receive a free tote and one add-on book during their birthday month.
Today, the service's goal is to target a younger, more digitally-savvy demographic while promoting discovery of book titles. The company's membership base is largely young and female customers and falls within the 18-to-34 demographic. Since relaunching, Orlandi noted that 70% of titles selected by Book of the Month are by up-and-coming authors, over 80% were written by women and more than 40% written by authors of color. "We've been focused on promoting their [authors'] work throughout our customer acquisition marketing," Orlandi said.
Over the past few years, Mother's Day and the fourth quarter have been the biggest gifting sales period for Book of the Month. Following the holiday rush, January and February are the biggest redemptions for Book of the Month. "We also get a lot of new customers who want to try it while gifting it," Orlandi said. The annual Book of the Year award, to be announced this month, also helps boost interest in memberships. 
A curated inventory model
Book of the Month's release calendar isn't always tied to trending books or bestseller lists, Orlandi explained. The editorial panel's monthly offerings are meant to give customers a range of books to choose from. The rotating selection often includes a mix of classic fiction, popular thrillers and contemporary memoirs — some of which overlap with current bestsellers.
This model is also accompanied by a supply chain that prepares prints months in advance. Book of the Month doesn't have an on-demand printing process, per se, "but we do print our own books," Orlandi said. "We work closely with a group of printers that are integrated into our operation." 
Over the past year, the company has been placing orders even earlier. "We used to order three months before a release, whereas now we do six months ahead," Orlandi said. This year, the company started preparing for its Black Friday and Cyber Monday sale in June. "We probably over-prepared back then, but that helped us get inventory ready to go in time," Orlandi said. 
As for excess inventory, Book of the Month stores those titles in its warehouses to sell as order add-ons, which costs an additional $9.95 for each book. "We eventually sell through the extra books," Orlandi said.
Venky Ramesh, vp of consumer products and distribution at consulting firm EPAM Systems, said more and more customers are looking for "high perceived value" subscriptions. 
"In a time where demand and supply uncertainties co-exist, subscriptions provide demand predictability," Ramesh said. This allows companies to plan ahead and have the product in their customers' hands on time. However, Ramesh also noted that to retain customers, subscription-based brands have to provide customers with the flexibility to change plans or order quantities to avoid cancellations. 
For its future roadmap, Orlandi said Book of the Month will work on growing its core membership, including expanding into older age demographics. "Over time, we want to approach audiobooks and e-book formats to add more value for members," he said.