How shoe retailer The Athlete's Foot is bracing for Nike's DTC shift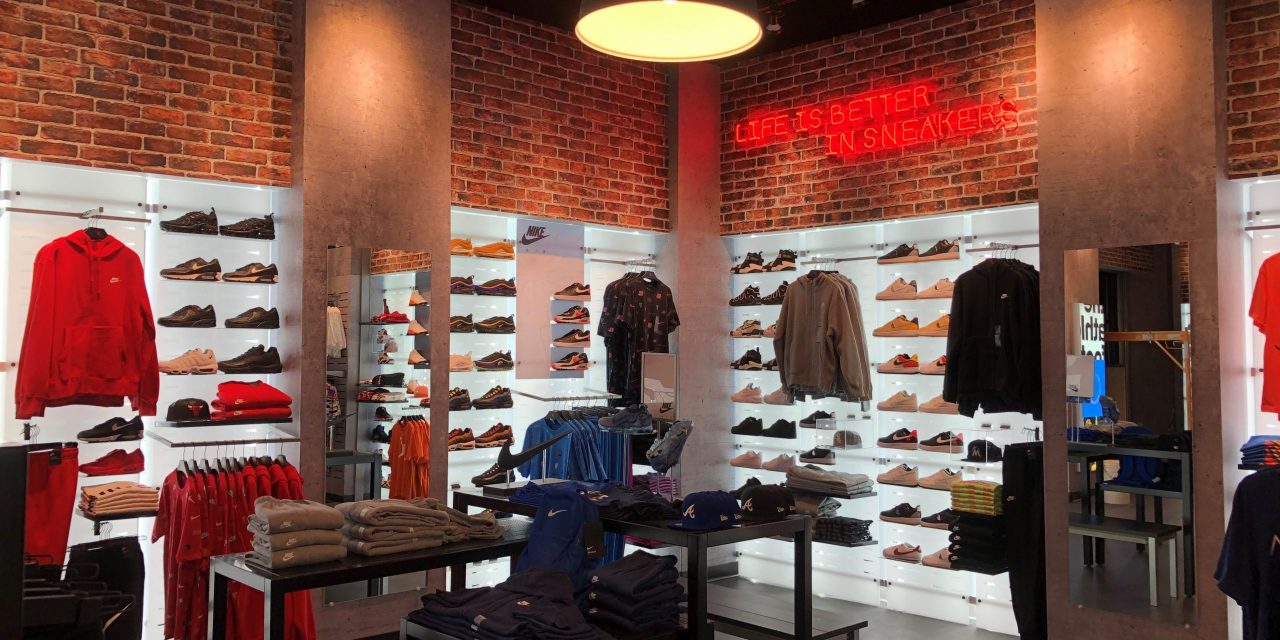 The Athlete's Foot
When Nike began implementing its direct-to-consumer strategy in recent years, which meant shifting more sales from wholesale to its own channels, it came as no surprise for shoe retailer The Athlete's Foot.
"It's been visible in the industry and their key account partners, for sure, have all been notified of Nike's intention," said Matt Lafone, president and general manager of Americas for The Athlete's Foot. "They want to obviously control their own destiny and the direct-to-consumer model, as you're aware of, is profitable."
The Athlete's Foot (TAF), a company that was founded in 1971 and rooted in sneaker culture, plans to diversify its portfolio in a bid to the mitigate risk of Nike's DTC ambitions. TAF, which has over 560 stores in more than 30 countries, plans to double down on its apparel business over the next three years to account for 25% of its total revenue, up from about 10% at the moment, Lafone said. The company also plans to deepen its relationship with its other partners by increasing its assortment of non-Nike brands. 
"Our consumers are really looking for head-to-toe storytelling moments and messages," Lafone said. He added that the company sees opportunities in elevating the in-store experience and apparel presentation of brands like Adidas, Puma and Reebok.
Like many wholesale shoe stores, the majority of The Athlete's Foot's revenue comes from footwear, or in its case, about 70%. As Nike continues to pull its products away from wholesale stores, it has become more urgent for TAF and other retailers to focus on other areas of its business. 
Nike's shift to DTC channels already has a huge impact on the sales of wholesale retailers that were heavily dependent on the brand, such as Foot Locker. Nike accounted for about 75% of Foot Locker's sales in 2020, according to the wholesaler's annual report. Foot Locker CEO Richard Johnson said during the company's fourth-quarter earnings call that, "going forward, we do not expect any one vendor to comprise more than 55% of our product spend." In turn, Foot Locker executives said that this year, the company expects sales to be down 4% to 6% year-over-year.
"Companies, of course, have traditionally relied upon the big consumer product goods like Nike for, in some cases, the majority of their products," said Hilding Anderson, head of strategy for retail in North America at Publicis Sapient. "What you see is that in industry after industry, the value of the kind of the distributor and the kind of middlemen has been eroded."
For the last 15 years, Anderson said, Nike has been thinking about selling directly to consumers. Not only is Nike able to better control the entire shopping experience, but it also gives the company more access to consumer data, which it can then use for its future merchandising decisions. Nike's direct sales made up about 39% of its fiscal year 2021 revenue, while wholesale made up about 61%. 
But Nike's departure gives more room in the market for other brands to thrive in wholesale.
TAF is also working with local brands in certain stores, for example, depending on the location. "We look at all types of brands locally," Lafone said "If you look at really our assortment, 80% of it is regionally focused, and then we have a hyper-localized approach specific to some of our store clusters within the southeast for brands that are relevant there, which might be different brands in Chicago or New Orleans."
Additionally, TAF sees an opportunity to grow its offering in the women's category. "We approach that from all aspects — from a product category standpoint, from a marketing initiative as well as in-store experience."  
Other retailers are devising a similar plan to drive buzz. DSW, for example, has been highlighting other athletic brands — such as New Balance, Skechers and Brooks — after Nike cut ties with the company among others last year. Foot Locker, on the other hand, has invested in startups like sneaker resale platform GOAT for $100 million and kids apparel firm Rockets of Awesome for $12.5 million over the past few years. 
More trouble is brewing for shoe wholesalers, however. Apart from Nike, Adidas also wants to sell directly to consumers, with plans for DTC to make up about 50% of its sales by 2025. Under Armour is also implementing a DTC strategy as part of its turnaround strategy.
As more of their key vendors go direct-to-consumer, some retailers, like Foot Locker have also been investing in private labels. In October, the company launched Lckr — a private label line focused on classic streetwear silhouettes.
Though private labels may be a great method to improve margins, wholesalers are going to have to work not only on making a great product but also building buzz around it if they want to fill the hole that major athletic brands are leaving, said Sarah Engel, chief marketing officer and the chief people officer at digital consultancy firm January Digital. "They're going to have to be very agile in the next two years," she said. "Your Adidas, your Nike, your Under Armour they have the research capabilities, they have the data they know exactly how their customers have been shopping." 
As for TAF, Lafone said the company is exploring the idea of exclusive lines. However, "we're not quite there yet," he said. 
"Our intent is not to have it to be like a private brand, but to be treated like a house brand, where there's marketing and content that flows [with] that to really create that messaging and demand for the consumer," he added.