Despite trying to grow DTC business, Under Armour is still struggling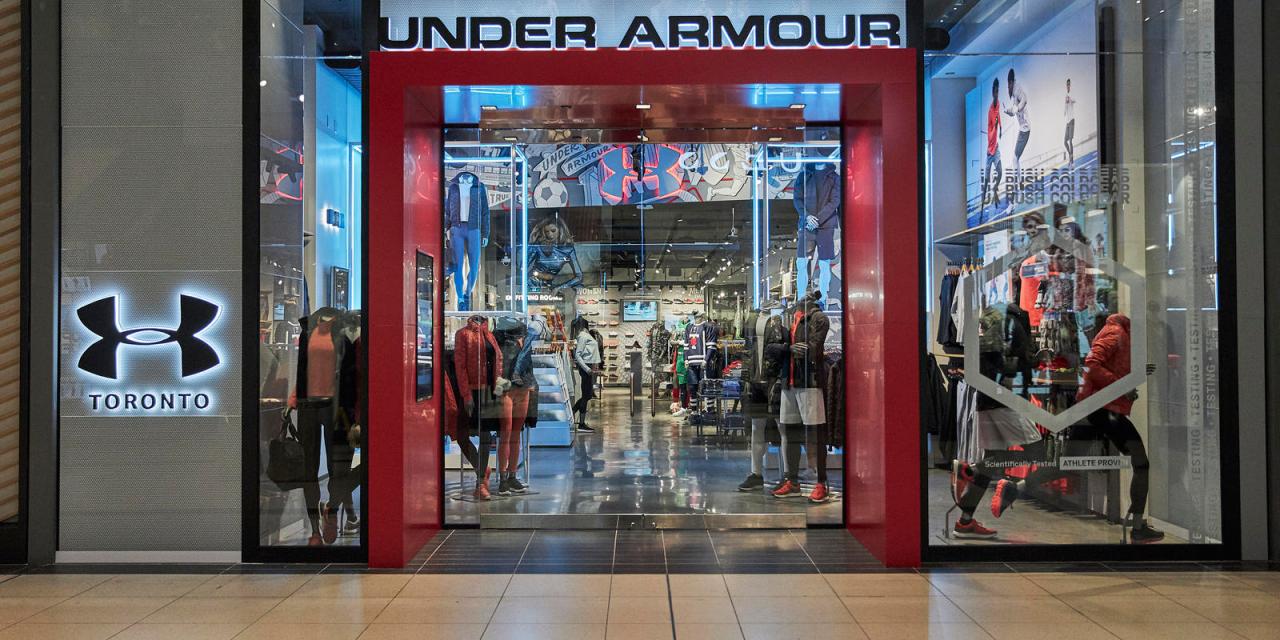 Under Armour's turnaround is nowhere in sight.
For the last couple of years, athletic apparel brand has been trying to re-grow sales by focusing on its direct sales channels. In 2018, it described direct-to-consumer as one of its "largest long-term growth opportunities."
But in the last year, things haven't quite gone to plan. In the third quarter of 2019, sales from both wholesale and direct-to-consumer channels were down by 2% and 1% respectively. The following quarter saw a slight improvement, with both growing by 2%, and revenue up 1%. But even that growth was below expectations of 4.2% overall.
The last few months seems to have made matters worse. When the coronavirus first hit China, Under Armour warned of shipping delays and store closures. Soon, that expanded beyond Asia and across the world.
In its first-quarter earnings this week, the brand reported a 23% drop in revenue, which hit $930.2 million, and a net loss of $589.7 million. Meanwhile, direct-to-consumer revenue dropped 14%.
Retailers around the world are all trying to figure out ways to offset the heavy cost of the recent dramatic economic shift. And for well over a year Under Armour has been trying to boost its DTC business, which should have provided it with some insulation as wholesale channels lagged. The company had big plans to focus on its full-price product line — as well as digital programs that would focus on better customer personalization. It's launched fitness apps like Map My Run, for example, with the hopes that directly connecting with its target base of fitness enthusiasts will lead to more direct sales. Those efforts, however, have yet to fully take root.
The company's chief financial officer Dave Bergman said during an investor call this past February that it forecast "DTC to be up at a low single-digit rate in 2020." Now, Bergman said at the most recent earnings call that the company was beginning to see "real ramp-up for us on e-comm, especially in North America," beginning in April, but wouldn't share any specific figures about the alleged boost.
According to Jessica Ramirez, research analyst at Jane Hali & Associates, Under Armour's turnaround efforts have "been really slow." While some of this may have to do with the digital experience on its website, it also may be about product strategy. "Their products aren't resonating much with consumers," said Ramirez. "They have said they will not be focusing on the athleisure trend and instead focusing on performance," she went on. "You're neglecting a massive part of your audience."
While much of its recent poor results can be attributed to an unforeseen global disaster, the brand's DTC efforts may have always been overblown. "Under Armour suffers because when they came out and [emphasized] DTC, they pumped it up with a lot of gas," said David Marcotte, svp of cross-border retail at Kantar Consulting. The company hyped up its programs to facilitate more direct and full-priced transactions, but the realities of the category it's in makes such a feat difficult.
Which is to say that many older — or middle-aged — apparel companies that long relied on stores have tried to grow their own e-commerce presences, and results have been mixed. Even Nike's DTC efforts, said Marcotte, aren't working "as well as they want it to."
Indeed, Under Armour's competitors are still figuring out their DTC paths. Nike's programs, like Under Armour's has focused on apps that directly connect with its customer base. These programs, however, have been expensive as the brand has acquired tech companies to build out the experiential portions of its DTC apps. Now, in the wake of coronavirus, Nike has tried to double down on its digital apps — increasing programming and making some free for all users — but hasn't disclosed yet if this correlated with a DTC sales lift. Other brands, like Foot Locker, have approached DTC via investments; the shoe store backed a children's brand called Super Heroic — and said these companies were ways for Foot Locker to have a direct line to a new customer base. Super Heroic shut down earlier this year.
Put together, Under Armour's recent performance is a harsh mix of bad economics times, an inability to keep with trends along with a DTC playbook that has yet to work with consumers.
In 2018, the company announced a big plan to regrow the business. Two years later, those efforts should have been well underway. "It had a lot of missed opportunities with their new plan," said Ramirez. "It hasn't seemed like their turnaround has been going the right way."