How Adidas is planning for DTC to make up 50% of its revenue by 2025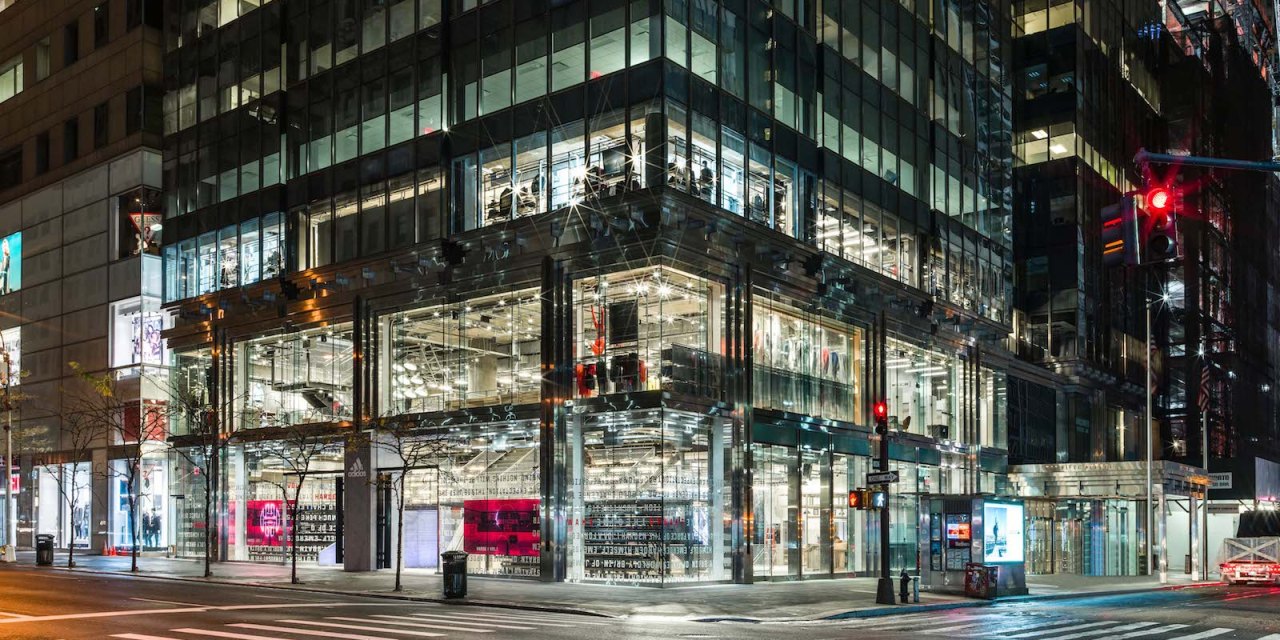 Adidas, like other athletic apparel companies, is now eager drive more customers to its own stores and websites rather than to those of their wholesale partners.
In a virtual investor meeting this week, Adidas released a new strategic growth plan which called for direct-to-consumer sales to make up 50% of revenue by 2025. In order to do so, Adidas plans to invest more in data analytics, get more people signed up for its loyalty program and focus its product assortment and sales strategy on five key categories: soccer, running, training, outdoor gear, and athleisure wear.
It's a strategy that Adidas' biggest competitors, Nike and Under Armour, are employing as well. But Adidas has some catching up to do, especially during a year in which its business was hit more dramatically than its U.S.-based competitors. And some of the categories Adidas identified as key areas for growth — like outdoor and athleisure — the company has yet to heavily invest in relative to competitors.
In 2020, Adidas reported that net sales were down 16%, while its net income was down 78%. Meanwhile, e-commerce sales were up 53%. Adidas was hit harder than other sportswear companies given its dominance in Europe, which on the whole was subject to more stringent stay at home orders last year than in the U.S. For comparison's sake, Under Armour reported that its revenue fell 15% in 2020, while Nike — which has yet to report its full year earnings — reported that revenue was actually up 9% during its most recent earnings report in December. Nike and Under Armour's e-commerce sales were up 84% and 25% respectively during their most recent quarters.
How Adidas' product line currently stack up
According to Matt Powell, senior industry analyst at NPD group, Adidas has lost marketshare in the U.S. the past couple of years to Nike. Part of what's driving Adidas' failure to gain marketshare in the U.S. has been its struggle to match Nike's dominance in sneaker. According to NPD research, Adidas had just one of the top 10 selling sneakers in the U.S. last year.
Adidas said in its 2020 investor report that its top three footwear "franchises" — Ultraboost, Predator and Superstar — accounted for 34% of its footwear revenue in 2020. Powell said with the Ultraboost line in particular, "They really haven't done enough to differentiate Boost from previous years' offerings — they tend to be very minor iterations of that shoe and the marketplace I think is looking for more freshness for them."
Jessica Ramirez, retail research analyst at Jane Hali & Associates said that she also felt that Adidas has struggled relative to its competitors in adding apparel that fits with what consumers are looking for right now — namely, outdoor jackets and gear, as well as athleisure. She cited Nike's ACG line as one example, which she feels Adidas doesn't have an answer to.
I don't see [Adidas] responding quickly enough on their own to what consumers are interested in right now, especially with a pandemic," she said.
Adidas gave few details in its growth strategy announcement about how exactly it plans to revamp its product assortment to drive more DTC sales, but said it would be investing more in sportswear, which it says are products "born from sport and worn for style," and reads as Adidas's answer to athleisure. One thing Adidas does have that its competitors don't is a broader array of celebrity partnerships, particularly Beyonce's Ivy Park Line. Adidas said its celebrity partners will continue to "play a significant role in wowing our consumer on the lifestyle side."
But on the athleisure side, Adidas doesn't just have Nike to compete with — it also has Lululemon, Target, Kohl's and a whole host of other retailers that have recently announced athleisure lines.
Planned digital investments
Beyond investing in new categories Adidas said it also plans to drive more direct-to-consumer sales by investing more in its digital capabilities. The company plans to hire more than 1,000 tech workers in 2021, and said it will focus on bringing more digital capabilities to its stores, though it didn't give many details as to how exactly it plans to do so.
Adidas also said that by 2025, it aims to have tripled the number of loyalty program members to 500 million, up from 150 million today. For comparison's sake, Nike last released the total number of Nike Plus members in 2019, in which the company said it had 170 million total members.
Ramirez said in particular, she think Nike and Lululemon have done a better job than Adidas at integrating its apps and websites into stores — Nike for example, let's people reserve or buy products directly through its Nike plus app — and would like to see Adidas similarly do a better job of linking its website to its store.
"For a sportswear brand, it's a bit late to the game — but it's exciting it's going to happen," she said.