How Italian coffee company Lavazza is tapping into the ready-to-drink category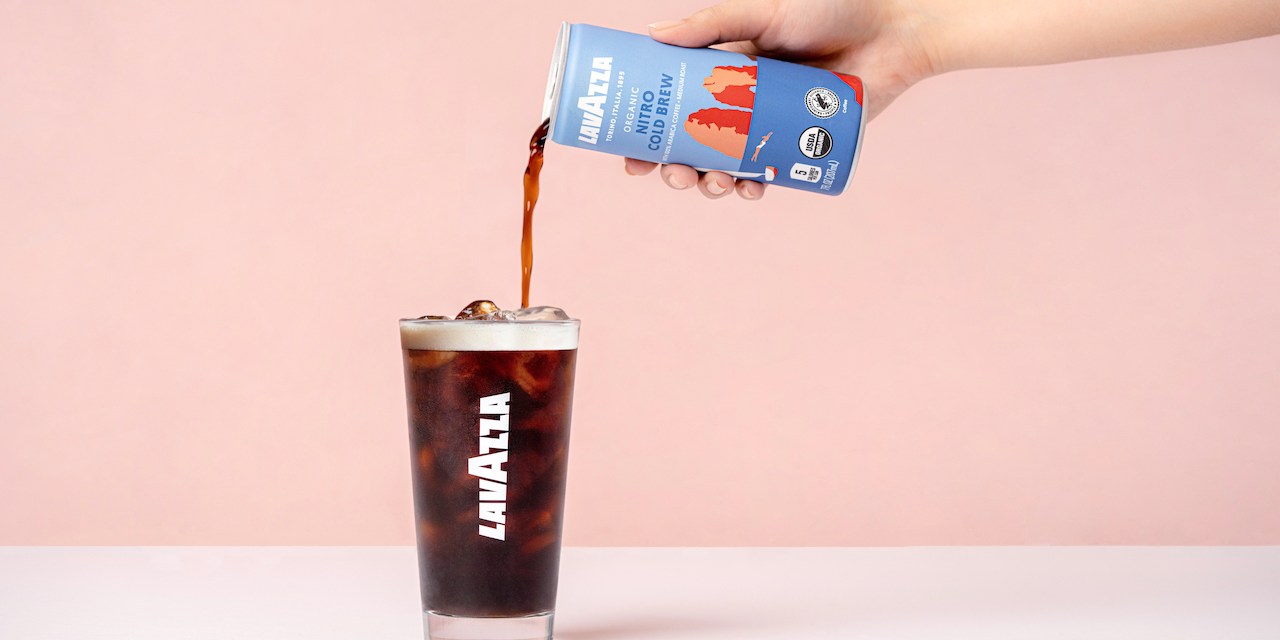 Lavazza
Legacy coffee brands are trying to modernize their assortments for younger customers' tastes.  Joining the trend is 127-year-old Italian coffee company Lavazza, debuting its own ready-to-drink cold brew line in late April.
The ready-to-drink tea and coffee market size is expected to reach $167.88 billion by 2030, according to the latest data by Grand View Research. Over the past few years, big coffee companies have increasingly expanded into ready-to-drink – particularly cold brew and iced coffee. From Starbucks and Dunkin' to specialty roasters such as Blue Bottle and La Colombe, nearly every brand now offers some type of CPG coffee product sold on grocery shelves. For Lavazza in particular, the company sees the new cold brew line as a way to appeal to Gen Z.
Lavazza's cold brew comes in four styles that offer both dairy and non-dairy options. The SKUs are original, nitro, cappuccino cold brew with milk and double shot cold brew with oat milk.
"We've been on a journey in North America over the past few years," said Camille Vareille, the head of marketing for Lavazza in the U.S. "We wanted to bring our Italian roots into the category while we adapt to the local North American market." 
The new line is also Lavazza's latest strategy to attract younger coffee drinkers, especially as the popularity of grab-and-go returns after the pandemic's at-home coffee brewing boom. Vareille said the new cold brew was in development for two years, and takes inspiration from different Italian regions "while keeping calories and sugar low." 
"For Gen Z, RTD has been a major entryway into coffee," said Vareille. "Many younger drinkers start out with cold and sweet coffees before moving into variants like espresso." 
To reflect the new cold brew's target audience, Lavazza created colorful designs for the cans, in contrast to Lavazza's classic black and white packaging. "We wanted to brand it as a younger-looking extension of our brand," Vareille said.
The company is also rolling out the cold brew in channels where customers are likely to grab canned coffee, including retailers, online marketplaces and at checkout lines. 
"Many of our products fit all our channels, including with our cafe, hotels and restaurants," Vareille said. "But we're also offering the RTD line to more traditional retailers." All four new cold brew SKUs are now available at Lavazza's cafes; there are seven branded Lavazza cafes in the U.S., operated by Eataly. The line is also sold through Lavazza's U.S. website, Amazon and select retailers like Stop & Shop. 
"Our channel mix is constantly changing and the challenge is to keep up with demand depending on customers' behavior," Vareille said. For instance, as travel and office work returned this year, Lavazza's wholesale business has rebounded. "The good news is that RTD fits all our channels, from DTC and Amazon to grocery stores, really well." 
Keeping the price accessible — at $3.49 per can — was a concern for Lavazza, as coffee prices and packaging experienced inflation in the past year. "It's been challenging because at one point we were worried about not getting cans on time to go to market," Vareille explained. 
Lavazza enters the RTD coffee market at a competitive time. In recent weeks, Illy expanded its ready-to-drink coffee with canned cold brew cappuccino and latte macchiato. Illy first introduced its RTD espresso cans in the U.S. in 2007, via a joint venture with Coca-Cola. 
Carly Sutherland, a brand and communications strategy consultant, said the ready-to-drink offerings are "reflective of the larger macro trend of the return of the can." That trend also encompasses RTD alcoholic beverages, such as seltzers and cocktails, which have grown exponentially in the past few years. 
Sutherland said the current interest in RTD goes beyond convenience.
"It wasn't that long ago that when consumers would think of a canned drink they would think of soda, energy drinks, and failed attempts at pre-mixed alcoholic beverages," Sutherland said. "Now, consumers are accustomed to getting better tasting, healthier, organic beverages in cans." This spans alcohol, probiotic drinks, soda alternatives, as well as caffeine-infused beverages. "Premium products with sleek packaging have shifted consumer perception that drinking from a can can be good and aspirational." 
Despite the increasing competition among coffee brands, Vareille said Lavazza is well-positioned to bring a European format to the U.S. RTD space.  
"So many brands are trying to get a share of this category," Vareille said. "We think there's enough demand to help us grow our RTD business."