How brands are tackling product development while remote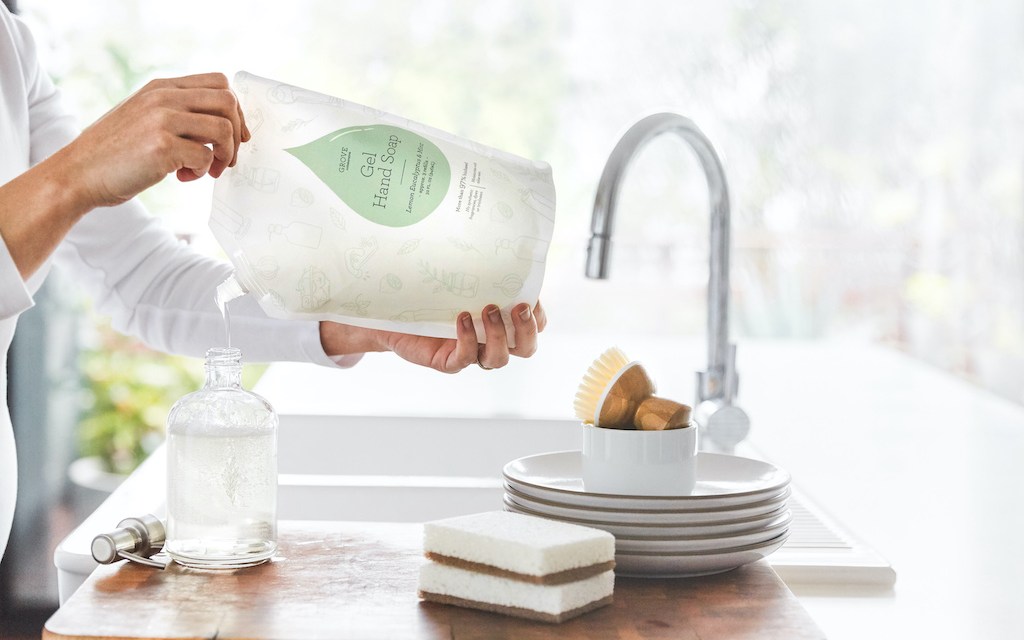 It's easy for some brands to go completely remote. Others, however, require certain tasks to be done in-house and have been trying to figure out how best to restart operations.
For DTC companies — especially those with a wide range of in-house labels — the shift from safely fulfilling explosive demand for necessities like hand sanitizer to resuming work on new launches makes for an unclear pathway. The major challenge businesses have faced when deciding to go remote is balancing which employees can do so easily and which can't. As a result, some brands have had to delay launches and rethink entire operations because teams that required certain facilities were forced to work from home. Now, many of these companies are trying to figure out how to safely go about things — and potentially reopen some offices.
Eco-friendly household items marketplace Grove Collaborative is coming out of its busiest period to date, having surpassed 2 million shoppers during the pandemic. Now that the storm has settled, the company is shifting focus to navigating the reopening of its facilities and offices. As a mid-sized company, Grove is still "small enough that we can manage operations and consider the needs of our employees at the same time," CEO Stuart Landesberg told Modern Retail. But despite social distance restrictions being loosened in California, the timeline for office return won't be until "sometime after Labor Day."
A staggered schedule
The varied roles at Grove is one reason it's opted to adopt a staggered return to facilities, Landesberg explained. There are a total of 986 employees spread out across the country, including 151 at the San Francisco headquarters, and the rest at satellite offices in Portland, Maine and Durham, North Carolina, along with three operating fulfillment centers. The roles range from creative, marketing (acquisition & retention) and social & community, to engineering, owned brands & product development and finance. Then there is merchandising and inventory, as well as internal operations departments like office administration, technology, management and communications.
The staggered teams' returns will focus on a few key points: those who need access to equipment, such as product development lab, will come back first followed by those who prefer or need to work from the office for personal reasons. After that, the full team. The goal is to gradually increase the number of people in the office at a time while monitoring their health. But given that ongoing health and economic uncertainty make it harder than ever to forecast growth and demand, Landesberg said that many factors are being considered before corporate employees return to their desks. 
While there has been varied feedback from employees — ranging from happily working from home to "excited to get back to the office" — the staggered return is also about resuming production in the order necessary. 
The San Francisco HQ closed since shelter in place orders began in March; its team has experienced a slowdown in plans for certain departments that cannot fully operate remotely. New product development, for example, requires a lengthy process involving multiple departments of experts, who are tasked with creating new home and personal care essentials year-round.
"The products that we had planned for the year are obviously now delayed," said Landesberg. This is in part due to logistical difficulties, like distributing samples back and forth during preliminary tests. "All that takes time before it goes to market."
CPG brands face similar obstacles, especially in beauty and fashion, proving there is only so much progress that can be made virtually. Large CPG brands like Clorox and Procter & Gamble's, which are rushing to develop new disinfectants that combat the new coronavirus strain, are getting around the closed facilities problem but outsourcing the research and development to external independent labs.
Adapting product development
But it's not just CPGs realizing the difficulties of being completely remote. Like many cooking-related brands, New York-based DTC cookware brand Caraway also experienced major growth throughout the pandemic. However, in keeping the momentum going, "we've been trying to create contingency plans for pushing new product launches back," said founder Jordan Nathan. 
Since the team of 10 began working fully remotely in March, creating in-house custom colors has been challenging, Nathan continued. Despite already being used to working with design and manufacturing vendors remotely, product development has become lengthier and more costly. For example, the company has modified designs to use existing colors on the market, rather than creating new ones from scratch.
Overall, the product development has shifted to employees testing out pots and pans samples at home. The team, along with a design agency in San Francisco, provide feedback about the tested products. These changes work for now, but require the added cost of making extra prototypes to ship to employees instead of just one for in-office tests.
"Another challenging part is product photography," said Nathan, which is usually done collaboratively at a studio. This created some road bumps in the debut of Caraway's kitchen Linens line last month, which had to be shot and branded remotely.  "We've sourced freelancers to shoot products remotely," Nathan explained, and ended up having the shoot art directed via FaceTime. Put together, these new workflows cost more money and resulted in launch delays. Until the office is allowed to reopen according to New York City orders, the Caraway team will continue working remotely on any new products.
Another point of contention in planning for new products is the need to analyze all the data from the recent spike in sales, and understanding what existing and new customers actually want, as opposed to chasing the pandemic's rush. For example, one surprising trend Grove's Landesberg pointed to is the variety of products people were buying during the emergency stocking up period. The site has seen "25% more unique SKUs per cart than ever before," he said. This pattern of customers discovering and trying new brands, including Grove's newly-launched beauty offerings, is another example of constantly-evolving behavior that's hard to plan for.
"It's hard to predict any sense of a concrete timeline right now," Landesberg said. Still, productivity levels have been impressive, especially when factoring in the disruption in employees' childcare and home-work boundaries, he said.
Despite all this, he has no solid timeline for when all operations will return to normal.