Champs Sports opens its largest store yet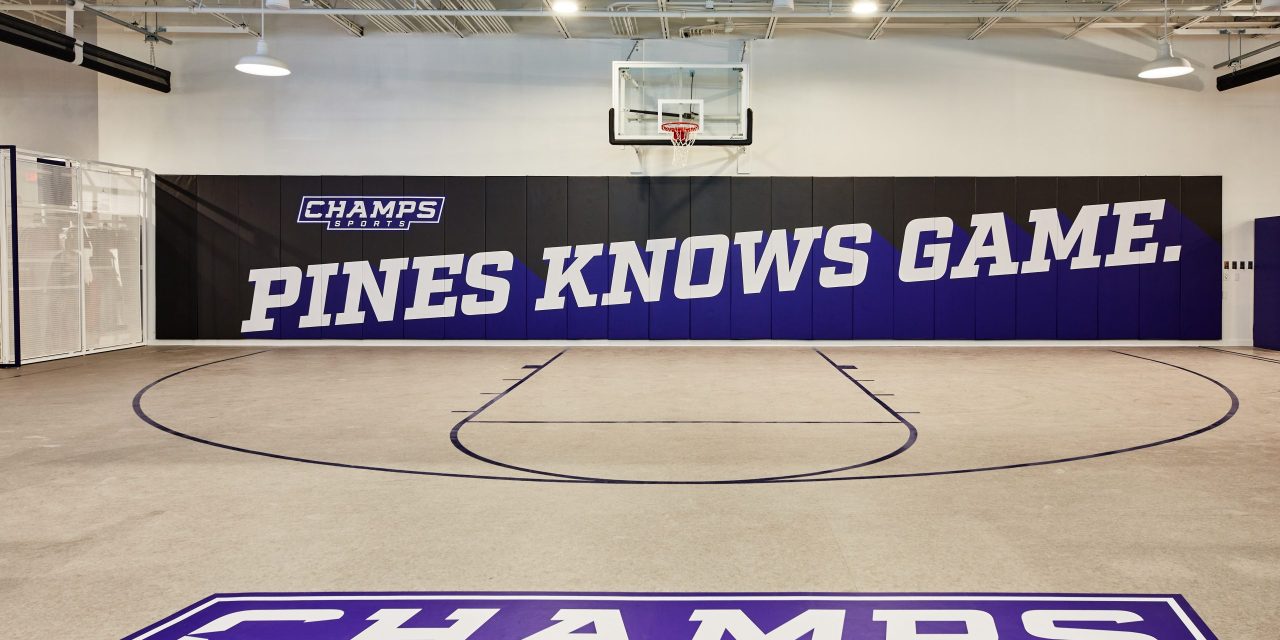 Champs Sports
Next weekend, Champs Sports will host the grand opening of its newest retail concept, a 35,000-square-foot store in southern Florida complete with an indoor multi-sport court.
It's a new retail concept that Champs is dubbing Homefield, and it is the largest Champs store to date. By hosting sporting events, as well as by carrying more inventory, Homefield is Champs' attempt to serve both the performance and lifestyle needs of modern athletes. 
The sporting goods and apparel categories had a banner 2020: golf, racquet sports and basketball equipment sales were all up between 25% and 40% in year-over-year sales, according to The NPD Group. However, by 2021, sporting equipment sales had slowed, pacing behind 2020 sales levels. Champs Sports — founded in 1984 and owned by Foot Locker — has seen a similar trajectory. Year-over-year in the fourth quarter of 2020, the sub-brand's sales were up mid-single digits. But, by the fourth quarter of 2021, Champs' sales were down low single digits year-over-year. New retail concepts like Homefield are a way for Champs to encourage customers to spend more time — and money –in their stores.
During Foot Locker's fourth-quarter earnings call this February, CEO and chairman Richard Johnson said that "Champs has always had a little bit of a broader product assortment" than other Foot Locker banners, with a footprint that supports both apparel and footwear. Champs has 525 stores in total.
Homefield is, in some ways, a bigger version of this idea. The store sells women's, men's and children's athletic apparel and footwear; sporting goods equipment and health and wellness products.
"We deal with an athlete from a Champ's [standalone] standpoint and, really, our core mall stores have been more based on serving the athlete from a lifestyle standpoint," Champs Sports' svp and gm Guy Harkless told Modern Retail. "This gives us the opportunity to serve the athlete 360-degrees from both a performance and a lifestyle standpoint, and you really need a bigger box, so to speak, to be able to do that."
The bigger format also leaves room for an indoor basketball and multi-sport court. Since the store soft-launched last week, Harkless said the court has been the store's most utilized feature so far, and Harkless hopes to make it the center of event programming moving forward. The store has already scheduled 90 days' worth of programming and will include games, skills workshops, yoga classes and HIIT classes.
Another unique feature is the store's "Champs Combine" virtual reality machine that measures customers' wing spans, vertical height, leaps and agility. Each day, the store posts a leaderboard of the highest scores. Other features in the store include a smoothie bar, flat screens with sports games playing throughout the store's aisles and a broader wellness shopping section.
Harkless said that — as the name Homefield suggests — Champs is looking to connect with the local sporting community in southern Florida. The smoothie bar is run by local businessmen, classes are often taught by local athletes and the store has hired a community manager is to connect with local high school athletes and encourage them to use Homefield's gym space.
For the store's launch, Homefield is also creating a programming series dedicated to six local coaches and sports figures with speeches praising their achievements.
"Experiential retail isn't anything new," said Harkless. "I think a lot of retailers are trying to think differently in terms of how they can bring something unique to whatever consumer they want to get after. But certainly, in sporting goods, it really is the local heroes that really drive that [interest]."
NPD senior advisor Matt Powell said hyper-localization is particularly important to the sporting goods sector. Retailers like Dick's, for example, carefully rotate in merchandise at the beginning of a town's baseball season rather than rolling out baseball merchandise across a store fleet at once.
"I think hyper-localization is important, letting people know that you really understand their sport and their need for their sport," said Powell.
Champs is also just one of many sporting goods retailers betting on experiential retail to drive more sales.
Dick's, for example, opened up two new store concepts within the last year, Public Lands and House of Sport. The former focuses on outdoor recreation and includes features like an indoor rock climbing wall and gear repair. The latter is more similar to Champs' Homefield concept, with an indoor putting green and batting cage as well as an outdoor soccer field. Dick's also relaunched its Golf Galaxy concept with a store that includes hitting bays, golf lessons and custom fittings.
During Dick's first-quarter earnings call last year, executive chairman and chief merchandising officer Edward W. Stack said the first House of Sport location in Rochester was "on track to become among our highest volume store in the chain."
However, in many ways, these retailers are taking a cue from sports brands like Nike or Lululemon that have embraced experiential retail for years. Lululemon has long hosted yoga classes in or near its stores. Nike, meanwhile, has been testing out various experiential, event-focused store concepts — like House of Innovation and Nike Rise — arguably since its first Niketown store in 1990.
"When you focus on the reason behind these store concepts, you realize that many sport retailers are already investing in ideas like this," said Ethan Chernofsky, vp of marketing at Placer.ai. "For Nike, the in-store experience may not center around a basketball court, but it's definitely oriented toward a very specific and authentic type of experiential engagement."
Harkless said that — pending success in the first Homefield location — Champs would "start to develop that rollout strategy moving forward."
"Retailers have to be creative today," said Powell. "How do I get people to come into the store for more than just buying stuff?"