Why retailers are still holding big events outdoors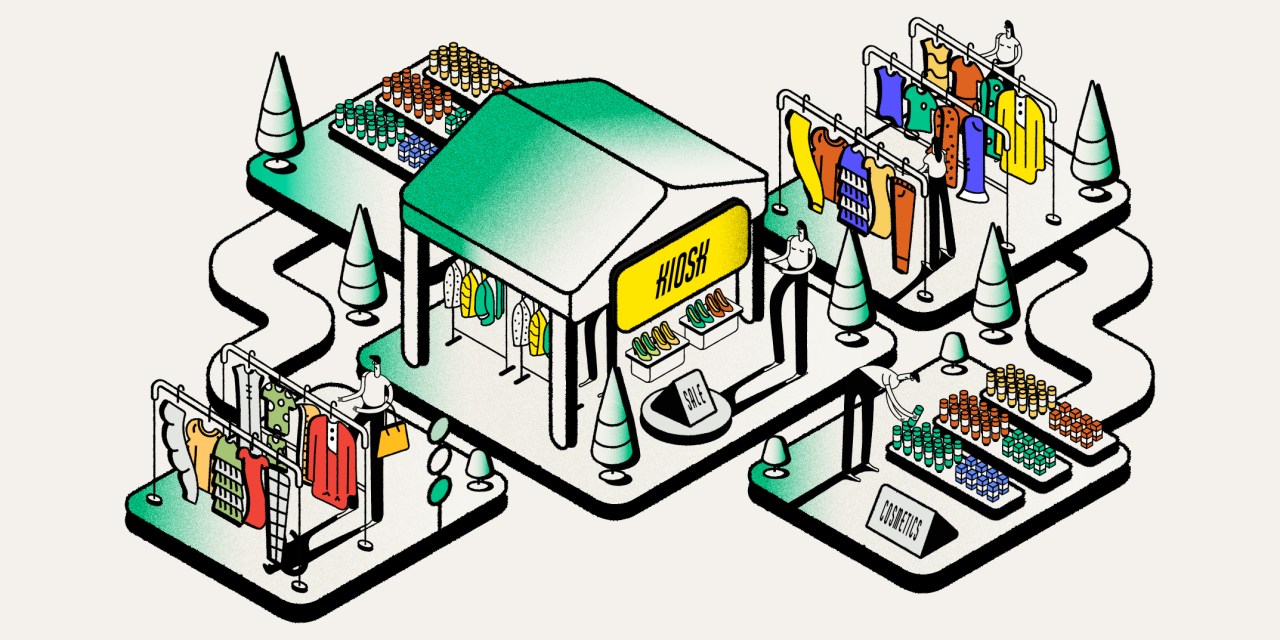 Ivy Liu
This story is part of a Modern Retail editorial series looking at how the retail experience will change in the post-pandemic economy. To see all the stories, go here.
Brands are carrying outdoor retail experiences into a post-pandemic future, making once short-term 2020 investments permanent.
During the pandemic, outdoor malls outpaced indoor shopping in terms of foot traffic and were better equipped to accommodate social distancing regulations. In response, traditionally indoor retailers and brands began experimenting with pushing their shopping experiences outside, hosting open-air popups or building outdoor structures. Mall developer Westfield sold luxury handbags on the sidewalks outside one of its California malls while start-up Camp built a cafe spilling onto fifth avenue.
Now, these brands and retailers are incorporating the outdoors into their future plans, planning for their retail spaces.
These outdoor offerings, however, were often first-time experiments for retailers and brands, who made them out of necessity because their stores couldn't accommodate as many shoppers as they used to.
For Camp, a toy store with locations in Dallas, New York City and Norwalk, this meant opening a sidewalk café for the first time, said Amanda Raposo, the chief experience offer at Camp. The café had a camp cabin, a tie-dye station and was built outside the brand's Manhattan Fifth Avenue flagship store in the summer of 2020.
"You could come and have an ice cream, do a craft… on the sidewalk, into the street [via a] closed off area with tables and umbrellas," said Raposo.
As indoor restrictions ebbed in the later half of 2020, Camp was also able to integrate the indoors with the out. The brand hosted a Halloween scavenger hunt that started inside its Hudson Yards indoor location, but then sent parents and kids outside the mall. The Hudson Yard's Vessel, an alien-like spiral staircase structure, provided a nice background for family costume pictures, while the mall's large grounds allowed "10,00 families" to run around to touchless trick-or-treat stations outside.
Going forward, the brand plans to bring back the sidewalk café this summer, keeping the to-go craft kits the brand offered during the pandemic that, at times, "accounted for half of [their] revenue" and continuing with outdoor events. However, lessening restrictions have allowed Camp to utilize the outdoors in more specific ways.
To-go craft kits are now being used on-site at the sidewalk café. Messy splatter paint events will be hosted outside, while more tame crafts can head back indoors. Outdoor immersive theater experiences are planned for the fall. Farmer's markets at the Dallas location of Camp incorporate the full footprint of the outdoor mall the store is located in.
"[Now], it's thinking about what makes the outdoor experience unique," said Raposo. "What can we do outside that we can't do inside? What can we do to make a specialized outdoor experience stand out amongst the indoor experiences we have as well?"
Other retailers have jumped into an indoor-outdoor play in 2021 as well. Dick's Sporting Goods, which saw first quarter revenues jump 119% year-over year, this weekend opened a second location of its experiential sporting goods store "House of Sport" in Knoxville. House of Sport balances an indoor golf putting green, batting cage and rock-climbing wall with an outdoor soccer field and running track. These experiential investments will allow Dick's to host youth soccer camps, speed and agility clinics and golf club fitting appointments all on site.
In the retailer's earnings call, executive chairman and chief merchandising officer Edward W. Stack said the first House of Sport location in Rochester was "on track to become among our highest volume store in the chain."
Meanwhile, property developers are also looking into hybrid indoor-outdoor retailer spaces. Westfield Group, which encompasses 26 indoor malls across the United States, is also "continuing to invest in outdoor retail opportunities," said Karen Strack, Westfield's senior vice president of US marketing, even as "we begin to move towards a post pandemic world."
During the pandemic, the developer hosted an open-air market in its San Jose Valley Fair location, moving the indoor luxury experiences of brands like Bottega Veneta and Saint Laurent to outdoor cabanas and hosting outdoor movie nights in malls across the country with food trucks and live music. Now, the group plans to continue to invest in an indoor-outdoor mix of "upscale dining districts, outdoor lounge seating and event spaces that accommodate everything from rotating pop-up shops [to] expanded patios for al fresco [dining]."
This indoor-outdoor mix is particularly important as foot traffic trends shift back indoors. Placer.ai, a foot traffic analytics firm, uses a panel of customers' location data to measure foot traffic visits in retail. The firm's vice president of marketing, Ethan Chernofsky, said that while outdoor malls had "a unique advantage last year," this has changed in recent weeks, with indoor malls seeing increased foot traffic.
Chernofsky added, "a more traditional balance between indoor and outdoor centers could quickly return."
For many retailers, partnerships are important for differentiating outdoor experiences. Dick's golf club fittings, for example, are in partnership with golf brands like Titleist and Ping. Westfield's Century City locations hosted fitness classes with Barry's Bootcamp and SoulCycle in its outdoor spaces. One of Westfield's biggest outdoor event was a drive-thru pop-up again in the Century City mall's garage, in partnership with "Happy Place," a temporary art and immersive experience installation company. Another was a temporary '90s-inspired roller rink done in partnership with a new television series named "Cruel Summer."
These partnerships allow for more innovative events, brand marketing collaborations and, simply, provide extra capital for outdoor experimentation.
"A lot of our bigger activations are usually aligned with some sort of sponsor," said Raposo, "A lot of our strategy… is very intertwined with what we are selling through to potential partners. We have a lot of big ideas… but a lot of it is contingent on whether a sponsor wants to help make that happen.