Why athleisure brands are betting on the outdoors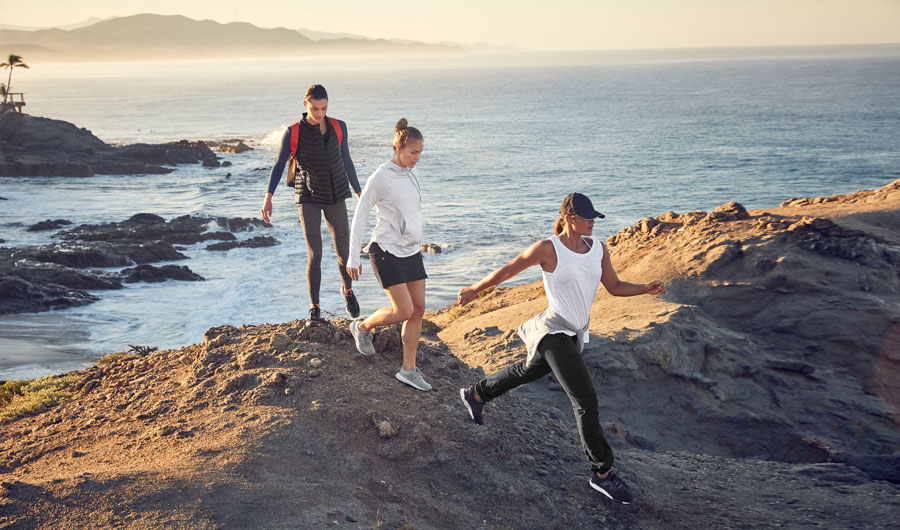 REI Co-op
Athleta is betting on hikers and campers to help grow its name recognition.
On Wednesday, Athleta announced that it was furthering its partnership with REI. In 2018, REI started carrying a small assortment of Athleta products in five stores. Now, REI will carry Athleta products at 135 locations.
Athleta's not the only athletic apparel company to jump into the outdoor space: sneaker brand Hoka One One's partnered with Cotopaxi on two trail-themed products in March, while direct-to-consumer brand Outdoor Voices' launched a camping-inspired line in June. Still other retailers like Dick's Sporting Goods, which have historically been focused on traditional athletic gear, are upping their investments both in athleisure as well as in gear for hikers and campers.
Activewear and outdoor apparel sales are up 50% and 45%, respectively, according to retail firm NPD Group, and more brands and retailers are shifting their apparel investments towards the space. Analysts say that retailers are investing more in both athleisure and outdoor apparel as the line between the categories blur, particularly during the pandemic; today's consumers wear their leggings to yoga classes — but also to hiking trails, to the grocery store and to work from home.
Athleta's expansion into REI comes as its parent company Gap is eager for growth. In October, Gap announced its intentions to aggressively grow both Old Navy and Athleta to 70% of its portfolio's sales or to $2 billion by 2023. Just last week the brand launched Athleta's Canadian e-commerce site. REI had previously tested out carrying Athleta products in five stores but after yesterday's announcement, it will now up the number of locations carrying Athleta to 135.
"We are always looking at new ways to bring Athleta to more customers and meet her where she is and this partnership with REI allows us to be in front of new customers who are already in the active mindset," Jenelle Sheridan, Athleta's vp of strategy and business development, told Modern Retail over email.
Dick's Sporting Goods is another athletic apparel retailer that is betting on athleisure and outdoor gear to drive sales. In March, Dick's launched its first athleisure line for men, a Lululemon competitor called VRST. And this week, the company opened the first location of one of its new retail concepts, called Public Lands, in Pennsylvania. The retailer will open a second Public Lands location in Ohio next month and both locations will feature a mix of both athletic apparel and outdoor gear.
According to a press release, the new format will focus on "support[ing] the local outdoor community through conservation [as well as] access and equity-based initiatives" and the new location is complete with a rock-climbing wall and an in-store gear rental and repair center.
Category blur
These active retailers' investments in the outdoors signal a continued blur between activewear and outdoor gear and apparel, explained analysts.
Matt Powell, vice president and senior sports industry advisor at NPD Group, said that the outdoor and activewear spaces both appeal to two mindsets that became increasingly important during the pandemic: healthy living and social distancing.
"Hiking, running, cycling, golfing, and tennis [are all] activities that you can do relevant remain relatively socially distant and safe," said Powell. "We're seeing retailers who maybe were focused more on outdoor [recreation] recognizing that their consumers likely are [also] doing yoga or Pilates or something in the studio. There's really a blending here."
Jessica Ramirez, a retail analyst at investment research firm Jane Hali & Associates, was also unsurprised by the recent slate of cross-category collaborations. She said that activewear and outdoor apparel share many of the same high-tech fabrics. "[Outdoor apparel] is in the same vein of active, it's just maybe different silhouettes," said Ramirez. "I think it's a no-brainer."
Ramirez added that, in general, the activewear category has been increasingly encroaching into other apparel opportunities. "Everything is an evolution of how we see active," said Ramirez. "It's not your traditional [activewear] or what we might have seen maybe 10 years ago."
At the same time, added Ramirez, outdoor apparel has gotten less "ugly" and now serves as "a brother to streetwear." Indeed, Danner now sells its technical hiking boots at both Dicks and Farfetch, while outdoor brand Northface has partnered with many major fashion names from Gucci to Dover Street Market to Supreme over recent years.
Powell explained that while sales in both spaces have increased this year, so too has brand competition. "We're seeing more and more brands making activewear… many of which don't know anything about making active apparel," said Powell. "There certainly is more competition out there than there's ever been for the seller and there's more interest on the part of the consumer."
Powell added that the activewear space has moved from accumulation — buying a wardrobe of activewear — to replacement of a few select pieces. The interplay between outdoor and activewear, however, can provide incremental sales for these brands and retailers.
"I think the collaborations between brands are brands trying to pick up the fans of the other brand," said Powell. "It also allows brand A to bring in a brand B, which has expertise in the [other] product category.