Brands see opportunities offering social distance-friendly office solutions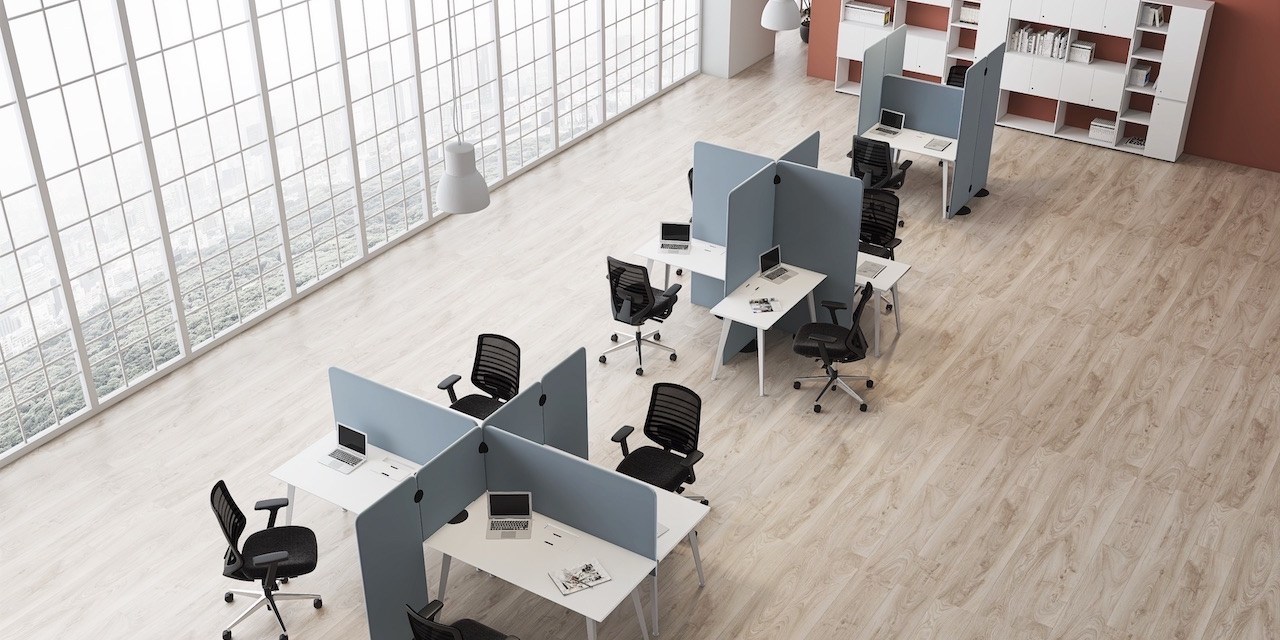 Many cities are beginning the early phases of reopenings, which allow office-based businesses to resume operations under specific stipulations. While many employers are sticking with remote work for as long as possible, other businesses are putting changes in place to make their offices as safe as possible. 
Serving these companies' needs for socially distant workplace designs is proving to be a major opportunity for some businesses. From workstation partitions to individually packaged kitchen staples, here are some of the ways companies have changed their services to offer social distancing service. 
New modifications to comply with new laws
The federal government, as well as many local authorities like New York state, are requiring buildings to adhere to recommended guidelines to reopen. This includes the six-foot distance rule, which makes desk sharing difficult.
When shelter-in-place first began, workplace furniture maker Branch began marketing its products more to individual customers. Now, it's focusing back on the workplace, by introducing new products to make existing designs more sanitary.
"The most pressing demand has been for partitions and dividers," said Verity Sylvester, co-founder of Branch, who noted that 70% of its customers are New York City-based businesses (where retailers have been cautious to reopen). Its new collection of multi-sized office dividers was developed with Los Angeles-based design agency Emblem. Sylvester said they are meant to create easy-to-assemble cubicles. 
Most Branch clients — SMBs almost certainly facing budget shortages — can't afford to completely redesign their office spaces. Its most popular six-person desk, for example, retails for up to $3,000 — and only leaves a couple of feet between people. Attaching front panels, which range from $200 to $300, is much more affordable than purchasing multiple new stations, said Sylvester. And to get the layout prepared and compliant under the quick turnaround, Branch is shipping the panels within four weeks. 
The company officially launched the panels last week, and "initial feedback from customers has been very positive," Sylvester said, confirming large orders from a number of clients are in the works.
Healthcare precautions
Installing floor decals and frequently cleaning bathrooms have become standard practice for all reopened public areas. But keeping track of workers' health is more complicated given health privacy laws. 
With this, corporate healthcare providers are trying to find more frictionless ways to monitor and test workers, said Dr. Viral Patel, a New York-based medical doctor and founder of Radish Health. His tech-enabled B-to-B medical practice, which launched a Covid-19 home test in March, is currently rolling out its "workplace re-entry platform" to guide its employer partners in preparing to reopen for use. 
Radish's new program lets employees report their health status as it relates to coronavirus symptoms. "You can't test every person everyday," he said, so offering a virtual symptom checker that employees can use before going into work is one non-invasive way to abide by state mandates. 
Each employee logs their symptoms and potential virus exposure every morning in order to get the clearance to commute in. For those who log a symptom — even if it's non-coronavirus related — Radish coordinates a virtual doctor visit or potential testing appointment. 
This daily input of data also helps "manage the overall health of the employee pool as they increase," Patel said, which management can use for staggered returns.
Keeping common areas sterile
As offices reopen, communal kitchens are being reimagined to comply with increased health and safety measures. Per many states and the CDC's guidelines, kitchen and break areas must have a cap on how many employees can convene at once to ensure adequate distance. This also means spacing out high-touch devices, like microwaves and water stations, to minimize the risk of close interactions.
Startups that offer office kitchen services are rethinking their offerings. Bevi, a digital beverage dispenser maker, recently announced that both its new and existing machines will offer upgrades for touchless dispensing that connects with users' smartphones. The feature will be rolled out to all operating Bevi machines, free of charge, according to the company. Meanwhile, all new machines sold will automatically come with the touchless add-on.
Bulk snacks and buffet/family-style catered meals will no longer be office staples. Employers, instead, will likley opt for pre-packaged single-serve choices. This is where meal delivery startups like Freshly see an opportunity to appeal to corporate customers, said founder and CEO Michael Wystrach.
Freshly, which recently ventured into a B-to-B model to supply employer-subsidized meals, is starting to see office delivery requests again as activity slowly resumes. With many clients having physically scattered employees, Freshly gives each individual a profile, allowing them to update their weekly dietary and delivery address preferences.
More personalization
While packaged snacks and drinks are a good start — and have been incorporated into various office settings in the past decade — "how do you go further?" asked SnackNation CEO Sean Kelly. The food subscription service, which sells offices healthy snack boxes, began offering individual home deliveries during quarantine.
Now, offices are back on SnackNation's radar. Kelly confirmed that office-bound order activity has doubled in the past two week. But with many employees still working from home, this hybrid model is already creating confusion among corporate managers about where to send boxes, which the company is working on making more seamless.
There is also now more demand than ever to have tailored nutritional offerings, according to Kelly. "Instead of a break room receiving a whole pile of snacks, there's an opportunity for vendors to provide personalization," he said. This means offering features like employee profiles, in which each can update their taste preference and dietary restrictions. 
In his estimation, companies need to think creatively to find new opportunities right now. "If you're a B-to-B product, you have to be fluid and cater to these evolving needs," said Kelly.