As the economy remains unsteady, platforms increase their flexible payment options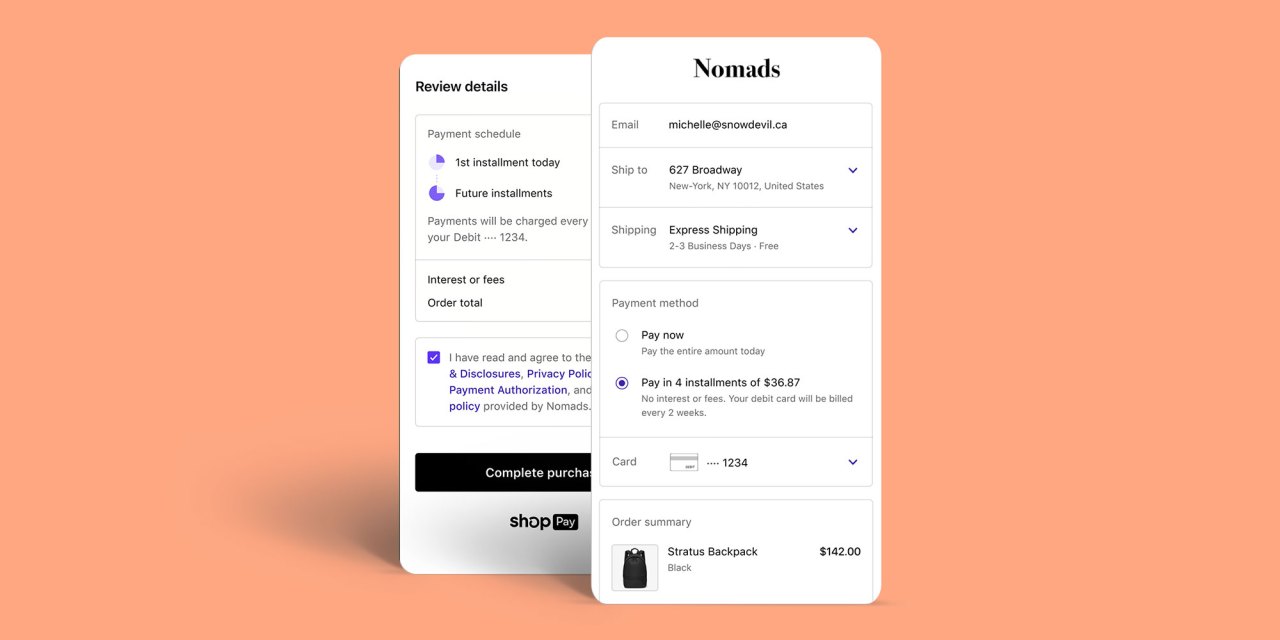 Both businesses and consumers are seeking out more flexible payments options.
With the economy in the middle of a downturn — one in four Americans has reportedly filed for unemployment since March — the appeal of layaway apps to U.S. shoppers is apparent from the spike in use of online services like Klarna, Afterpay and Affirm, among others. This phenomenon extends beyond consumers to businesses, as well.
E-commerce platforms like Shopify and Alibaba are building out their own features — granting both consumers and merchants more flexible payments options. Shoppers utilize these services to finance purchases without the use of credit cards; small online retailers are increasingly being offered the ability to procure or produce inventory without fronting large sums of money.
This week, Chinese e-commerce platform Alibaba announced several new features for small and medium sized sellers, namely the payment terms addition — aimed to allow businesses to pay for supplies with more flexibility. To power the B-to-B backend for sellers, Alibaba partnered with MSTS on the cross-border financing solution, giving qualified buyers the option to order goods and pay for them up to 60 days after receiving them.
MSTS president Brandon Spear told Modern Retail the service came together as a result of the impact the coronavirus has had on merchants that rely on Alibaba. "Think of it as a form of insurance, targeted at transactions between sellers operating in different currencies while sourcing material," Spear explained. Keeping cash on hand instead of paying for goods upfront is especially beneficial for sellers trying to stay afloat during the pandemic, he said. And with venture capital being scarce, the availability of working capital during this potential growth period is vital for brands that rely on funding to scale.
The Alibaba rollout also follows Shopify's own recent announcement of similar payment products, including Shopify Balance. The upcoming B-to-B service aimed at "giving merchants access to critical financial products to start, run and grow their business."
On the consumer-facing side, Shopify's Shop Pay installments program will allow eligible merchants to enable a buy now, pay later option at checkout, which allows shoppers to split purchases into four equal interest-free payments to pay back over time. This feature, due to launch later this year, is being developed by Shopify with a partner that the company declined to name. 
Shopify also expects flexible payments to help increase merchants' average order size "by making purchases more palatable to consumers," particularly in the current economic climate.
This checkout behavior has been witnessed throughout the pandemic by other installment payment platforms. Splitit, for example — which uses a customer's own credit line to assess qualification — is seeing "continued growth" during Covid-19's outbreak, according to CEO Brad Paterson. The chief executive said the platform's data shows that merchants who accept Splitit "have higher cart conversions due to fewer declines at the POS," said Paterson, resulting in a higher average order values and decreases in returns.
As for the quick migration to buy now, pay later options, Splitit analyzed customer data between March 15 and April 10 and found that consumers are looking for lengthier payment plans. According to the report, the number of payment installations selected at checkout increased by 40% — from an average of five months to seven months.
With more payments options available, layaway may see an uptick. If the Great Depression, when the concept first became popular, is any indication, digital installment payments are set to take off in a major way.