'A very capital intensive game': More CPG startups are fundraising to fund wholesale expansion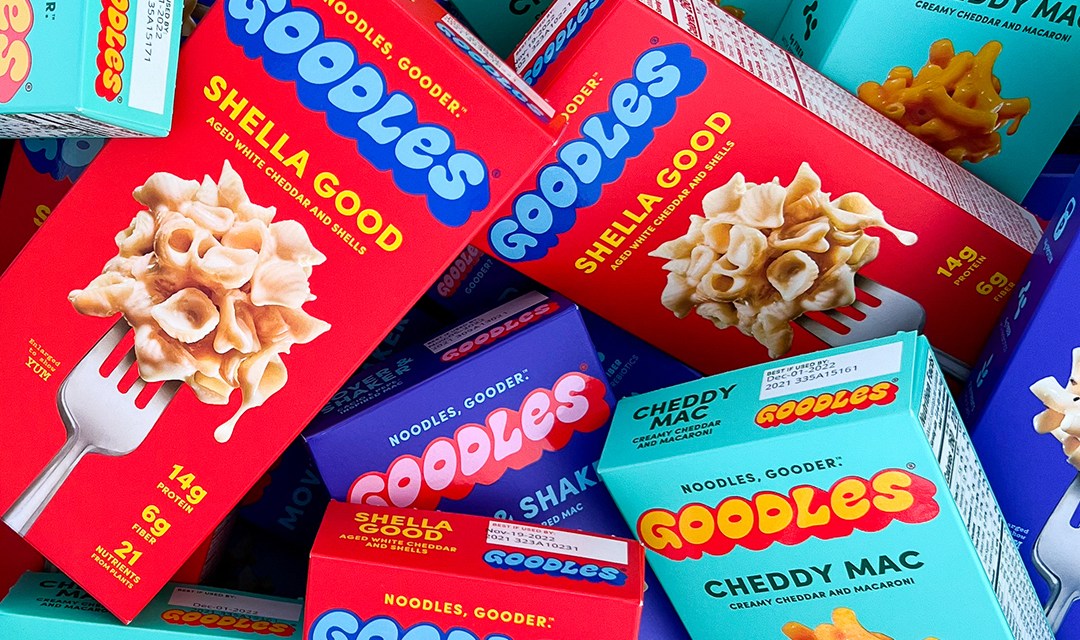 Goodles
After experiencing an influx in grocery and retailers' interest, CPG brands are planning expansions by fundraising. 
The CPG boom was in full swing throughout the pandemic, as many digitally-native brands struck deals with major retailers and grocery chains. In turn, more CPG startups are looking to raise venture capital money to fund capital-intensive wholesale expansion. Beverage and better-for-you brands like Voyage Foods, energy drink A Shoc and Upside Foods, for example, have received increased investor interest. However, some early-stage investors predict a slowdown in funding to the category economists warn of a recession later this year. 
According to CB Insights, funding for food startups reached $20 billion in 2021, a 16% increase over 2020 — pointing to a continued interest in the food and beverage industry during the height of the pandemic.
Recent consumer goods exits have been concentrated around beverages — namely among alcohol brands. Earlier this month, Corona-maker Constellation Brands acquired ready-to-drink Austin Cocktails by purchasing the remaining stake in the company. In April, Diageo acquired flavored tequila brand 21Seed, which was founded in 2019.
In late April, cold-pressed lemon water Lemon Perfect announced a $31 million Series A funding round — with investment from Beyoncé Knowles-Carter, along with Trousdale Ventures, Beechwood Capital and NNS Capital. 
Yanni Hufnagel, founder and CEO of the brand, said the fresh cash came at a perfect time for the brand, as it is rolling out in Costco and CVS this summer.  "Beverage is a very capital intensive game, and you're only as good as your next case sold," Hufnagel said. 
New beverage brands, in particular, are expensive to scale. This is due to rising costs for material like cans and bottles, high shipping rates for heavy liquids, and an increasingly crowded field that's making it hard for startups to compete for retail shelf space.
Since launching in 2018, Lemon Perfect has raised five rounds of capital "and we've turned dollars away every time," Hufnagel said. He said that Lemon Perfect has a few advantages in the space, including celebrity and retail buyers' interest, as well as an appealing price point of $1.99 per bottle. "There is a lot of noise in beverage right now, so we're focused on executing expansion across channels this year," Hufnagel said.  
Newer brands are also feeling the costly squeeze of national distribution. 
Mac and cheese brand Goodles, which launched online last November and debuted at Target this spring, raised $6.4 million ahead of launch.
Co-founder and CEO Jen Zeszut said that amid rising production and distribution costs, CPG is more capital intensive than ever. "If you're going to start a billion-dollar brand, you need some funding," she said. 
Goodles was co-founded with actress Gal Gadot, Northwestern professor and brand entrepreneur Paul Earle, R&D leader and food scientist Molly Michet, and Annie's Homegrown co-founder Deb Luster. The brand was only sold through its DTC site last year "but Target was in the works since day one," Zeszut said. She added that these days, digitally-native brands are expected to expand into wholesale within months of launching online, and the feat requires a cash flow that bootstrapped startups can't front. "We'll likely raise more funding as we get into more retailers."
In late April, San Francisco-based Nowadays closed $7 million seed round to expand its plant-based chicken line. Nowadays' round participants included Selva Ventures and the Standard Meat Company, a privately owned meat processing and packaging company that supplies restaurants and grocery chains. Nowadays nuggets are currently available direct-to-consumer via its website, and will be launching in Whole Foods stores later this year. 
Indeed, plant-based and better-for-you products continue to dominate CPG funding interest. Kiva Dickinson, co-founder of Selva Ventures, said the trend is simply a byproduct of dietary and taste trends. In 2021, U.S. plant-based food sales hit $7.4 billion, outpacing other categories, according to the latest data from SPINS, the Plant-Based Foods Association, and The Good Food Institute. That figure represented a 6% increase over 2022.
"We got so many questions on why wouldn't you start with vegan and gluten-free varieties," Zeszut said. "But I knew the $4.4 billion noodle market is regular noodles and I didn't want to limit ourselves to one dietary preference." That said, Goodles do boast higher fiber and protein than typical mac and cheese – and the brand just won The Clean Label Project's Purity Award, Zeszut added. 
"We met with some investors who didn't want to fold us into their plant-based-geared portfolio for that reason," she said.  Goodles quickly expanded into more "adult-oriented" flavors, like cacio e pepe which Zeszut also said, "investors doubted at first." The flavor has become one of the brand's top-selling SKUs since launching in January. 
Dickinson noted that the rounds being announced right now had been in the works a while ago. He added that the recent public market chaos, including a looming recession, hasn't played out in VC transactions yet. "The real changes will come in the coming months and years." 
Dickinson expects that the number of companies receiving funding will drop – with VC money likely going to brands that have proven their value proposition and distribution model. "Capital is and will be harder to come by," he said. Direct-to-consumer and startup brands as a whole are facing a cool down from VCs due to a variety of factors, including the economy and category saturation. While food and beverage startups aren't feeling the effect yet, they likely will in the coming months. 
"But there is reason for consumer product entrepreneurs to be optimistic over their tech counterparts," Dickinson said. "CPG valuations didn't get overinflated, so there will be less correction needed." Furthermore, CPGs tend to do well in an economic downturn – because most people still need to grocery shop even during recessions.
"If you don't need to raise capital right now, don't wait until you do," Dickinson said. "Use this opportunity to extend your runway for the next couple of years."