With a new CEO, Bloomingdale's signals that it is ready for a different playbook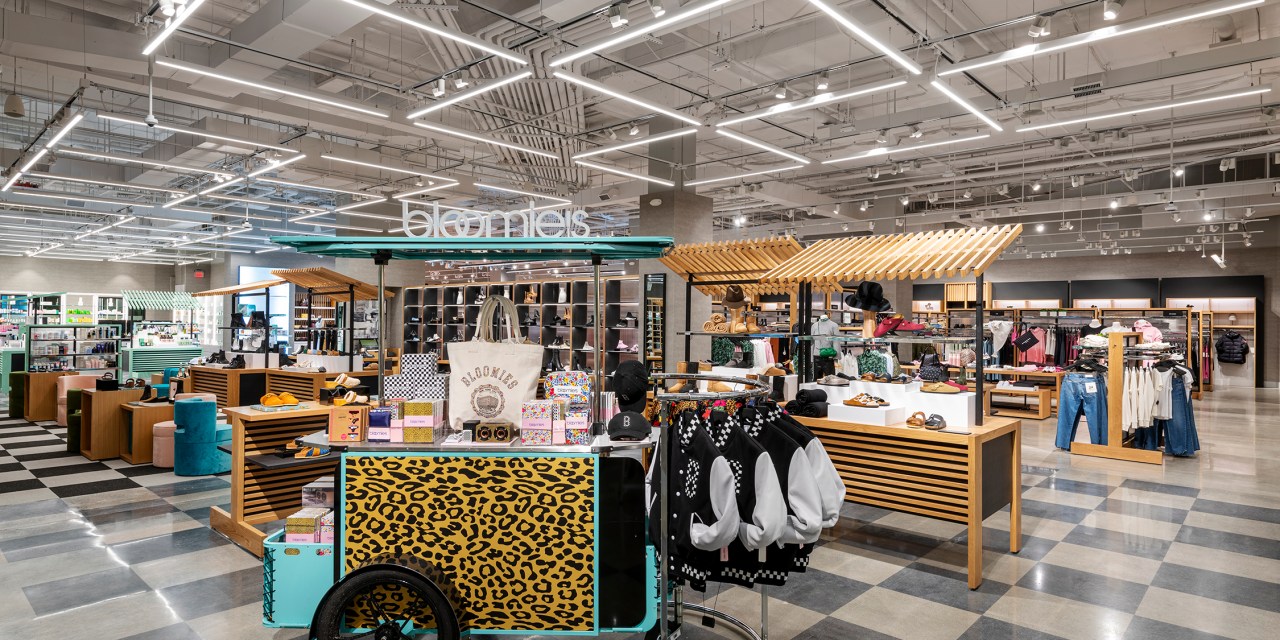 Bloomingdale's
Bloomingdale's is the latest major retailer to announce a CEO switch-up as it looks to resonate more strongly with luxury shoppers.
On Tuesday, the department store revealed that international retail executive Olivier Bron, formerly of Central and Robinson Department Stores in Thailand, will take over Bloomingdale's in November. Bron will succeed Tony Spring, who will move over to Bloomingdale's parent company Macy's as its new president and CEO in February 2024.
The new appointment comes at a pivotal point for Bloomingdale's, which — like other department stores — has seen a slowdown in consumer spending. Bloomingdale's second-quarter net sales declined 3.6% and its store comps were down 2.6%, although it has managed to outperform its parent company Macy's. As a retailer that sells designer goods, Bloomingdale's caters to more affluent customers, many of whom have enough disposable income to weather high inflation. But, at the same time, the luxury market is seeing sales sag, especially in the U.S. American shoppers spent less on designer goods in the second quarter than they did in quarters past, and brands including Kering and LVMH have pointed to softer demand in North America.
Like Bloomingdale's, Macy's is in a tough financial spot, and it is within this economic environment that it is ready to make a change. Historically, Macy's has hired CEOs from within; its outgoing CEO Jeff Gennette has been with Macy's for 40 years, and Spring has been with Bloomingdale's for 36 years. By bringing on an outsider like Bron, Macy's signals it's open to someone with a different playbook and additional connections within the industry, retail experts tell Modern Retail. The appointment, they say, also cements Bloomingdale's dedication to being a leader in luxury, considering Bron's background in the sector.
Macy's hasn't always recruited internally; its former president Hal Lawton came from Home Depot, and its new chief customer and digital officer Massimo Magni worked at McKinsey & Company. When it comes to a new CEO for Bloomingdale's, "I don't think they had to look outside the company in order to get experience with luxury brands… but it signals they're trying to bring fresh ideas," Andrea Leigh, founder of Allume Group, told Modern Retail.
According to a press release, Bron will be responsible for overseeing Bloomingdale's general retail strategy, as well as "building upon Bloomingdale's unique curated offering of designers, advanced contemporary and exclusive private brands."
Bloomingdale's has a good product assortment, Neil Saunders, managing director at GlobalData Retail, said, but it could be better. "There are good brands in there," he told Modern Retail. "There's a good selection. But really, there needs to be more differentiation. There needs to be more exclusive lines, more young, up-and-coming designers. There needs to be more newness."
Bron could use his relationships with international brands to help with this, Saunders pointed out. Before coming to Bloomingdale's, Bron served as CEO of Central and Robinson Department Stores and as COO of Galeries Lafayette in Paris. With Bron at the helm, Central and Robinson announced widespread store renovations, an increased focus on events and a goal to double growth from 2021 to 2026. At the latter, Bron "played a pivotal role in driving operational efficiency and strategic planning," Macy's said.
Macy's seems aware of the benefits that Bron's global experience could bring to Bloomingdale's; in a statement, Spring said that Bron's "extensive international retail career and deep knowledge of the luxury market will be invaluable as we pursue additional opportunities for growth."
Bloomingdale's is predominantly a U.S. chain, with 34 Bloomingdale's stores and 20 Bloomingdale's Outlet stores in states such as California, Connecticut and Virginia. Its outlets performed better than its full-line locations by about 800 basis points last quarter, Gennette said on a recent earnings call. Bloomingdale's has just two stores abroad — one in Dubai and one in Kuwait.
Saunders said he thought international expansion is something Bloomingdale's should explore. "There's no reason why luxury department stores cannot take some of their proposition overseas," he added. "It's difficult to do, but I think that there is an opportunity to do that… If Bloomingdale's has more exclusive product lines, it can also do more online selling overseas, perhaps partnering with other retailers or platforms to sell their products."
Bloomingdale's competitors are opening up more stores across the globe. Paris-based Galeries Lafayette, where Bron previously worked, is opening two stores in India this year, while Britain's Harvey Nichols has a presence in Saudi Arabia, Kuwait, Dubai, Qatar and Hong Kong. Not all expansions last for logistical and negotiation-based reasons, though; Saks Fifth Avenue has a store in Kazakhstan but pulled out of Saudi Arabia in 2012 and Dubai in 2016.
On the other hand, Leigh doesn't think that international expansion is the correct move for Bloomingdale's right now. "It just doesn't feel like the right direction," she said. "They're still small. They're still trying to get the store formats right. They seem pretty focused on that." Instead, as Leigh sees it, two of Bron's biggest priorities should be innovation and attracting a younger shopper.
"I think they [Bloomingdale's] have a right to win," she said. "But I also think that they have to get all the basics right." For example, Leigh said, Bloomindgale's should experiment more with QR codes, with different store formats, with attracting younger customers and with a more connected experience between in-store shopping and online shopping. Ultimately, she said, "I'm interested to see if Olivier has the vision and the know-how to take them where they need to go."